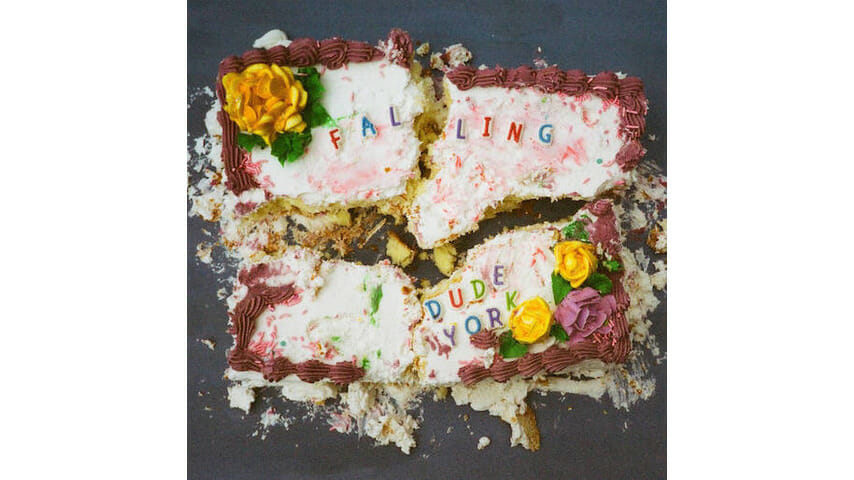 Sick of being told we are entitled for wanting basic staples like a living wage or affordable housing—and tired of being called childish for this forced period of arrested development—some millennials are fully embracing their precarious, prescribed position. Is it any coincidence that overalls are back in style, a couple of decades after many of us sported OshKosh B'gosh as kids? Or that PEN15, which basks in the awkwardness of middle school circa 2000, is up for an Emmy? I don't think so.
With Falling, Dude York show that they are a prime example of a band owning their adolescent renaissance by channeling, rather than imitating, their music influences (some of which include The Cure, Black Sabbath, Blink-182 and Carly Rae Jepsen) and echoing the emotions of yesteryear. Listening to Dude York's latest power pop album, the Seattle band's fourth to date, sends teenage pangs through your heart that remind us how intense and overwhelming every crush or heartbreak used to be (or still is). They're the kind of band that The O.C.'s Seth Cohen would insist his friends see at the Bait Shop.
Claire England (bass, vocals) opens up Falling with the sweet daydream that is "Longest Time," which swings like a pendulum between her earnest voice and electrifying guitar. She romanticizes the honeymoon period of relationships, singing, "This is the best part / When you believe I can do nothing wrong." "Box," the album highlight, takes a different approach in its post-punk revival sound, still managing to absolutely yank on your heartstrings. The first line more than tips its hat to the Killers' ever-beltable "Mr. Brightside," as Peter Richards (guitar, vocals) laments that "It started with a kiss / Who would have thought that it would end like this," bringing back middle school dance flashbacks of Brandon Flowers deciding "It was only a kiss." Despite the similarities, though, "Box" contains its own unique charm, buoyed by new wave-esque silvery guitar and Andrew Hall's insistent drumming.
Up until now, Richards has served as Dude York's frontman, while England only served as lead vocalist on a handful of songs. That dynamic changes radically on Falling, since it's their first album featuring a fairly 50/50 split between England and Richards' singularly yearning vocals. Their lyrics are just as endearing as ever, with delicious moments like England's confession on the title track that she's "eating dinner for breakfast because first impressions are always the best." The feeling of falling in love (or, at least, "like") and picking up emotional momentum much faster than you anticipated is evocatively captured on "Unexpected" when England shares, "I can't keep it in my mouth / I can't say I like you fast enough."
That's not to say the album is free of its clumsy moments. As entrancing as "Box" is, the line "So you're alone and it hurts like a broken bone / Now on your own / There's no one left to hide from behind your phone," is a syllabic nightmare, clunky as hell.
Occasional pitfalls can't stop this pop punk freight train, though. "Only Wish," "Unexpected," and "How It Goes" provide a satisfying run of screeching, squealing guitar solos midway through the album—and a definite highlight of the group's entire discography thus far. Richards' performance will hopefully inspire a few listeners to go out and pick up a guitar for the first time.
Life in 2019 can be so overwhelming that numbness seems like our only defense, but Dude York is ready to put you back in touch with your most visceral, excruciatingly intense emotions. Fair warning, though—if you put Falling on, you may be tempted to doodle your crush's name all over your binder.