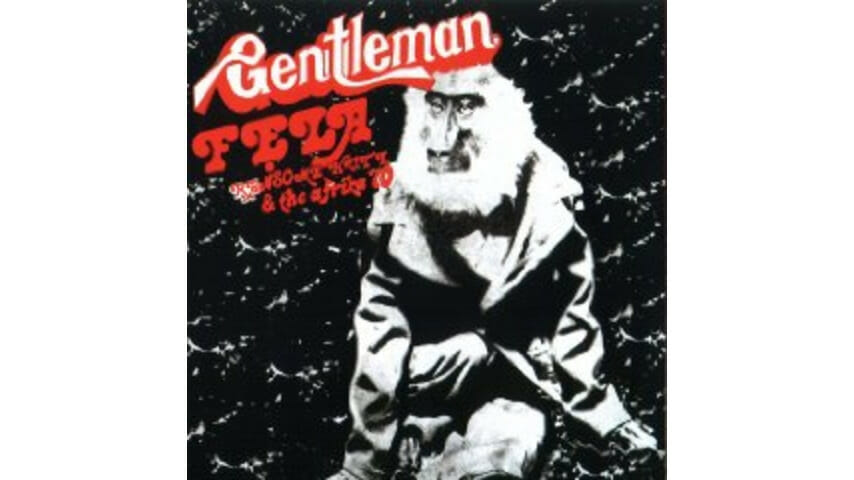 Once controversial Nigerian artist's body of work reissued and reconsidered
Koola Lobitos 1964-1968/ [9.8/10]
The '69 Los Angeles Sessions [7.3/10]
Live! (with Ginger Baker) [6.2/10]
Shakara/London Scene [8.1/10]
Roforofo Fight/The Fela Singles [8.3/10]
Open & Close/Afrodisiac [8.5/10]
Confusion/Gentleman [9.3/10]
The idea that Fela Kuti—the outspoken Nigerian bandleader, polygamist, commune head, and thorn in the side of a military government that subjected him to constant harassment and several arrests—would someday become respectable enough for Broadway would have likely made Kuti himself laugh until smoke from his ubiquitous weed stash poured from his ears. Yet that's exactly what has happened: Fela! opened at the Eugene O'Neill Theater to ecstatic reviews in November, and British director Steve McQueen (Hunger) is working on a film adaptation, with Jay-Z rumored to be involved. (Maybe he liked hip-hop DJ Mike Love's 2008 mixtape Nigerian Gangster, which blends Jay's vocals with Fela's music.)
All of this comes right in time for Knitting Factory Records' mammoth reissue of Kuti's catalog—45 albums total, in chronological bunches, beginning with six CDs that cover his first decade on record. This undertaking will expose him to a bigger U.S. audience than ever before. Kuti's commitment to the extended- mantra jam means double-CD The Best of the Black President contains only 13 songs, several of them edited down, since a typical Kuti jam lasted between 10 and 30 minutes. But there's no better overview of the simmering overload that was Kuti's patented Afrobeat—a meld of funk, jazz, Nigerian highlife and Yoruban drum ensembles— created with crucial input from monster drummer Tony Allen.
Born in 1938 to a prominent feminist-activist mother and minister father, Kuti began his career recording the singles released as Koola Lobitos 1964-68 with his first band, then called Koola Lobitos. The early stuff is heavier on highlife and jazz, blended in a relatively straightforward fashion. By the mid-'60s, when he took the same band to L.A. (renaming the group Fela Ransome-Kuti and Nigeria 70, and later Africa 70), he began blending in a more soul-oriented approach, as on the high-stepping glide of "Viva Nigeria" (a spoken-word anti-war hymn) and the spiraling, airy "Obe" and "Ako," heavy on Igo Chico's saxophone. London Scene, recorded in 1970, thickens the stew, introducing the martial aspect that would mark Kuti's groove—the horns and drums marching as well as boogieing, locking step as much as rubbing against one another. "Buy Africa" hinted at a more militant lyrical style, as well.
Kuti's groove was perfected on 1971's Open & Close (paired with 1973's Afrodisiac) and Shakara, which sum up early Fela: choppy, virulent, electrifying compositions that build steadily toward explosive climaxes. (Shakara's notorious cover photo features 50 topless women forming the outline of Africa and the number 70 with Kuti in the middle of the "0.") Roforofo Fight/The Fela Singles, from 1972, is even more strident: "Rofoforo Fight" features some of Kuti's most lively vocalizing over equally playful rhythms, while "Shenshema" builds to an outlandish keyboard solo. But the essential twofer in this series—and in the Kuti catalog, period—is Confusion/Gentleman, from 1975 and 1973, respectively. "Confusion" is the most spaced-out music he ever made—a lollygagging keyboard fantasia gradually opening into languid, expansive band interplay, an oasis in a sandpaper-like catalog. "Gentleman," on the other hand, is one of Kuti's knottiest rhythm beds, with his rough-and-tumble sax playing—he took the chair himself when Igo Chico left, to mixed results—reflecting a lyric that pours scorn on Africans wearing stifling Western suits and ties.
There is, of course, a lot more Kuti on the way—almost his entire catalog is set to be reissued in this next year and a half. Most of the remaining albums are a scathing mockery of authority in Nigeria (1975's Expensive Shit, 1977's Zombie, 1980's Authority Stealing and 1981's Original Suffer Head, 1992's Underground System) and beyond (1978's Shuffering & Shmiling, 1980's I.T.T., 1989's Beasts of No Nation), and cries of fury at his own mistreatment by authorities (1977's Sorrow Tears and Blood, 1980's Coffin for Head of State). Kuti died of AIDS in 1997, some time after he'd stopped recording, but his legacy is permanent. Listening again, it's not going to budge anytime soon.