Serj Tankian Covers Blue Öyster Cult's "Godzilla" for the Godzilla: King of the Monsters Soundtrack
Music
News
godzilla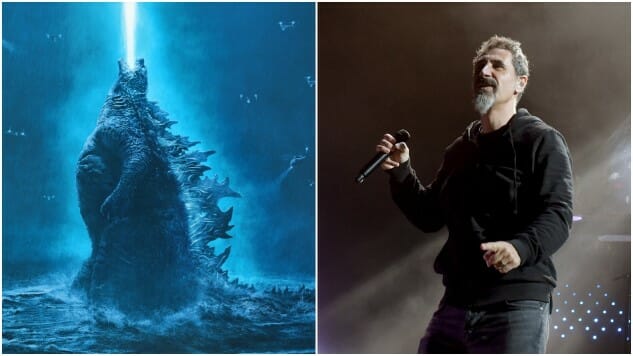 This is most definitely one of those instances when we had no idea we needed something in our lives at the beginning of the day, only to realize now that we most definitely needed it in our lives all along.
The idea of a cover of Blue Öyster Cult's 1978 single "Godzilla" actually making its way into the upcoming Godzilla: King of the Monsters already seems like a bit of a silly idea, in and of itself. This film has been marketed with a certain world-ending gravitas, after all. Recent trailers have been set to Debussy's "Clair de lune" and appropriately somber-sounding versions of "Somewhere Over the Rainbow." They radiate a certain majesty. Blue Öyster Cult's "Godzilla," on the other hand, is sort of "ridiculous for the sake of ridiculous."
Imagine our surprise, then, to find that not only does the King of the Monsters soundtrack include a cover, but that cover is by Serj Tankian of System of a Down. The legendary metal singer lends his iconic warble to a re-imagined track full of haka-esque "Ho!" and "Ha!", and the results are … actually pretty awesome? Just try to listen and not get hyped for the prospect of an all-out kaiju war in King of the Monsters. The track is made only better by the fact that two members of Metalocalypse's Dethklok also contributed, in the form of Brendon Small and Gene Hoglan. That's a dream team, right there.
Our heads are still buzzing with the sheer unexpectedness of this particular collaboration, but we're happy it's here. Time will tell if the track somehow actually makes its way into King of the Monsters when it releases on May 31, 2019, but it would make for some badass closing credits music in any case. Check out the full song below.