Lollapalooza Evacuates on Day One, Lorde and Others Cut Short
Photo by Ian Gavan/Getty
Music
News
Lollapalooza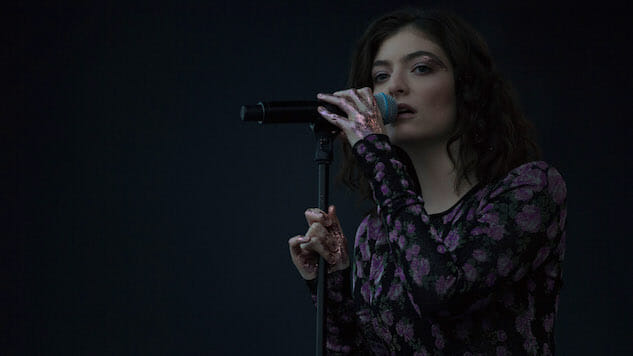 Lollapalooza got off to a bit of a rocky start on its opening day.
Thursday afternoon, Liam Gallagher walked off the stage just four songs into his set, later taking to Twitter to explain that vocal issues forced him to cut the performance short.
Sorry to the people who turned up for the gig in Chicago lollapalooza had a difficult gig last night which fucked my voice. I'm gutted LG x

— Liam Gallagher (@liamgallagher) August 3, 2017
Hip-hop trio Migos' also pushed their set back 40 minutes due to travel delays, forcing them to make the most of a shortened time slot.
Then just after 9 p.m. local time, Lorde, Muse, Lil Uzi Vert and Porter Robinson all had their sets canceled when the festival had to evacuate Grant Park due to inclement weather in the area. Lorde, who was to headline the evening, tweeted her disappointment, saying she had "the most spectacular show planned" and calling the whole situation "the most MELODRAMA shit ever."
Muse frontman Matt Bellamy also took to social media to say he was "gutted," thanking fans for rocking with them through the rain.
Hopefully, the legendary festival has better luck on day two.
fucks sake. i am so gutted guys i don't know what to tell you

— Lorde (@lorde) August 4, 2017
they've told us we can't play. i had the most spectacular show planned for you and i PROMISE i will come back to play it as soon as i can ????

— Lorde (@lorde) August 4, 2017
looking into the possibilities of a club show but i want you guys to see full tank show. will keep you posted

— Lorde (@lorde) August 4, 2017
this is the most MELODRAMA shit ever

— Lorde (@lorde) August 4, 2017
please stay safe!!!!! ?

— Lorde (@lorde) August 4, 2017
soaked as blowing a kiss to u chicago ?? pic.twitter.com/qWFWy5v8j8

— Lorde (@lorde) August 4, 2017
Gutted. City/police made us leave the stage tonight 3 songs in at #Lollapalooza . Due to weather/lightning. Nightmare!

— Matt Bellamy (@MattBellamy) August 4, 2017
2px); width:calc(100% 2px);">