Daily Dose: Media Jeweler, "Motivate"
The band are sharing a new found-footage video in advance of new album 1-800-SUCCEED.
Music
Features
Media Jeweler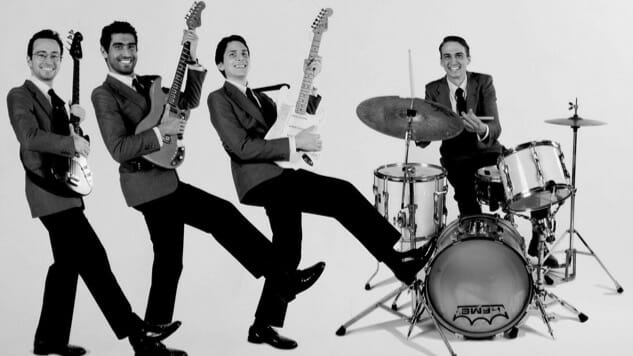 Daily Dose is your daily source for the song you absolutely, positively need to hear every day. Curated by the Paste Music Team.
L.A. DIY mainstays and self-proclaimed "electric guitar-based music group" Media Jeweler are releasing a new record, 1-800-SUCCEED, on March 30. The follow-up to 2015's $99 R/T Hawaii, the band's latest release is a hypnotic blend of tense post-punk and math rock precision. Highlighting prickly guitars and subtle-yet-feverish rhythms, 1-800-SUCCEED expels intermittent bursts of cool, agitated calm.
Media Jeweler are now sharing a new video for "Motivate," the album's lead single. In a statement, Sam Farzin wrote: "In college I used to buy unmarked or interesting looking VHS and cassette tapes at thrift stores and yard sales. I love a glimpse into another dimension. Through the years I've purged many of these from my little world but this casting tape is one of the few that has persisted and I rediscovered it a few weeks ago while eating pizza at my house with Media Jeweler bass player Thom. We immediately had the same idea about what we needed to do."
"Everyday is a mind-trick in which you have to convince yourself — sometimes passively, sometimes actively — that even the next footfall has value and purpose. You have to extract meaning out of whatever is in front of you," Media Jeweler believe. Yo, same.
1-800-SUCCEED is out March 30 on Fire Talk Records.