The 60 Greatest Motown Songs of All Time
Featuring Marvin Gaye, Stevie Wonder, Diana Ross, Martha and the Vandellas and Vince Staples
Music
Lists
Motown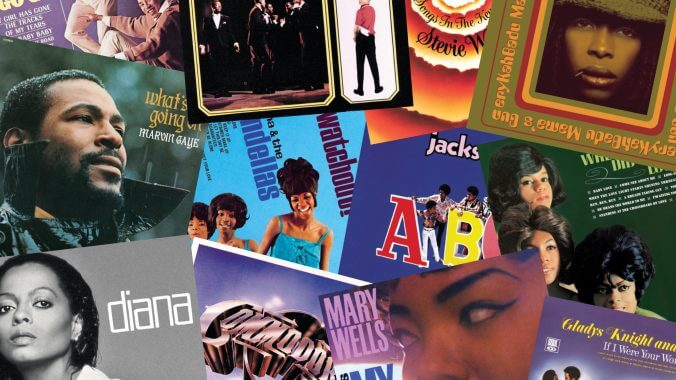 Some of my earliest formative moments that I can remember revolve around me and my father dancing to his Temptations greatest hits CD in our backyard. Those summer nights were soundtracked by the blissful euphoria of chart-topping soul music, as I grew up, through and around various shapes and attitudes. As family members passed away and friends moved away for college, the gift of loving Motown that my father bestowed upon me never wavered. Beyond rock 'n' roll and folk music and post-punk and new wave, I hold a love and adoration for Motown—Berry Gordy's beloved Detroit record label—that will endure for as long as I'm alive.
After my music taste was crucially influenced by the work of Gordy's incredible slate of musicians—whom he's cultivated and helped turn into immortal stars—I wanted to pay my respects to the record label that changed the entire DNA of mainstream music—and has continued to in the 60-plus years since Gordy founded Tamla Records in Detroit, Michigan in 1959. The label has built a long, expansive catalog of artists—ranging from Smokey Robinson to Rick James to Diana Ross. It's still alive and well today, too, as it houses some of the brightest names in hip-hop—both from up-and-comers and longtime stars, like NBA YoungBoy, Migos and Brandy. Cheekily (and aptly) coined Hitsville, U.S.A., the studio has produced some miles of all-time records.
Today, I'm looking at everything from Barrett Strong's inaugural #1 hit to the firepower centerpiece of Vince Staples' most recent album. All releases from every Motown label subsidiaries will be considered, including Rare Earth, Tamla, Gordy, Check-Mate, MoWest, Soul, V.I.P. and Weed. Normally, I only do one song per artist on these types of lists. But, this time, I couldn't ignore the long laundry list of all-time tracks from Marvin Gaye, Stevie Wonder and the Temptations, among many others. So, without further ado, here are the 60 greatest Motown songs.
---
60. The Jackson 5: "ABC"
Perhaps it's gimmicky in retrospect, but, once upon a time, "ABC" was a smash hit for the Jackson 5—who were able to follow up their chart-topping 1969 hit "I Want You Back" with another #1 in 1970. Between Michael Jackson's boyish charm injected into a perfect, confident lead vocal and the fine-tuned backing harmonies from his sibling ensemble behind him, "ABC" is masterfully crafted bubblegum pop and soul. The brothers would perform it on American Bandstand and The Ed Sullivan Show, expediting their already meteoric rise to stardom. In 2016, the Grammy Hall of Fame inducted the song into its immortal echelon, an honor well-deserved.
59. Smokey Robinson: "Cruisin'"
I can't explain it, but this song just sucks me in every single time. "Cruisin'" arrived many years after Smokey Robinson's successes with the Miracles had faded out, and it's one of his greatest solo efforts ever. Peaking at #4 on the Hot 100, there is something so beautiful and enchanting and soulful about "Cruisin.'" A perfect pop and R&B song, I don't think Robinson has done anything so great since. "Music is played for love, cruising is made for love," he sings, amid a choral harmony surrounding him. "I love it when we're cruising together." What can I say? I'm a sucker for a good late-night drive along a street drenched in neon and stars. Smokey Robinson made the greatest soundtrack for that specific and unbeatable euphoria.
58. Diana Ross & Lionel Richie: "Endless Love"
I'll go on record that I think Diana Ross and Lionel Richie's "Endless Love" duet is one of the most overrated Motown songs ever. Even though it hit #1 in 1981, I just don't believe that it holds up like any of the other tracks on this list. However, it's still such a crucial part of the label's legacy. Two of the greatest singers of their respective eras joining together on the same song? You can't do anything but love it—especially when it's a smash hit that succeeded on the mainstream charts and in the legacy of pop music overall. Though it's not on any of my Motown playlists, you have to respect the greats—even if they're not on your own Mount Rushmore.
57. Rare Earth: "I Just Want to Celebrate"
I love this entry, because Rare Earth released this #7 hit song on their own eponymous imprint of Motown's label. I just find that so cool and unique. "I Just Want to Celebrate" is the only true, undebatable rock song on this list, as the Detroit bluesmen flirted with soul and rock 'n' roll and psychedelia to make a melting pot of energetic, heart-stopping guitar music. A sonic outlier in this collection, most definitely, "I Just Want to Celebrate" stands out from the rest of Motown's catalog—but not in a bad or novel way. The song is genuinely catchy and worth revisiting. After making a name in the Top-40 with covers of Temptations songs, Rare Earth finally found their stride in 1971 with their own music. The result is the anthemic, prideful "I Just Want to Celebrate."
56. Kim Weston: "Take Me In Your Arms (Rock Me a Little While)"
Written by Holland-Dozier-Holland, recorded by Kim Weston and released on the Gordy imprint, "Take Me In Your Arms (Rock Me a Little While)" is a sprite R&B track that hand-claps its way into some hypnotic energy. The Isley Brothers, Blood, Sweat & Tears, The Doobie Brothers and Jermaine Jackson would do their own renditions, but Weston's original stands taller than the rest—as her vocals surf across octaves and sound as thunderous as a coterie of five singers might. This is the only song on the list that's outshined by a cover version of it, but Kim Weston deserves her flowers for making such an undeniable pop track that reached the Top-50 of the Hot 100.
55. The Miracles: "The Tracks of My Tears"
Before Stevie Wonder and Marvin Gaye, the face of Motown was Smokey Robinson. I mean, the singer/songwriter was so good he was hired to write songs for other label artists like Mary Wells, The Temptations and The Supremes. The way Robinson could enter any musical space and transform its potential is unparalleled in chart-era music. Thus, it would be wrong to start this list anywhere but with a Miracles song. "The Tracks of My Tears" arrived in 1965 on the group's brilliant record Going to a Go-Go and quickly shot up into the Top-20 on the Billboard Hot 100 chart. It's actually confusing as to why "The Tracks of My Tears" didn't hit #1; the song is one of the smoothest compositions I've ever heard. Is it one of Robinson's best? In the grand conversation of his entire body of work, yes. The Miracles made catchier songs during their time as a vocal group, but "The Tracks of My Tears" is one of the best Smokey Robinson performances ever.
54. The Jackson 5: "Never Can Say Goodbye"
Written by Clifton Davis and recorded in early 1970, "Never Can Say Goodbye" was the lead single from the Jackson 5's 1971 album Maybe Tomorrow. It peaked at #2 on the Hot 100, flirting with the same immortality as their run of four consecutive #1 hits in 1969 and 1970 ("I Want You Back," "ABC," "The Love You Save" and "I'll Be There"). There are times when those early Jackson 5 songs sound like novelty. That's just how it works when it comes to acts populated by children. While practically everything the group did is outweighed by what Michael Jackson would go on to accomplish as a solo artist later on that decade, "Never Can Say Goodbye" is one of those moments where, looking back, it was so deftly clear that Michael was going to be a pop superstar for many, many years. "Never Can Say Goodbye" would be the last Jackson 5 Top-5 hit for three years, but, upon its release, it quickly became one of their greatest, catchiest tracks.
53. Mary Wells: "You Beat Me to the Punch"
I truly believe that Mary Wells is the most underrated Motown artist of all time. What an unmovable voice in a catalog brimming with unmovable voices. Wells was having a great 1962. "The One Who Really Loves You" had peaked at #8 and became her first Top-10 hit, and she quickly followed that up with "You Beat Me to the Punch," which would ascend to #9 on the Hot 100. The latter is the better track, in my opinion. Written by Smokey Robinson, it's the type of low-key, subdued soul record that you can throw on in any circumstance. It's good for cruising, lounging and dancing. Hell, I'll listen to this one on repeat while laying in bed about to fall asleep. It's a versatile, catchy quasi-ballad filled with bright instrumentation from the Funk Brothers—a backing band who hung around Motown from 1959 until 1972.
52. Eddie Kendricks: "Keep on Truckin'"
Eddie Kendricks is the Motown star who deserved so, so much better. After being the falsetto soul of the Temptations for years, he left the group to go solo and scored a #1 hit in "Keep On Truckin'" and still didn't get his due from the world. Kendricks sang lead on some of the greatest Temptations songs ever, but I'm often returning to "Keep On Truckin'" much more than anything else. One of the best psychedelic soul records of its era, the song employs funk and Kendricks' angelic pipes in hypnotic ways. After he left the Temptations, the group released a proto-diss track called "Superstar (Remember How You Got Where You Are)." Kendricks had the last laugh, though, as he'd go on to release six Top-50 hits after his former band's diss, while the Temptations would never fully capture their 1960s magic.
51. Jimmy Ruffin: "What Becomes of the Brokenhearted?"
Best known as the older brother of vocalist David Ruffin, Jimmy Ruffin could've had the world back in 1961. When Elbridge Bryant was fired from the beloved Temptations, the group offered him the gig—only for them to later hire David instead. I think it worked out pretty well, to be honest. Jimmy would go on to have a respectful solo career of his own, highlighted by his 1966 hit ballad "What Becomes of the Brokenhearted." It peaked at #7 on the Hot 100 and solidified Jimmy as a voice that could go toe-to-toe with David's, even if the former didn't have a global supergroup behind him. "What Becomes of the Brokenhearted" was originally written by William Weatherspoon, James Dean and Paul Riser with the Spinners, but Jimmy convinced Dean to let him record it. I'd say it was a pretty solid decision all around, as the song would remain Jimmy Ruffin's lone Top-10 hit.
50. Vince Staples: "When Sparks Fly"
Maybe you didn't know that Motown is still out here putting out music. Their 1959-1980 era is so legendary that it can be very, very easy to not remember anything that came out on their imprint after Reagan took office. However, they have one absolute S-tier artist on their roster right now, and it's rapper Vince Staples. His latest album, Ramona Park Broke My Heart, his second Motown release in as many years, is one of the most underrated hip-hop projects of the last five years. The whole tracklist is memorable, but "When Sparks Fly" is easily a centerpiece. Staples' use of a Lyves sample across the backing instrumental evokes a soulful gospel melody reminiscent of the energy that turned Motown into a powerhouse, and his poetics on the track form a unique, singular language. "I know that you love me, you don't gotta show me off to the world," Staples raps. "Please, hide me from the police. Everywhere we go, we together, inseparable." It's an all-time moment from one of our greatest living storytellers.
49. Brenda Holloway: "Every Little Bit Hurts"
A #13 hit for Brenda Holloway in 1965, "Every Little Bit Hurts" is a Motown track that flies way under the radar nearly 60 years later. Released on the Tamla imprint, Holloway sings this Ed Cobb-penned ballad so perfectly. She'd initially recorded the song a few years before officially signing with Motown and was not interested in re-doing it—but the label pushed for it and made it one of their marquee summer releases. It's now considered Holloway's greatest song and one of Motown's best ballads of its era. The Spencer Davis Group, Small Faces and the Clash went on to cover the track in the years after, but it's Holloway's version that is the most enchanting and lovable.
48. Commodores: "Easy"
Most of what Motown put out post-1975 is a blur, but not the work of the Commodores, an Alabama soul group who could just make certified hits with ease. Their 1977 #4 hit "Easy" is so juicy and sublime. Written by fellow Motown heavyweight and Commodores member Lionel Richie, it's hard to ignore the power of this track. "I'm easy like Sunday morning," sung by Richie in his signature octave endures 50 years on, too. One of the best "go-with-the-flow" breakup tracks of all-time, "Easy" was destined to be a hit song. It had every piece of DNA required to entrance the pop charts. The Commodores would find more success later in 1977 with their #5 hit "Brick House," but it's "Easy" that remains their greatest achievement.
47. Boyz II Men: "End of the Road"
Boyz II Men had such a strong chokehold on popular music in the early-1990s, and we must deliver endless respect to them for doing so. Their best song from that era, the absolutely massive R&B ballad "End of the Road," is, perhaps, one of the most popular singles in the history of modern music. "End of the Road' wasn't just a Hot 100 #1 hit, it was the #1 song on Billboard's Year-End chart, too. The track spent 13 weeks at #1! That was the best-performing song ever at the time, until that record was broken a year later by Whitney Houston. Though America would be quickly overrun by novelty pop and a million subsets of alt-rock in the mid-1990s, it's fun to look back on how Boyz II Men were the biggest band in the world in 1992 and ran the gamut on the mainstream charts.
46. Rick James: "Super Freak"
No artist can combine novelty and sex quite like Rick James, who perfected the formula on his 1981 hit song "Super Freak." Co-written with Alonzo Miller, James saw his track peak at #16 on the Hot 100 and earn a Best Male Rock Vocal Performance nomination at the 1982 Grammys. "She's a very kinky girl," James sings. "The kind you don't take home to mother." It's actually shocking that "Super Freak" didn't blow up even bigger than it initially did, given how favorable admiration has grown in recent memory. Lauded upon release and revered in retrospect, few songs from Motown's post-Golden Age have aged so well. It's a testament to James' songwriting talents and his captivating frontman charm. He could win you over with even the sensualist of melodies. There's a reason that everyone from MC Hammer to the Black Eyed Peas to Nicki Minaj have sampled "Super Freak." It's just that timeless.
45. The Jackson 5: "I'll Be There"
Though he was only 12 years old at the time, Michael Jackson is the driving force behind the legacy of "I'll Be There." Legitimately, it's one of the greatest ballads Motown ever produced. This time around, however, Michael trades lead verses with his brother Jermaine. It's an instance where the two siblings are in such perfect sync that the track could have never possibly failed. With instrumentation from LA studio musicians like David T. Walker, Louis Shelton and Joe Sample, "I'll Be There" is the track that separated the Jackson 5 from the novelty of being a family band. With Michael at the epicenter and his brothers surrounding him, there was an unbreakable alchemy alive and breathing. "I'll Be There" helmed the top of the Hot 100 in 1970, and it was the group's fourth consecutive #1 hit in a row. If you ever want to see a band at an apex, look towards "I'll Be There" and you'll see the bright, unmistakable truth.
44. Gladys Knight & the Pips: "If I Were Your Woman"
Before Gladys Knight & the Pips became superstars with "Midnight Train to Georgia" in 1973, they were a crucial part of the Motown roster. Their #9 hit "If I Were Your Woman" was their first Top-10 hit since "I Heard It Through the Grapevine" peaked at #2 in 1967, and it further cemented them as one of the very best soul quartets in the world. Gloria Jones co-wrote the track with Clay McMurray and Pam Sawyer, and it quickly became an essential part of the Motown catalog. Gladys Knight & the Pips would move on to bigger and better things, commercially, but their roots began at Motown, on the label's Soul imprint.
43. Diana Ross: "I'm Coming Out"
A Top-5 hit in 1980, Diana Ross' "I'm Coming Out" has become a significant anthem within the LGBTQ+ community. However, when it was recorded, Ross was about to ditch Motown for good and get out from under Berry Gordy's supervision. It was her "coming out" party, so to speak, but Ross also knew that the song might get preserved as a declaration of her own sexuality. Though she was initially fearful of the backlash against the song that might "damage her career," she became willing to take that risk and gave us its greatness. Rivaling James Brown's "Say It Loud—I'm Black and I'm Proud," "I'm Coming Out" is a confident portrayal of creative autonomy that has now become an emblem of revolution that is bigger than Motown. No other song in this ranking has had such an important, essential arc.
42. Marvin Gaye: "I Want You"
The title track from Marvin Gaye's 1976 album I Want You came into the zeitgeist again recently when Kendrick Lamar used an interpolation of the track on his standalone, pre-Mr. Morale & the Big Steppers single "The Heart Part 5." But don't get it twisted, "I Want You" has long been an absolute behemoth heater. After peaking at #15 on the Hot 100, it became one of Gaye's smoothest tracks. Unrequited love, romance and relentless passion pave the way for glamorous funk instrumental with early disco elements. "Oh, I give you all the love I want in return, sweet darling," Gaye sings. "But half a love is all I feel." He'd just been on a post-Let's Get It On sabbatical, only to return to "I Want You." I'd say, considering all of the comebacks we've gotten in popular music over the last 60 years, this one ranks among the very best.
41. The Four Tops: "Reach Out (I'll Be There)"
In this house, we stan The Four Tops and all they did for the Motown legacy. In eight years with the label, the group released 14 Top-20 hits. That's not even including the 14 other songs that charted anywhere between #21 and #100. Given the popularity and reverence around groups like The Temptations and The Supremes, it was easy to overlook just how essential The Four Tops were in the mainstream pop canon at the time. But their last #1 hit ever, 1966's "Reach Out (I'll Be There)" is one of the best soul records of its era. Composed by the Holland-Dozier-Holland songwriting team, it's not just an all-time Motown track; it's one of the best songs ever recorded. There's a reason it was selected for preservation by the Library of Congress. You can't top what the Holland Brothers and Lamont Dozier were cooking up in the mid-1960s. Them having a vessel like The Four Tops to deliver the message is just icing on the cake.
40. Edwin Starr: "War"
Singer Edwin Starr may not be the most well-known Motown act, but his #1 hit single "War" is one of Motown's greatest songs. Combining elements of funk and psych-soul, Norman Whitfield and Barrett Strong put together a truly one-of-a-kind protest track at the apex of the Vietnam War. The Temptations had originally been the intended artist for the song, and they even recorded their own version of it—only for Whitfield to re-record the song with Starr, because Motown didn't want to risk the Temptations losing their conservative fanbase. It was an ace decision by the label, as Starr's version is powerful and singular. I can't imagine any other singer belting "War, I despise, 'cause it means destruction of innocent lives. War means tears to thousands of mothers' eyes, when their sons go off to fight and lose their lives." I don't think those lines ring out in the same way from the guys who recorded "My Girl."
39. The Contours: "Do You Love Me"
One of the oldest songs on our list so far, the Contours' 1962 hit song "Do You Love Me" is an energetic R&B track that you'd have to be completely mad to not dance to. Written by Berry Gordy, "Do You Love Me" is a heat-seeker through and through. It's the kind of song that evokes the same sonic gloss as those early R&B standards that the Beatles would cover on their first few albums. Like Edwin Starr's "War," "Do You Love Me" was meant for the hitless Temptations. When it was time to record the track, the group was nowhere to be found—they were at church watching gospel groups perform. Next up to bat were the similarly hitless Contours, who took the song and turned it into an all-time screamer. It has one of the best spoken-word introductions ever, when these lines christen the track: "You broke my heart, 'cause I couldn't dance. You didn't even want me around, and now I'm back to let you know I can really shake 'em down."
38. Barrett Strong: "Money (That's What I Want)"
Barrett Strong's "Money (That's What I Want)" might not be the best Motown song. However, it is one of the most important Motown song—because it was the first ever #1 hit record for the label. It peaked at #23 on the Hot 100 and #2 on the R&B chart. Strong would later make a better name for himself as a songwriter at Motown, but "Money (That's What I Want)" has been in radio station circulation for over 60 years. No other Motown artist can say the same, which makes Strong an immortal legend on this list and beyond. With Berry Gordy on the piano, you can feel him and Strong clawing at an untapped potential across the entire track. You only get one shot at proving yourself, and "Money (That's What I Want)" stole the whole show.
37. Stevie Wonder: "As"
Our first Stevie Wonder sighting (and definitely not our last), "As" was the fifth and final single from his best album, Songs in the Key of Life. "As" didn't have the same chart successes as Wonder's other, countless #1 hits, but it's one of the best acts of storytelling across his entire catalog. Written after relocating to Ghana after a car accident, Wonder found himself expanding his humanitarian efforts and discovering a new love for the world and his own life. Thus, "As" is a love song about a compassion and infatuation that doesn't fade. It's a laundry list of joy that's only possible in a lifetime like this, including "the ocean cover[ing] every mountain high." "Just as time knew to move on since the beginning and the seasons know exactly when to change. Just as kindness knows no shame, know through all your joy and pain that I'll be loving you always," Wonder sings.
36. Diana Ross: "Upside Down"
Diana Ross' self-titled album is, maybe, the most underrated album of the 1980s. Released at the genesis of the decade, Diana wielded a few hits that were both colossal and triumphant. While "I'm Coming Out" peaked at #5 and became an LGBTQ+ anthem, it was lead single "Upside Down" that took over the country—ascending to #1 on the Hot 100 and remaining there for four weeks. It's one of Ross' boldest works, as she collaborated with Chic's Nile Rogers and Bernard Edwards—both of whom wrote the song together. The partnership between Chic and Ross was a mixed bag, internally. Chic approached it with a personal touch, while Ross has gone on record saying she wasn't impressed with their session output. Diana would get reworked by Russ Terrana and lose some of its funk elements. Nevertheless, the version of "Upside Down" that ascended to #1 is still incredible and centers Ross' very singular vocal set. Even if the funk parts are more subdued, "Upside Down" is still the catchiest and sweetest track the singer ever made after the Supremes came to an end.
35. The Temptations: "I Wish It Would Rain"
Often overshadowed by every other hit song they made around the same time, the Temptations' "I Wish It Would Rain" deserves endless flowers. Composed by Norman Whitfield, Barrett Strong and Roger Penzabene, this is the moment where David Ruffin becomes the star everyone else thinks he became on "My Girl" or "Ain't Too Proud to Beg." Though it didn't hit #1 on the Hot 100, "I Wish It Would Rain" peaked at #4 and feels pretty incomparable in the Motown catalog. Ruffin would be gone from the group by the end of the next year, but his stardom was solidified here, as "I Wish It Would Rain" is, without a doubt, one of the greatest Motown ballads of all time.
34. The Temptations ft. Diana Ross & The Supremes: "I'm Gonna Make You Love Me"
My favorite Motown-ism has always been when the label would just pair two of their artists together for duets. The best part is, they worked every single time. It's actually ludicrous that Motown batted 1.000 in that department. One of the greatest examples of that is "I'm Gonna Make You Love Me," a 1968 collaboration between The Temptations and Diana Ross & the Supremes. The song peaked at #2 on the charts, and it should have come as no surprise that Eddie Kendricks and Ross were a vocal match made in heaven. The Funk Brothers and Detroit Symphony Orchestra provide the arrangements, as the song unfolds into one of the loveliest soul duets ever laid to tape. I honestly can't stop gushing about this track, if I'm being honest. It's underrated and perfect. We even get a spoken interlude from Otis Williams, who notoriously never did anything in the spotlight (despite being the main founding force behind the Temptations). It's time that "I'm Gonna Make You Love Me" gets its flowers.
33. Stevie Wonder: "You Are the Sunshine of My Life"
Talking Book was a smash hit for Stevie Wonder in 1972, and it was truly catalyzed by singles "Superstition" and "You Are the Sunshine of My Life." The latter song is famous for featuring three lead vocalists: Wonder, Jim Gilstrap and Lani Groves. In fact, the first voice we hear on the track is Gilstrap's. "You Are the Sunshine of My Life" hit #1 and would later win a Grammy for Best Male Pop Vocal Performance. Often overshadowed by "Superstition," you can't overlook the greatness of this track—from the impeccable vocal performances to the electric piano that sharply sticks out to Wonder's incredible self-production, "You Are the Sunshine of My Life" is an everlasting love song and one of Wonder's absolute, indesputable best.
32. The Marvelettes: "Please Mr. Postman"
One of the catchiest Motown songs ever, "Please Mr. Postman" turned the Marvelettes into superstars in 1961. But, most importantly, it was the first Motown song to ever hit #1 on the Hot 100. I can't think of a better track to kickstart a dynasty with, as Georgia Dobbins, Williams Garrett, Brian Holland and Robert Bateman, together, penned an incomparable song that not even the Beatles could fully replicate the magic of. Gladys Horton's lead vocal is dynamic and unstoppable. She employs a perfect rasp to a sugar-sweet melody. One of the coolest things about "Please Mr. Postman" is that not only do the Funk Brothers play the instrumental, but the guy playing drums on the track is Marvin Gaye. There are few Motown songs I return to as much as "Please Mr. Postman." It's catchy and timeless.
31. The Supremes: "You Keep Me Hangin' On"
One of just six songs to ever reach #1 on the Hot 100 by two different artists, "You Keep Me Hangin' On" is a huge benchmark in the legacy of the Supremes. Composed by Holland-Dozier-Holland, the track is one of Diana Ross' best lead vocal performances of her entire career, while Florence Ballard and Mary Wilson are at an all-time high with their backing harmonies, too. Routinely considered to be one of the greatest songs ever, I think "You Keep Me Hangin' On" is largely unparalleled. Vanilla Fudge would do a rock 'n' roll version of the song in 1967, while Kim Wilde would strike gold with her own cover in 1986. However, neither rendition could ever truly capture the chemistry the Supremes willed into the original take. They're the greatest girl group in music history for a reason, ya know.
30. Martha and the Vandellas: "Jimmy Mack"
Another underrated classic in the Motown canon, Martha and the Vandellas spun this Holland-Dozier-Holland composition into a solid gold Top-10 hit. "Jimmy Mack" features one of the best group performances ever, as Martha Reeves, Rosalind Ashford and Annette Beard are just firing on all cylinders across the near-three-minute runtime. As was custom in the era, the Funk Brothers provide the instrumental and take it to the stratosphere. Inspired by the death of "He's So Fine" songwriter Ronnie Mack, Lamont Dozier paid tribute to the late doo-wop multi-hyphenate with one of the catchiest Motown songs ever. It was originally recorded in 1964 but shelved for over two years before getting an official release. Because of the Vietnam War that was raging overseas, "Jimmy Mack" went from a touching tribute to a song perceived as a longing ballad for a deployed loved one.
29. The Isley Brothers: "This Old Heart of Mine (Is Weak for You)"
The Isley Brothers' first album with Motown, This Old Heart of Mine, has some absolute rockers on it. But no track goes harder than the title track. O'Kelly and Rudolph's backing harmonies on "This Old Heart of Mine (Is Weak for You)" are so captivating and perfect that they carry the record into the echelons of vocal greatness. Ronald's lead chops are damn good, too. It was another bonafide classic penned by Holland-Dozier-Holland, which has become a pretty common arguing point on this list and will endure as such. The Funk Brothers string up one of their very best instrumentals here, too. Everything was clicking for the Isley Brothers on this one, and they cooked this track into a #12 peak on the Hot 100.
28. The Miracles: "Ooo Baby Baby"
Speaking of ballads, the Miracles' 1965 hit song "Ooo Baby Baby" has aged so beautifully over the last 58 years. Though it only peaked at #16 on the Hot 100, I'll never stop arguing that it's one of Smokey Robinson's best-written arrangements. It was the lead single off of Going to a Go-Go, one of the most well-balanced soul records of the 1960s, and it is one of the dreamiest songs Motown ever released. Robinson brought in the Detroit Symphony Orchestra to provide a string arrangement that paired perfectly with the Funk Brothers instrumental. Featuring an electric Jack Ashford vibraphone part, "Ooo Baby Baby" is often overlooked in the label's catalog. It deserves its flowers alongside other Miracles hits like "I Second That Emotion" and "The Tracks of My Tears."
27. The Supremes: "Where Did Our Love Go"
And here is where we can finally talk about the best soul record of the 1960s. When the Supremes released Where Did Our Love Go in 1964, it quickly became a powerhouse of doo-wop and pop-soul that yielded six lead singles, all of which made an appearance on the Hot 100. The fourth single, and first #1 hit for the group, "Where Did Our Love Go," established the Supremes as the premier girl group in America and made Diana Ross a household voice. It was the first of five consecutive #1 hits for the Supremes, but "Where Did Our Love Go" has aged beautifully over the years. Like on "Ooo Baby Baby," Jack Ashford lays down a great vibraphone here, while the Funk Brothers, again, turn a Motown track into a catchy, melodic slice of pop euphoria.
26. Stevie Wonder: "Sir Duke"
The third single from the greatest album ever made, "Sir Duke" is a soul track that has come to help define the legacy of Songs in the Key of Life. When Stevie Wonder dropped the track in 1977, he was the biggest singer/songwriter in the world. So it should come as no surprise that "Sir Duke" topped the Hot 100 chart and quickly became an immortal fixture in Wonder's catalog. Written as a tribute to Duke Ellington, who had died three years prior, "Sir Duke" pays beautiful homage to jazz by making references to Count Basie, Glenn Miller and Ella Fitzgerald, among others. Of course, it's not Wonder's best song (we'll get to that soon), but it's a track that is so catchy and so perfectly constructed that you can't help but love it no matter what. It's awing how incredible Wonder was in the 1970s, and a song like "Sir Duke" would be anyone else's greatest song. The fact that it's just a drop in the bucket of his career is a musical talent and phenomenon we'll likely never see again in this lifetime or the next.
25. The Supremes: "Stop! In the Name of Love"
Another #1 hit for the Supremes, "Stop! In the Name of Love" was the second of four chart-toppers in 1965 for the group. Writing that sentence, it's a fact that just feels so unfathomable. But then again, the Supremes were the best girl group of all time and, depending on who you ask (me), the greatest non-Beach Boys band in America ever. "Stop! In the Name of Love" was written by Holland-Dozier-Holland, which makes complete sense. Lamont Dozier got the idea for the song after his girlfriend cheated on him. If you were ever on the fence as to whether or not Motown dominated the 1960s, perhaps this Supremes song will change your mind once and for all. "Stop! In the Name of Love" was nominated for Best Contemporary Rock & Roll Group Vocal Performance at the 1966 Grammys and lost to the Statler Brothers' "Flowers on the Wall." I'm still not over that mistake, even if I wasn't alive when it happened.
24. Jr. Walker & The All Stars: "Shotgun"
Released from Motown's Soul subsidiary, "Shotgun" is the best song Junior Walker & the All Stars ever made. It marked Walker's debut as a vocalist, and, sheesh, did he deliver—all because the original vocalist Berry Gordy hired didn't show up to the session. The centerpiece of this song is, without a doubt, Johnny Griffith's Hammond organ. Walker's tenor saxophone solo, too, is legendary. The All Stars were raw and unproven when they recorded "Shotgun" in 1965. The song would peak at #4 on the Hot 100 and make the band legendary in the Motown canon. Even 60 years later, "Shotgun" is one of the cleanest soul songs I've ever had the privilege of hearing.
23. The Jackson 5: "I Want You Back"
The first national single ever released by the Jackson 5, this is the moment that made the entire world aware of who 11-year-old Michael Jackson was. The group would perform the song on Diana Ross' The Hollywood Palace show, as well as The Ed Sullivan Show in late-1969, and fly to the stratosphere soon after. Written for Gladys Knight & the Pips by The Corporation (Berry Gordy, Freddie Perren, Alphonso Mizell and Deke Richards), it was destiny that the song ended up recorded by the Jackson 5. It made them into child sensations and vaulted Michael into a life of stardom—for better or for worse. A #1 hit in early-1970, "I Want You Back" is full of so much funky, irresistible wonder.
22. Marvin Gaye & Tammi Terrell: "Ain't No Mountain High Enough"
Out of all of the collaborations to occur within the walls of Hitsville, U.S.A., none were greater than the singing partnership between Marvin Gaye and Tammi Terrell, who would make three studio albums together between 1967 and 1969. Their 1967 track "Ain't No Mountain High Enough" was not initially a smash hit, only peaking at #19 on the Hot 100, but it has certainly endured as the duo's greatest masterwork. Given how long it's endured in popular culture, you'd think it topped every mainstream chart available. Written by spouses Nickolas Ashford and Valerie Simpson, Dusty Springfield initially wanted to record the track. Ashford and Simpson rejected Springfield's request, opting to instead use the track as an in with Motown. The rest is history. "Ain't No Mountain High Enough" would become an immortal fixture of the Detroit label's output in the 1960s, and Gaye and Terrell would forge an unforgettable friendship that transcended every confining inch of popular music. You tap into the track and you can physically hear the love the two singers shared for each other.
21. Martha and the Vandellas: "Dancing in the Street"
Co-written by Marvin Gaye in 1964, "Dancing in the Street" became Martha and the Vandellas' signature song before David Bowie and Mick Jagger covered it 20 years later. Though Martha Reeves was initially hesitant about the song's repetitiveness, "Dancing in the Street" has since become a definitive part of Motown's legacy. Initially conceived through the imagery of block parties, the song's meaning would shift with the times—as the Civil Rights movement was growing and inner-city riots were becoming more frequent. It even got to the point where UK reporters were asking Reeves if she was a militant leader. At its core, it's a party song, and even Reeves concurs. It's one of the most electric Motown songs ever, and a benchmark in Martha and the Vandellas' career.
20. The Miracles: "You've Really Got a Hold on Me"
Another Miracles song that the Beatles tried to replicate the magic of, "You've Really Got a Hold on Me" is one of those tracks that never withers. It'll sound great in every lifetime it arrives in. Penned by Smokey Robinson after he heard Sam Cooke's "Bring It On Home to Me," the song features some incredibly legible and beautiful backing vocals from Claudette Rogers Robinson. With a Funk Brothers instrumental behind him, the song peaked at #8 on the Hot 100 and Robinson's pure, angelic pipes are smooth, clean and unforgettable. I would've given anything to be alive when the Miracles were the poster-group for Motown. They could truly do no wrong, and "You've Really Got a Hold on Me" is a perfect pop song that—despite the numerous, numerous covers—nobody else has quite been able to mirror.
19. The Temptations: "My Girl"
There is likely no better known Motown song in existence than "My Girl." The 1964 song was the Temptations' first #1 hit, a product of the group's fruitful collaborative partnership with Smokey Robinson, who was writing most of their songs at this point—hence why the album "My Girl" appears on is called, aptly, The Temptations Sing Smokey. That connection between Robinson and the Temptations proved to be the spark that would turn the group into one of the most renowned acts in the world. It also introduced the world to the vocal prowess of David Ruffin, who would quickly take the helm as the band's unofficial frontman. Ruffin had a perfect voice that was as brassy as it was tender. There were equal amounts of grit and passion, making him one of the greatest soul singers ever. "My Girl" is, perhaps, one of the single greatest ballads ever made—and it was not just a defining point in the Temptations' career, but a pivotal component in turning Motown into an immortal musical giant.
18. Marvin Gaye: "Mercy Mercy Me (The Ecology)"
We've finally entered the territory where the next 20-ish songs are all certified all-timers and can all be interchanged with each other. Any order you put these next tracks in is correct. Starting with Marvin Gaye's "Mercy Mercy Me (The Ecology)," I can't even fathom how this isn't the most legendary track from What's Going On. I mean, have you ever heard a smoother backing instrumental from the Funk Brothers? And that sax solo from Wild Bill Moore is unreal, too. The track would peak at #4 on the Hot 100, but it's much more immortal than any chart could possibly register. "Where did all the blue skies go? Poison is the wind that blows from the north and south and east," Gaye sings. If What's Going On was his opus, then "Mercy Mercy Me" is the centerpiece that glues the whole thing together.
17. The Four Tops: "I Can't Help Myself (Sugar Pie Honey Bunch)"
Another Holland-Dozier-Holland masterclass, "I Can't Help Myself (Sugar Pie Honey Bunch)" is one of the only cute, cookie-cutter love songs that didn't fall into the trap of banality. It's such a cheeky slice of romance, but the Four Tops spun it into a soul essential in 1965. Named the second-biggest single of the year, the song is ranked as the 479th greatest song in Billboard chart history. Between Levi Stubbs' lead vocals and a background chorus of Duke Fakir, Obie Benson, Lawrence Payton and the Andantes, "I Can't Help Myself" is one of those pop songs that was written perfectly, performed perfectly and has endured perfectly. There is nothing about the track that isn't a 100 out of 100. No imperfections, nothing. It's sugar-sweet and bonkers catchy. "I Can't Help Myself" went platinum, selling over 600,000 units. A triumph about being head-over-heels in love, the Four Tops turned courtship into an energetic spark that's lived on for nearly 60 years.
16. The Temptations: "Ain't Too Proud to Beg"
I remember this scene from the Temptations' miniseries biopic that aired in 1998, where, after the release of "Ain't Too Proud to Beg," David Ruffin tells his bandmates Otis Williams and Melvin Franklin that the band should be renamed "David Ruffin and the Temptations," and it's a cinematic moment that'll never leave me—much due in part to actor Leon's impeccable line delivery. However, as egotistical as Ruffin was (and whether or not he was as self-absorbed as the media has always portrayed him as), it's hard to argue that he wasn't the star of the group. Their 1966 hit song "Ain't Too Proud to Beg" all but seals that fate, in some form or another. It peaked at #13 on the Hot 100, but Ruffin would be fired from the group in 1968. He was developing a coke addiction and missed rehearsals and shows, leading to his ousting. "Ain't Too Proud to Beg" was his last great victory lap, after many (if not most) of the Temptations' charting hits of the era featured him singing lead. It's one of the greatest, most energetic soul songs ever recorded. Written by Norman Whitfield and Eddie Holland and featuring backing instrumentation from the Funk Brothers, there's so much starpower at work here that it seems impossible that "Ain't Too Proud to Beg" didn't break the radio.
15. Stevie Wonder: "Superstition"
One of my favorite music stories ever is how Stevie Wonder initially wrote "Superstition" for Jeff Beck to use, as a means of repaying the guitarist for appearing in the Talking Book sessions in 1972. The plan was for Beck to release his own rendition first, with Wonder's to follow after. However, after Beck's collaborative record Beck, Bogert & Appice was delayed, Berry Gordy predicted that "Superstition" would be a ginormous hit and expedited the single's release—making it arrive months before Beck's version. Gordy was right, as "Superstition" hit #1 in January 1973. It's one of Wonder's most recognizable and beloved songs—and for great reason. He played a Hohner clavinet, Moog synthesizer bass and drums on the track, while Trevor Lawrence and Steve Madaio provided tenor sax and trumpet, respectively. It's likely one of the best—if not the absolute best—funk tracks ever conceived. 50 years later, the song feels as explosive as ever.
14. Marvin Gaye: "What's Going On"
The title track from Marvin Gaye's greatest album, "What's Going On" is as timely now as it was 50 years ago. The song was initially inspired by Four Tops bandmember Obie Benson witnessing police brutality and violence enacted on an anti-war protest at the People's Park in Berkeley, California. Benson relayed what he saw to songwriter Al Cleveland, who then wrote a song from it. He'd give the track to Gaye in 1970, and the singer added a new melody and revised some of the lyrics. According to Benson, Gaye "added some things that were more ghetto, more natural, which made it seem like a story than a song." Everything from Civil Rights to the Watts Riot to the Vietnam War pushed Gaye to make "What's Going On" the song it is today. The key, gravitational piece of a conceptual album that is one of the greatest protest records ever conceived, Gaye made the final pivot towards the tracklist's connective tissue while visiting his brother Frankie in Washington, D.C. and hearing him recount his time serving in Vietnam. It's one of the most important records and songs ever made.
13. Erykah Badu: "Green Eyes"
Not many Motown songs after 1980 are great, but that is 110% not the case for Erykah Badu's 2000 song "Green Eyes." It's the only song in this list that didn't appear on the Hot 100 at all, because it wasn't a single to begin with. Instead, it's a 10-minute album closer that chronicles Badu's recently disintegrated relationship with Andre 3000. Maybe you didn't even realize that Badu was a Motown artist; I know I definitely didn't remember it until I was researching for this list. Nonetheless, Badu became an R&B legend with her 2000 album Mama's Gun, and "Green Eyes" is the gravitational force at the center of it all. Performed in heartbreaking sections, "Green Eyes" is complex and full of grief. "I can't remember the last time I felt this way about somebody," Badu sings. "You've done something to my mind that I can't control, but I don't love you anymore." "Green Eyes" is one of my favorite releases Motown has ever had, as it signals that the label was still able to make great records long after Marvin Gaye and the Temptations and Stevie Wonder were done churning out hits. Badu is the queen of neo-soul, and "Green Eyes" is a revelatory suite of cosmic, jazz-injected R&B.
12. Mary Wells: "My Guy"
Mary Wells may not have had the career longevity of the Supremes or Marvin Gaye, but she was one of Motown's greatest weapons. Her work for the label transcended perfection, and her 1964 hit song "My Guy" is a soul masterpiece that topped the Hot 100. Written by Smokey Robinson, "My Guy" is my favorite Funk Brothers instrumentation ever. How do you know the song is great? Dave Hamilton is credited with just "vibes" on the liner notes. That's a good way of summing up the energy of "My Guy," though, as the vibes are, indeed, immaculate. The song would be Wells' last solo hit with Motown, and what a way to exit. Her career would never recover after she signed with 20th Century Fox, but "My Guy" is a catchy, melodic ode to fidelity that remains a definitive piece of Motown's early catalog.
11. The Supremes: "Come See About Me"
Though I adore Diana Agron's cover of this song on Glee once upon a time ago, "Come See About Me" is the Supremes' achievement. I think it's one of the coolest-sounding tracks Motown ever put out, with that fade-in guitar from Joe Messina that acts like a definitive intro that cannot be shaken. Diana Ross employs this very delicate, almost angelic delivery on her vocals—which Florence Ballard and Mary Wilson back up with precision. Their harmonies launch Ross' lead into the stratosphere, while the Funk Brothers experiment with pop instrumentation that Motown had never really embellished prior. "Come See About Me" hit #1 on the Hot 100, as Supremes songs often did, and even unseated the Beatles from the top spot in January 1965. Not many artists can claim that feat, but, then again, the Supremes are much better than almost any other band that has ever existed.
10. The Temptations: "Papa Was a Rollin' Stone"
The Temptations' ultimate gift of psychedelic soul, "Papa Was a Rollin' Stone" is the group's 12-minute opus penned by Norman Whitfield and Barrett Strong. It would top the Hot 100 and go on to be regarded as one of the greatest songs ever made, but "Papa Was a Rollin' Stone" is the track that marked the beginning of Motown's decline in quality—but don't get it twisted, the label still put out numerous hits; they just weren't arriving in droves like they had between 1959 and 1971. The Temptations' magnum opus, however, is one of the last great instrumentals by the Funk Brothers and, arguably, the greatest orchestral piece that the Detroit Symphony Orchestra ever lent to a Motown track. It's got one of the greatest bass performances ever, a tense backbeat embellished by a repetitive hi-hat and one of the most soulful hand-clap rhythms I can think of. "Papa Was a Rollin' Stone" arrived on the charts at a mountainous seven-minute clip. It's the fourth-longest #1 hit ever; it's the suavest, most haunting vocal ensemble performance of the 20th century.
9. Marvin Gaye & Tammi Terrell: "You're All I Need to Get By"
Marvin Gaye and Tammi Terrell's 1968 #7 hit song "You're All I Need to Get By" is a vocal benchmark for both singers, and you can hear the passion and chemistry exuding from all corners of the track. It's one of the first songs I think about when I hear the phrase "Motown sound," and, beyond that, it's a generational soul ballad. While recording "You're All I Need to Get By," Terrell was still recovering from a surgery to remove a malignant brain tumor—the illness that would be the cause of her death in 1970. When Gaye ad-libs "Come on, Tammi," even the strongest of humans can't keep it together. There's a story about how, while performing the song with Carla Thomas at the Apollo, a wheelchair-bound Terrell was in the front row of the audience. Gaye noticed her and jumped off stage to offer her a microphone—a performance that, albeit brief, would be the last time Terrell ever sang in public before her passing. Few Motown songs are more beautiful in execution and in enduring, emotional spirit.
8. Marvin Gaye: "I Heard It Through the Grapevine"
Before What's Going On and Let's Get It On and I Want You, Marvin Gaye made "I Heard It Through the Grapevine," the Norman Whitfield and Barrett Strong-penned hit that quickly became the best-selling Motown single of its era. It peaked at #2 on the Hot 100 in 1967 and pretty immediately became one of the greatest mainstream soul songs ever recorded. Many consider this to be Gaye's greatest work, and there is a lot of truth to that (though I have another idea). The orchestral instrumentation heightens Gaye's already towering vocals. It's not his flashiest performance, but his subdued, sometimes-running, approach is what makes "I Heard It Through the Grapevine" so good. It's meticulous and patient and immaculate. The song has been covered by everyone from Creedence Clearwater Revival to the Gladys Knight & the Pips to the Slits, but it's Gaye's version that stands tallest over 50 years later.
7. The Miracles: "I Second That Emotion"
Pick any Miracles song as their best and you're probably right about it. That's the genius of Smokey Robinson; he gave us too many hits. I'm going to take "I Second That Emotion," the group's 1967 #4 hit, as not just the greatest Miracles song but one of the greatest Motown songs ever. Robinson co-wrote the track with Al Cleveland after the latter had a malapropism at a Hudson's department store. The two men were eyeing a pair of pearls for Robinson's wife Claudette, to which Robinson said "They're beautiful, I sure hope she likes them." "I second that emotion," Cleveland immediately replied, though he meant to say "I second that motion." And, well, the rest is history. Eddie Willis, Marv Tarplin and Robert White all lay down some delicious guitar chords that turn this joint into a bonafide pop classic. It's a glitzy, momentous and immortal slice of Motown's history; a track that solidifies Robinson as the golden boy of the label's long, coveted legacy.
6. Stevie Wonder: "Living For the City"
Though he was only 23 when he wrote and recorded Innervisions in 1973, Stevie Wonder already had 15 albums under his belt and was one of the biggest singer/songwriters on the planet. Innervisions remains one of his greatest feats 50 years later, and it was a project that solidified him as a titan of funk and soul. At the album's center is "Living For the City," a perfect, unparalleled, seven-minute composition tackling everything from love to addiction to racial inequality. The song—and the record—took great aim at the Nixon administration and Wonder even implemented traffic noise and cop sirens and racial epithets into the studio arrangements of a Fender Rhodes, drums, Moog bass and TONTO synth to bring the depictions of systematic racism into an even more vivid, public space. It's one of the most important songs ever made—and one of the most powerful Top-10 hits of all time—at a moment when no other American pop musician had ever had such an untouchable apex.
5. The Temptations: "Just My Imagination (Running Away with Me)"
The third Temptations single to hit #1 on the Hot 100, "Just My Imagination (Running Away with Me)" is Eddie Kendricks' victory lap. While he and the group were recording the song, he left to pursue his solo career. Norman Whitfield wrote the ballad with Barrett Strong, and no voice in the world could have sung it like Kendricks. It's a signature song for the Temptations for a reason, but I do believe it's the best song the group ever made. With an aching, orchestral string arrangement behind their voices, Kendricks breaks away from the song for a moment, to allow fellow bandmate Paul Williams to belt one perfect line: "Every night on my knees, I pray." Immediately, the band swells back into a balanced harmony. Williams would soon exit the band due to complications with his liver after a respiratory illness and his own bout with alcoholism. "Just My Imagination" is not just a tender, gentle story about fictional infatuation and romantic daydreams, it's the last time that all four original Temptations members (Kendricks, Williams, Melvin Franklin and Otis Williams) would sing together on a hit song. It's a perfect swan song for Kendricks and Williams, one riddled with heartbreak behind-the-scenes and hope embedded in every vocal turn.
4. Martha and the Vandellas: "(Love Is Like A) Heat Wave"
I will forever be jaded about "(Love Is Like A) Heat Wave" stalling out at #4 on the Hot 100. This is, simply put, the catchiest soul song ever recorded. How it didn't dominate the globe is blasphemy, and the world owes Martha Reeves and the Vandellas a 10-mile apology. Written by Holland-Dozier-Holland, "Heat Wave" merges gospel backbeats with jazz horns and doo-wop vocals. It's the song that first made that songwriting team a huge success, as well as introduced Martha Reeves and the Vandellas to wider audiences. Not just the greatest pre-1965 Motown song, "Heat Wave" would earn the label its first ever Grammy nomination (for Best Rhythm and Blues Recording). It didn't win (another demerit against the world), but the song sounds just as perfect and crisp as it did 60 years ago. Paul McCartney once included it on his long-lost (but now found) Unforgettable Christmas mixtape from 1965. Not much of McCartney's original tape remains, but "Heat Wave" comes at you like a freight train after the Beach Boys' "I Get Around"—with its melting grooves and hypnotic choral finesse heavy like a stack of bricks.
3. Stevie Wonder: "Signed, Sealed, Delivered (I'm Yours)"
The quasi-title track of his 1970 album Signed, Sealed & Delivered, Stevie Wonder's "Signed, Sealed, Delivered (I'm Yours)" is, in my humble opinion, the best pop song that's been released since Woodstock. Not only is Wonder's vocal performance here full of panache, grit and confidence, but the backup singing from Lynda Tucker Laurence, Syreeta Wright and Venetta Fields arrives like a godsend. "Signed, Sealed, Delivered" is massive, catchy and accessible. Not many pop hits can claim such a titanic, far-spanning reach. It was a best-selling soul single in 1970 and peaked at #3 on the Hot 100. "Signed, Sealed, Delivered" also features an electric sitar arrangement from Eddie "Chank" Willis, an addition that transformed the song from a routine pop cut to something much more expansive, dynamic and palatable. It went against the grain of what had long-worked for Motown, and it was a home run that crossed oceans and moved mountains.
2. Marvin Gaye: "Got To Give It Up"
The consensus #1 pick for "greatest Motown song" has always been a Marvin Gaye song—and very often it's "I Heard It Through the Grapevine," which is, in no short terms, one of the greatest pieces of music ever composed by anyone. But, I often gravitate the most towards his 11-minute opus "Got to Give It Up." Gaye wrote the track in 1977, after Tamla urged him to get in on the disco action that was taking America by storm at the time. This was the same year that the Saturday Night Fever soundtrack ruled the world, and everyone from the Rolling Stones to Queen were trying their hand at dance music.
Gaye followed Diana Ross' lead, who'd just recorded her own disco track "Love Hangover." But he was also in the middle of divorce proceedings with his wife Anna Gordy, who claimed that he wasn't paying child support. After avoiding imprisonment, English concert promoter Jeffrey Kruger booked Gaye to do a long run of Euro shows. It was at the London Palladium on that tour that Gaye unveiled "Got to Give It Up." Affixed with saxophones, drums, guitars, synthesizers, tambourine and backing vocals from Gaye's brother Frankie and ex-wife Janis, the result is a sprawling, dynamic, scatting track influenced by the background conversations and talking parts on "What's Going On" six years prior. I dare you to carve out some time to listen to this one, because "Got to Give It Up" isn't just one of the best disco songs ever made; it's a magnum opus in Gaye's career.
1. The Supremes: "You Can't Hurry Love"
It must be noted that, in five years' time, the Supremes scored 12—twelve—#1 hits for Motown. Between 1964 and 1969, no other act was as important for the label as they were. Yes, the Temptations and the Miracles and the Four Tops and the Marvelettes were great. We know this. But the Supremes? The Supremes transcended greatness and made a mockery of any music that couldn't outmuscle normality. Diana Ross, Marlene Barrow and Mary Wilson ran circles around average groups, turning subpar chart-toppers into foolish anomalies. Their 1966 #1 hit "You Can't Hurry Love" is, in many unbeatable ways, a perfect pop song—maybe the most perfect pop song ever recorded. I surely would make the argument on its behalf. It should also come as no surprise that Holland-Dozier-Holland penned this masterpiece. Of course their hands are all over this song.
With an incredible fusion of gospel, soul and pop, "You Can't Hurry Love" is a signature Motown song. That tambourine that chirps like a metronome beneath Ross' singing keeps the instrumental on time, but it's Ross herself that transforms the track into an unforgettable, immortal three minutes of angelic, R&B bliss. Like she sings, "Trust, give it time." 56 years later, "You Can't Hurry Love" has lived a thousand lives in a thousand shapes. It will surely outlive us all and find millions of devotees in every lifetime that comes after this one.
---
Check out our playlist of these 60 songs below.