The Women of Mountain Man On Their Quietly Powerful New Album, Magic Ship
Photo by Shervin Lainez
Music
Features
Mountain Man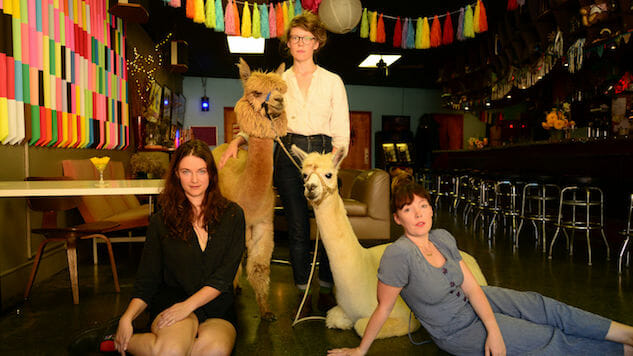 Mountain Man's manager had a dream. Martin Anderson saw in this sleep-induced sequence the folk trio's members—Amelia Meath, Alexandra Sauser-Monnig and Molly Sarlé—in a bar packed with, not blubbering beer-drinkers, but alpacas, the South American camelid baring a close resemblance to its cousin the llama. You only have to look at the album art for Magic Ship, their second LP and first release in eight years, or even just the above press photo, to know Anderson's dream came true. There, on Magic Ship's cover, are Meath, Sauser-Monnig and Sarlé, clumped in a Durham, N.C. bar, bookended by a pair of alpacas.
"He sent us a really sweet email being like, 'Tell me if I'm overstepping boundaries here, but I had this dream you guys were with alpacas, you were in a bar, wondering if you have any interest in making it a reality?' And we were all like 'Hell yes, Martin,'" Sarlé says.
It's that kind of yes-man ideology that organized Magic Ship's Sept. 21 release via Nonesuch. Not since their 2010 debut Made The Harbor have Mountain Man released a record and toured, but, after each member found herself living in North Carolina following years of pursuing separate hustles, the three women reignited their friendships, followed by their music.
In the years after Made The Harbor and a 2011 tour with Feist, Sarlé fulfilled a stint in a California zen center, Sauser-Monnig bounced from goat dairy worker to vegetable farmer to blanket weaver and Meath eventually went on to start electro-pop duo Sylvan Esso. They officially rebooted the band at Justin Vernon's Eaux Claires music festival in Wisconsin last summer, on a tiny stage in the middle of the forest, a perfect location for exhibiting Mountain Man's campfire harmonies and gentle folk ballads. "Basically we just got an offer and we were like 'Why not play a show in the woods at a festival that a bunch of our friends are also playing at in the summer in beautiful Wisconsin?'" says Sarlé, who's also been working on a solo record out next year.
Their Wisconsin woods performance was serendipitous, validation that Mountain Man would be once more. "The magic felt as strong as it did the first time we sang together, and I think we were all really moved by that," Sarlé says. "It seemed like if you can access something that is that special and moving, why wouldn't you try to make it a part of your life more often, you know?'
Sauser-Monnig agrees: "It was really special and felt like confirmation of the magic of performing together and left us all curious about doing it a little bit because it felt so good."
Magic Ship feels as good to the listener as it does its makers. The eleven originals and three covers comprising the album feel like private poetry, but you've managed to sneak into Mountain Man's secret clubhouse, just long enough to indulge in their soothing stash of acapella anthems and mellow mountain hymns. You can feel the bond between Meath, Sarlé and Sauser-Monnig. It's there in the soft storytelling and playful commands of "Stella" and in their ultimate ode to comfort on "Underwear." It's there on "Slow Wake Up Sunday Morning," which is as pleasant as it sounds, and in the soulful carol "Bright Morning Stars." Cozy and uncomplicated, Magic Ship is the album you'll want to listen to both in quiet solitude and in the company of friends. The delightful dinner-party-set video for "Rang Tang Ring Toon" pretty much sums up all of Magic Ship's warm and fuzzy feelings: Friends dance in a field, dine by candlelight and offer to help each other with the dishes. As on the record, harmony abounds.
The title Magic Ship, though it harbors a fitting metaphor for the songs' power to quietly and majestically support, is actually derived from an unlikely source: Sarlé's cat.
"'Magic Ship' is a really beautiful thing to say but the main reason why we named the record Magic Ship was so that when people asked us we could say that's Molly's cat's name," Meath says.
Both a beloved pet and a 14-song journey, Magic Ship does double duty as a name for two wonderful things.
"Magic Ship is the name of my cat, but I think for me all of the songs feel like transformative vessels in the sense that each song takes you somewhere," Sarlé says. "You start somewhere, you end up somewhere different after listening to them, so Magic Ship suits that idea in my mind as well."
The trio recorded the album over the course several snowy days last December in Meath's shared North Carolina studio with her Sylvan Esso partner, Nick Sanborn, who also produced the record. All the songs Meath, Sarlé and Sauser-Monnig brought to the table made the cut. "I live in the woods outside of Durham and [we] sat around my wood burning stove and just shared songs that we had collected over the past eight years or so. It was a very chill process," Sarlé says.
"[Nick] just knows all of us really well and knows our vibe collectively and was just really good at capturing what it's like when we're sitting and singing together," Sauser-Monnig says. "And that was kind of the goal of recording, to capture the vibe and bottle it in a way where if you're sitting in your home listening to it, you feel like you're in the same space as us."
Where Mountain Man's music does have that secure, immersive quality to it, Sylvan Esso's bounces and ricochets. The duo's 2017 record, What Now, explodes in bursts of dance synth and warm light. Though Meath's work in Sylvan Esso is of a louder and faster make, creating music in both projects is just a means to the same end: connecting with other people.
"The seed is the same thing, community building in a time of pretty severe isolation," she says. "But one's really loud and wizbang. One is very quiet and also wizbang but in a very subdued way. So it feels a little yo-yoey, but it kind of feels like all a means to the same end, which is trying to build a community, and letting people know they're not alone."
Mountain Man's Magic Ship is out now. Their 14-city tour kicks off Oct. 22 in Washington D.C. with The Dead Tongues supporting on all dates, which you can find here.