Watch of Montreal Perform on The Opposition with Jordan Klepper
Image via Girlie Action
Music
News
of Montreal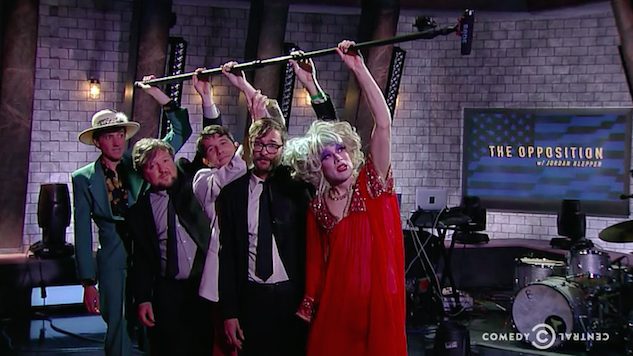 of Montreal performed two new songs from their new album, White Is Relic/Irrealis Mood, on Comedy Central's The Opposition with Jordan Klepper.
Their new album, out now via Polyvinyl, is the band's 15th studio album, and their first since 2016's Innocence Reaches. The band performed "Soft Music/Juno Portraits Of The Jovian Sky" and they also performed "Paranoiac Intervals/ Body Dysmorphia" as an online exclusive. Not only did the band perform two tracks, but they also held up a boom mic together (while host Klepper quipped that the band needed communism to hold it up) and they handed out non-disclosure agreements.
The show's first musical guest was Ty Segall, who also provided the show's theme song.
The band's leader Kevin Barnes commented on the album's title and his use of dual song titles:
The two title concept came to me when I was thinking about how difficult it is to frame the message of a song with just one title, because so often the songs are about so many different subjects. 'White Is Relic' was inspired by James Baldwin's writings regarding the creation and propagation of a toxic American White identity. I've come to learn how it's just a tool wielded by the 1% to give poor white people a false sense of superiority in an effort to keep the masses placated and numb to how deeply we're all getting fucked by our capitalist rulers. An 'Irrealis Mood' is a linguistic indicator that something isn't yet reality but does have the potential to become so.
Watch of Montreal perform "Soft Music/Juno Portraits Of The Jovian Sky" here and "Paranoiac Intervals/Body Dysmorphia" here. Check out the band's upcoming tour dates further below and you can also purchase their new album, White Is Relic/Irrealis Mood here.
of Montreal Tour Dates:
March
22 – Athens, Ga. @ 40 Watt Club $
23 – Carrboro, N.C. @ Cat's Cradle $
24 – Richmond, Va. @ The Broadberry $
25 – Washington, D.C. @ 9:30 Club
26 – Boston, Mass. @ Paradise Rock Club $
27 – Queens, N.Y. @ Knockdown Center
28 – Philadelphia, Pa. @ Union Transfer
29 – Millvale, Pa. @ Mr. Smalls Theatre $
30 – Cleveland, Ohio @ Beachland Ballroom $
31 – Pontiac, Mich. @ Crofoot Ballroom $
April
01 – Kalamazoo, Mich. @ Bell's Eccentric Café $
02 – Milwaukee, Wis. @ Turner Hall $
03 – Minneapolis, Minn. @ Cedar Cultural Center $
04 – Des Moines, Iowa @ Wooly's $
05 – Chicago, Ill. @ Thalia Hall $
06 – Cincinnati, Ohio @ The Woodward Theater $
07 – Chattanooga, Tenn. @ Revelry Room $
24 – Asheville, N.C. @ The Grey Eagle #
25 – Nashville, Tenn. @ Basement East #
26 – Tulsa, Okla. @ Cain's Ballroom #
27 – Kansas City, Mo. @ recordBar #
28 – Denver, Colo. @ Bluebird Theater #
29 – Salt Lake City, Utah @ Urban Lounge #
30 – Garden City, Idaho @ Visual Arts Collective #
May
01 – Seattle, Wash. @ Neumos #
02 – Portland, Ore. @ Wonder Ballroom #
03 – Berkeley, Calif. @ UC Theatre #
04 – Los Angeles, Calif. @ Teragram Ballroom #
05 – San Diego, Calif. @ SOMA #
06 – Phoenix, Ariz. @ Crescent Ballroom #
07 – Albuquerque, N.M. @ Sister #
08 – Fort Worth, Texas @ Shipping and Receiving #
09 – Austin, Texas @ Mohawk #
10 – New Orleans, La. @ The Howlin' Wolf #
11 – Memphis, Tenn. @ 1884 Lounge @ Minglewood Hall #
12 – Birmingham, Ala. @ Saturn #
June
28 – 07/02 – Barcelona, Spain @ Vida Festival
($ – w/ Mega Bog)
(# – w/ Locate S,1)