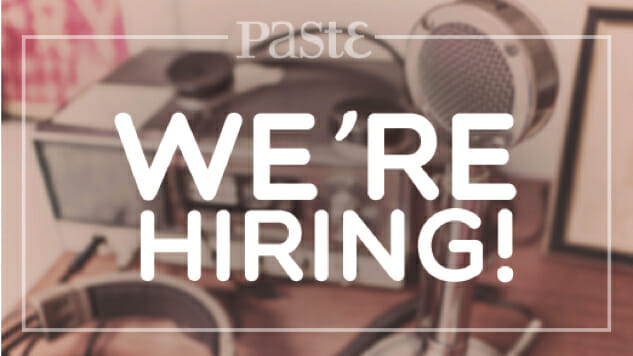 Paste is looking for a video intern to join us in our midtown Manhattan office. The internship will begin in early September and conclude in mid-November. The application deadline is Tuesday, Aug. 28.
The ideal candidate has a sincere interest in video production and music. The Paste Studio team records and live-streams bands, edits bands, and determines which bands we're going to record, live-stream and edit next. We aren't looking for a video editing whiz kid, only somebody who is dedicated to learning more about video production in the context of music live-streaming.
The internship is unpaid, though the intern will receive a $500 stipend. Typical hours are 11 a.m. through 9 p.m. Monday through Friday, though scheduling is flexible to accommodate classes and part-time jobs. This is an in-house internship—remote applicants will not be considered.
The video intern's duties will include:
– Compiling incoming pitches from bands and presenting them to the team in a concise way.
– Basic video editing—some knowledge of Adobe Premiere is a plus, but not required.
– Assisting with studio setup: running cables, positioning cameras and lights, charging batteries and so forth.
– Helping to maintain the Studio's schedule by keeping our internal calendars current and creating YouTube Live events.
Check out this recent session with Norwegian indie band Boy Pablo to get a feel for the Paste Studio's work.
Interested applicants can send a resume and cover letter to studio@pastemagazine.com. Be sure to note education, relevant experience, what you're listening to lately and why you want to intern at Paste.