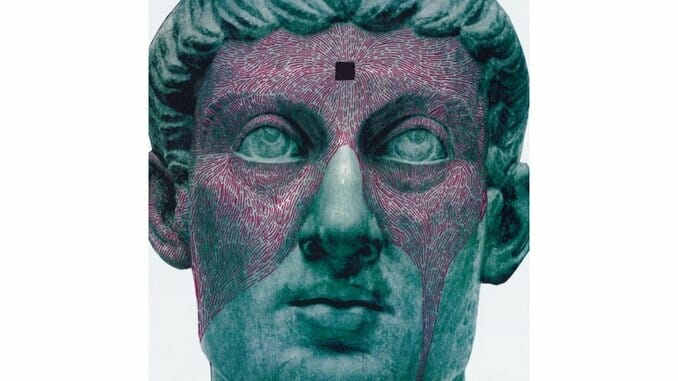 Protomartyr's 2012 debut, No Passion All Technique, was savage. Such congruity between a title like "Feral Cats" and the song itself is rare. It was also a sleeper, one that critics caught on to so slowly that the coronation of Protomartyr's 2014 follow-up, Under Color of Official Right, seemed compensatory. Plus, an interesting contextual angle— vocalist Joe Casey, Detroit native, grapples with a broken city—distracted from shortcomings: Under Color of Official Right was excessively polished; Casey strove for conventional vocal melodies and hooks with perceptible difficulty. Fortunately, The Agent Intellect rectifies that, expanding on No Passion All Technique's sinuous rock with Casey's lowbrow poetics at a properly dejected cadence and inflection.
Essentially, it's an album of spindly bass, needling guitar and economical drums. And yet, with Protomartyr's inventive ensemble flare, it sounds like much more. "Clandestine Time" merges glassy guitar and cymbal into one texture before pivoting into a verse where the bass carries the melody. Martial drums abut intermittent guitar squall on "Why Does It Shake," and on "The Devil In His Youth" Protomartyr emphasizes velocity without undermining a downcast chord progression's plaintive and rewarding resolution.
Thematically, The Agent Intellect is shifty and allusive, but age and vulnerability recur in Casey's lyrics. "Clandestine Time" revolves around an invisible character's meager proof of existence. The wispy, defeated refrain goes, "They don't see us." Meanwhile, "Uncle Mothers" is set in a forbidding, perhaps haunted, retirement home of sorts. And on the highlight "Why Does It Shake?" Casey writes from the perspective of an overconfident young person surrounded by destruction, only to find his vitality undercut by the ephemeral realities of flesh. "History's my backyard/Eternity's my reward," he declares. But the chorus' muzzled snarl—"I'm never gonna lose it"—sounds less convincing the more he insists.
Indeed, on The Agent Intellect, Casey finds himself as more of a vocal stylist than a singer, and that's good. Compared to his nuanced, flexible delivery—the way Casey shifts tone to reflect his emotionally textured writing—beaming hooks offer only cheap rewards.