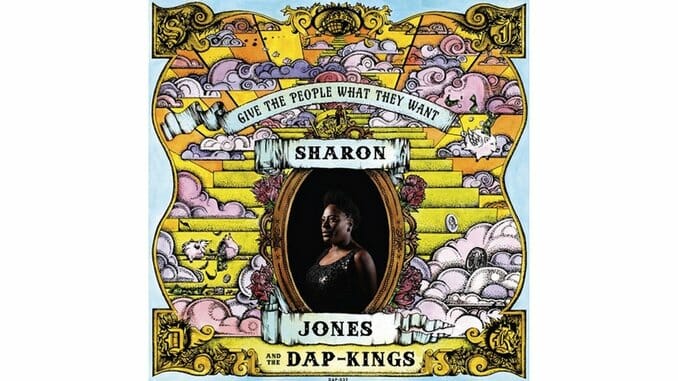 Give the People What They Want was supposed to come out six months ago. Leading lady Sharon Jones was ready. The band was tight. But then, Ms. Jones was diagnosed with bile duct— and later, pancreatic—cancer. Paste's feature on the fearless frontwoman details that whole story in vivid form.
As is, though, Give the People What They Want represents a modern depiction of R&B, soul and a little bit of funk. It follows in logical, albeit a bit comfortable, succession with 2010's I Learned the Hard Way and 2007's 100 Days, 100 Nights, highlighting Jones' cool, emotive vocals and the Dap-Kings' exemplary musical complements. In fact, the band's brass, notably the baritone horns in the pulsating "Stranger to My Happiness" and haughty "You'll Be Lonely," are a defining, filling element of the overall sound on Give the People What They Want. But it's Jones' powerful, perfectly vibrato-laden voice that creates just the right of emotion for every break-up, hook-up, fed up and uplifting track on the barely 30-minute record.
The notion of picking out individual lyrics and forcing circumstantial meaning upon them seems both unnecessary and a little like Paul-Is-Dead-hoax territory. "Hell hath no fury like a woman's scorn," Jones bites in the opening "Retreat!" (exclamation point necessary), a song telling some man somewhere to get lost. But pitted against her inner (and internal) demons, her words could easily be interpreted as giant double deuces to the disease. Likewise, the "Cheaters never prosper" line from "People Don't Get What They Deserve," a song seemingly about money and another man who's done wrong, could also serve as an echo to the perennially unanswered question of why bad things happen to good people.
With or without the backstory, Give the People What They Want is a record for fighters and for victors. It acknowledges hurt and weakness in all facets of life, but values optimism, strength and perseverance by hearkening to the most emotive genre and concept of all—soul.