The 15 Albums We're Most Excited About in April
Featuring Hop Along, Goat Girl, Hinds, Speedy Ortiz, Janelle Monae and more.
Image: Paste/Getty/Alberto Van Stokkum/Shervin Lainez
Music
Lists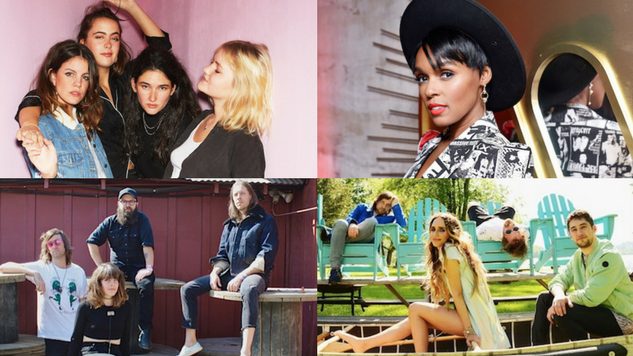 April is looking so fresh on the new music front, we had to expand our monthly list from 10 to 15 anticipated albums. Appropriately, the records we're most looking forward span the globe, from Spain to South Korea, England to New Zealand. From buzzy debuts and side projects to the return of old favorites, spring has most definitely sprung. Check out our full list below, and revisit our best albums of March list right here.
APRIL 6
Goat Girl, Goat Girl
England's Goat Girl hail from the same South London scene as Shame, and while the latter have revived classic punk via sheer aggression, Goat Girl's approach is far more subtle, but no less effective. The quartet's self-titled debut, out on Rough Trade, is a refined blend of dark punk ethos and country-inspired twang. —Loren DiBlasi
Hop Along, Bark Your Head Off, Dog
Three years after their seminal Painted Shut, Philadelphia's Hop Along return with their third Saddle Creek-released LP, Bark Your Head Off, Dog, their most cohesive release to date. Few vocalists evoke the emotion packed into Frances Quinlan's delivery, and it's on full display on early singles like the epic "Not Abel." Quinlan's songwriting has become more self-aware and outwardly present to the mechanisms of the world around her, and Hop Along is as tight a unit as you'll hear on record. —Adrian Spinelli
Hinds, I Don't Run
It's been over two years since the Mardrid-based band's breakout debut, Leave Me Alone, and on their follow-up, they've returned more confident with their signature sound: a sunny blend of bright garage rock, lo-fi pop, and breezy surf-rock. —Loren DiBlasi
Unknown Mortal Orchestra, Sex & Food
Hedonistic New Zealand singer/guitarist Ruban Nielson always keeps the listener guessing, making UMO one of the finest pure psychedelic rock bands out there. Sex & Food, the fourth UMO album and third on the Jagjaguwar label, was recorded in multiple cities around the world and has already yielded the solemn-yet-groovy "Everyone Acts Crazy Nowadays" and the cynical and rambunctious "American Guilt." —Adrian Spinelli
Wye Oak, The Louder I Call, the Faster It Runs
Jenn Wasner's voice has been one of the boldest and purest in indie rock for the past decade. With the Merge-released The Louder I Call, the Faster It Runs, Wasner and Andy Stack preside over the culmination of the transformative sound that Wye Oak embarked upon with 2015's Shriek. On singles like the atmospheric title track and the decadently nostalgic "It Was Not Natural," we hear a band that's found the sweet spot between digital and organic, while Wasner's coo grows along with it, like a beautiful flower. —Adrian Spinelli
---
APRIL 13
King Tuff, The Other
Kyle Thomas's King Tuff project hasn't put out an album in four years, but now with The Other, he roars back with a riff-based sound that is decidedly his own. Thomas has brought friends like Ty Segall on the drums, Jenny Lewis (!!!) on guest vocals and Mikal Cronin on sax. Listen to the Lewis-featured "Thru the Cracks" and look forward to an album filled with wicked arrangements from Tuff. —Adrian Spinelli
Laura Veirs, The Lookout
Portland folk songstress Laura Veirs returns with her 10th solo album, The Lookout, after an adventurous collaboration with k.d. lang and Neko Case on 2016's case/lang/veirs. First single "Everybody Needs You" finds her dabbling in more electronic realms, while second single "Watch Fire" is a gorgeous duet with Sufjan Stevens. (In January, Veirs also published her first children's book, Libba: The Magnificent Musical Life of Elizabeth Cotten.) —Matthew Oshinsky
Say Sue Me, Where We Were Together
These four friends from Busan, South Korea, make perfectly bouncy, jangling indie-pop streaked with shoegaze and surf-rock. Their tunes are often propulsive and sparkling, occasionally gentle and hazy, and always catchy. Lead single "Old Town" is definitely all of those things. —Ben Salmon
---
APRIL 20
Post Animal, When I Think of You in a Castle
It's easy to write off a band featuring one of the Stranger Things kids as a Hollywood gimmick, but Post Animal is for real. The Chicago psych-rockers are releasing their new record, When I Think of You in a Castle, on Polyvinyl, and though the aforementioned Joe Keery (aka Steve) isn't a touring member anymore, he does contribute guitar and vocals. We dug their cheerful lead single, "Ralphie," when it dropped in February. —Loren DiBlasi
DRINKS, Hippo Lite
DRINKS, the wonky, off-kilter psych-pop project of Cate Le Bon and Tim Presley of White Fence, returns with a sophomore album, Hippo Lite. First single "Real Outside" is glitchy, groovy, and undeniably fun, accented with Le Bon's ethereal crooning. We'll be spinning this one all through summer. —Loren DiBlasi
Ashley Monroe, Sparrow
One of the best songwriters currently working in country music returns with a new album that reveals a more sensual side to her sound, helped along by the work of a new producer (the ubiquitous Dave Cobb, of Sturgill Simpson and Chris Stapleton renown) and a sharper focus on her softer strengths. It's Monroe's first LP since 2015's stellar The Blade. —Robert Ham
---
APRIL 27
Speedy Ortiz, Twerp Verse
Following a triumphant SXSW, indie-rock mainstays Speedy Ortiz are back with their third full-length. After frontdemon Sadie Dupuis took a break with Sad13, she returned this year with a new lineup and bold, anxious singles like "Lean in When I Suffer" and "Lucky 88." —Loren DiBlasi
Half Waif, Lavender
Half Waif is Brooklyn-based Nandi Rose Plunkett is an electro-pop singer, producer, and multi-instrumentalist whose sound evokes lush landscapes and inventive influences. The prolific Plunkett has self-released two EPs and two albums, including 2016's ornate Probable Depths, and will soon release Lavender, her Cascine Records debut, later this month. —Loren DiBlasi
Janelle Monae, Dirty Computer
Janelle Monae's new singles, including "Django Jane" and "Make Me Feel," are sex-fueled empowerment anthems. "And we gon' start a motherfuckin' pussy riot / or we gon' have to put 'em on a pussy diet," she spits on "Django Jane." Monae refers to her new album as an "emotion picture" that will consist of an album and a narrative film. The film's release date is TBD, but Dirty Computer is out April 27. —Loren DiBlasi
Grouper, Grid of Points
Liz Harris returns to the piano to craft another haunting collection of somber, beautiful art. As with her 2104 LP Ruins, the first single she's released from this record, "Parking Lot," reins in the murky effects that she once used to hide her voice, leaving a sound that is naked and unafraid. —Robert Ham