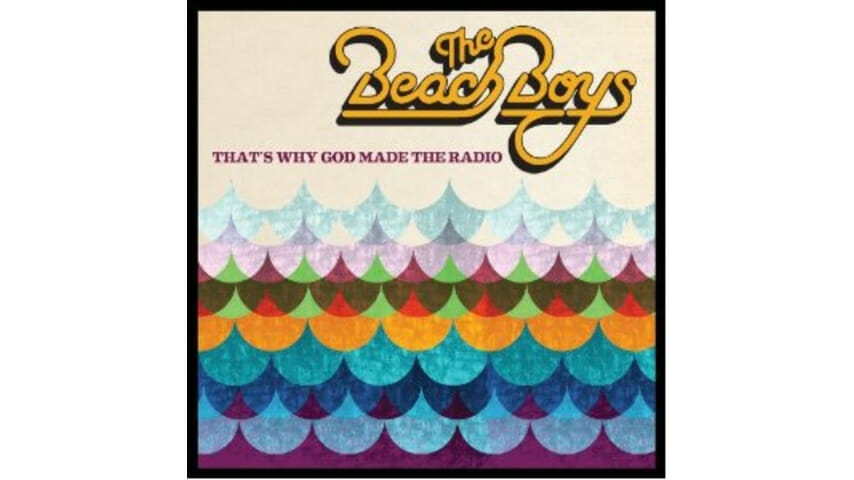 If there was ever a fitting time for The Beach Boys to throw in the towel, it was 2011—following the release of The SMiLE Sessions, the landmark, oft-bootlegged leftovers from Brian Wilson and company's unfinished '60s masterwork. Instead, they went in the exact opposite direction: The group's surviving members (Wilson; vocalists Al Jardine, Mike Love, Bruce Johnston; original guitarist David Marks) built on the momentum of that long-awaited release, reuniting for a 50th anniversary tour.
That reunion is nothing short of a pop music miracle: Wilson hadn't performed live with the band since 1996, and the years since have brought several heavily publicized lawsuits over songwriting credits and usage of The Beach Boys name. But virtually no one (including The Beach Boys themselves) could have predicted the release of That's Why God Made the Radio, their 29th studio album (and first batch of new material since 1992), let alone that it would be their best work since the '70s.
But make no mistake: While Radio does find the good ol' boys harmonizing together again (with a subtle sweetness that effortlessly recalls their glory days), it's a Beach Boys album only because Wilson willed it to be. The seeds of most tracks date back over a decade, to a series of fruitful sessions between Wilson and producer-instrumentalist Joe Thomas, who originally collaborated with Wilson on his 1998 solo album, Imagination. A stand-out from those hours and hours of recordings was a mid-tempo, '50s-styled ditty called "That's Why God Made the Radio," but instead of using the track as a springboard into a new solo album, Wilson shelved it away with an unselfish (and lofty) pride, claiming its potential could only be realized with his Beach Boys bandmates.
Wilson's intuition was spot-on: "Radio" is a gorgeous, windows-down gem that blends the optimistic summertime spirit of their early hits with the maestro's trademark compositional genius. Though its lyrics are corny, its chorus is spine-tingling—filled with flowing chord changes and spiraling, SMiLE-esque melodic grace. Even better is wordless opener "Think About the Days," which unfurls an exquisite, glistening web of harmonies over a melancholy piano figure, harkening back to SMiLE's enchanted opener, "Our Prayer."
It's a mesmerizing opening one-two punch, which only makes the album's eventual descent into "Kokomo" territory even more disheartening. It's a gradual fall: The Mike Love-assisted "Isn't it Time" is ridiculously dated, particularly in the lyrics department (and the obtrusive "Look at me—I'm not old-fashioned" programmed percussion isn't helping whatsoever), but I'll be hot-damned if it isn't catchy. But there's virtually no merit in the washed-up vibes of "Spring Vacation," with its references to "cruisin' the town, diggin' the scene" and bluesy, lame-o John Mayer d-side arrangement. Love's cringe-inducing lyrics are among the worst in the band's career, peaking in self-referential nausea with, "As for the past, it's all behind us / Happier now, look where life finds us / Singing our songs is enough reason / Harmony, boys, is what we believe in / Some said it wouldn't last / All we can say is we're still having a blast." (We get it, Mike—it's not about the money.)
In a way, it's easy to wonder how great Radio could have been without Love's obtrusive "Surf's up!" energy: Ultimately, he serves as the album's "executive producer," which probably just means he was there to ensure the album didn't get too "artsy-fartsy." While all members sound terrific behind the microphone, particularly when the harmonies are at their thickest, Love's lead turns on the god-awful "Daybreak Over the Ocean" and "Beaches in Mind" are excruciatingly over-played in their winky retro-ness and, quite frankly, an embarrassment.
But just when you're ready to write off Radio completely, it closes with a four-song stretch (part of a supposed long-form suite that remains, as of today, unfinished) that rivals anything in the group's post-Pet Sounds repertoire. There's the wistful, intricate "Strange World;" the absolutely stunning ballads "From There to Back Again" (which features particularly intricate harmonic development, lovely flute runs, and a stand-out lead vocal from Al Jardine) and "Pacific Coast Highway" (with Wilson sounding as passionate and clear-eyed as he has in years); and the reflective, meditative closer "Summer's Gone," which was originally intended to serve as the final track on the final Beach Boys album. It's an unexpected perfection, with "ooh-aah" harmonies gliding underneath a symphonic, Pet Sounds-styled instrumental sweep.
"Summer's gone," Wilson sings. "It's finally sinking in." It's hard to imagine a lovelier way to dim the lights.