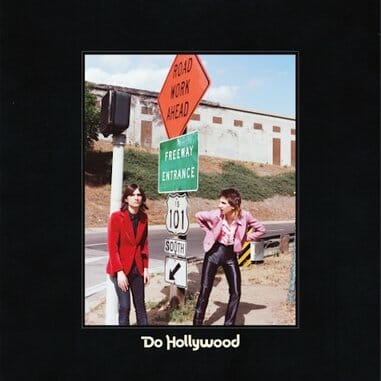 Brian and Michael D'Addario are still in their teens, but the music they play sounds much older. The two brothers, in addition to Danny Ayala and Megan Zeankowski, make up the Lemon Twigs, an up-and-coming rock band who signed with 4AD in 2015. The Lemon Twigs call themselves a rock 'n' roll band, but if "anachronistic" were a genre that could be applied to music, then their debut album, Do Hollywood, would fit the bill. It's '70s soul/funk met with the likes of MGMT, which makes for a unique blend of styles, rendering it impossible to pinpoint the year it's made. But it's 2016, and the Lemon Twigs have made their presence known.
The album opens with "I Wanna Prove to You," a catchy tune that sounds like it could have been heard at a '50s sock hop. Sing-song-y lyrics paired with doo-wop background vocals make for a timeless sound and a perfect introduction to the band's style. The third track, "Haroomata" begins with a harpsichord intro but soon breaks into something reminiscent of a polka. Such an array of genres would often make an album sound messy, but the Lemon Twigs approach it in such a way that makes it captivating.
Do Hollywood is a stylistically complex album. This fusion creates instrumentation that allows lyrics that would normally sound too simplistic to sound just right. This is most evident on the fourth track, "Baby, Baby," one of the albums' stand-out tracks. It starts with a muted bass line over a slow, easygoing tempo that emphasizes the chorus: "Baby, baby why you so angry at me / I've done all I can do, now I'm feeling blue/you know I'm not angry at you." Sung by most bands, these lyrics would run the risk of sounding too precious, but the stylistic choices of the Lemon Twigs make it appealing to the ear. Just when you think they're about to sit into the song, they jump into a dance-y, up-tempo interlude, before settling back into the chorus.
Another standout track is "Hi+Lo," a Modern English-like song that switches between psychedelic-rock verses and '80s punk drum-driven choruses. It's another back and forth that if done carelessly would cause auditory whiplash, but instead it exemplifies a unique trademark of the Lemon Twigs, one that makes their debut album one to remember.
This back-and-forth pattern perfectly sums up Do Hollywood—at first you're not sure what's happening, but you find yourself suddenly pulled in, unable to turn away. It's a notable characteristic on the album, one that will hopefully continue to allow the Lemon Twigs to stand out.