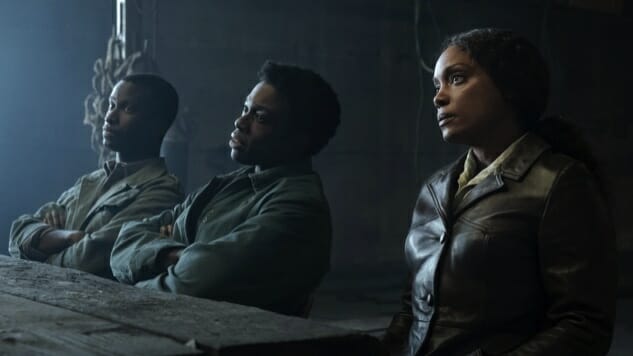 In Philip K. Dick's 1962 novel, The Man in the High Castle, Americans resisted the German and Japanese occupation of post-World War II North America by circulating a banned book that depicted a world where the Allies had won the war. When Amazon Prime adapted the book for a TV series that premiered in 2015, the book had morphed into a collection of underground movies that depicted the same thing.
But this fall, as Season 4 of Amazon's TV series dropped, the movies had been suppressed and music seemed to have become the primary vehicle for resistance. At Uncle Hank's farmhouse in Montana, a pirate radio station plays Woody Guthrie singing "This Land Is Your Land." At a secret hideout for the Black Communist Rebellion in San Francisco, bootleg recordings of Billie Holiday and Thelonious Monk are played on a turntable. And in New York City, Jennifer Smith, the teenage daughter of Reischsmarshall John Smith, dances with her boyfriend to a forbidden 45 rpm single of Slim Harpo's "I'm a King Bee."
Paste anticipated this development 10 months earlier when it suggested a new plot twist for the show, where John Smith is angered by reports that the Man in the High Castle is actually a black woman who is recording songs like "Mississippi Goddam" and "Jim Crow" and distributing them throughout black neighborhoods in the South to stimulate resistance to the Nazi regime. Smith sends his protégé Joe Blake to Birmingham, Alabama, to stamp out the movement. You can read about it here
Once again, Paste Magazine (which predicted Bob Dylan's Nobel Prize before it was announced) is not only covering culture as it happens, it's but also accurately predicting where it's going to go.