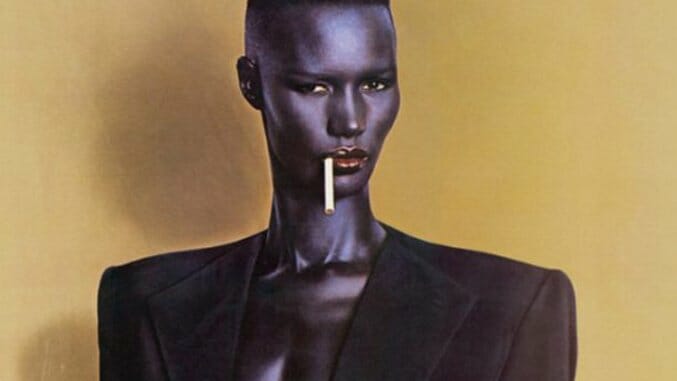 Now that they've finally made a movie about him, it's confirmed: Iggy Pop is one of the greatest rock 'n' rollers of all time. His influence is vast, and he's widely worshipped.
But really, nobody needed the cinematic knighting of Jim Jarmusch to validate Iggy's legacy. Bands and artists, at least, have been extolling his merits for decades. Straightforward, genre-restrained covers abound from the likes of The Nomads, Redd Kross and The Feelies. Homages helmed with more artistic freedom, like Sisters of Mercy's goth-rock revisiting of the early Stooges single "1969" in 1992, or Siouxsie and the Banshee's brass-accented, blissful styling of "The Passenger" in the late '80s. There is also, of course, Bowie's "China Girl," originally penned with Iggy and included on his 1977 inaugural solo outing, The Idiot. A few years later, he also released his own version "Bang Bang," jointly written by Iggy Pop and Patti Smith guitarist-turned-producer Ivan Král.
It doesn't end there, though. The number's perpetually climbing; there are too many sonic salutes to Iggy Pop to count. When sifting through that overwhelming avalanche, it's easy to miss some truly special ones. Here's five that deserve the most conspicuous top spots.
1. Grace Jones, "Nightclubbing"
There's plenty reason to argue that Grace Jones did it best. After all, it's not Iggy Pop who's emblematic of the most famous nightclub of all time. But the brooding, minimalist track inherently lacks the sheen of Studio 54, and with her eponymous '81 album, Jones was actively stepping away from disco. (Associating the radical avant-garde artist with only that era is extremely reductive, really.) Her signature deadpan, though, offers a stylish, restrained departure from the dialed-down but ever-present grit of the original.
Penned in collaboration with Bowie just before the Berlin years, "Nightclubbing" was included on The Idiot, Iggy's '77 solo debut. With all its nuanced funk and electronic elements, the album was intentionally at odds with the reckless and raucous rock 'n' roll everyone expected he'd deliver. Jones' take, however, with the dub-leaning reggae of Compass Point All-Stars as its bedrock, feels totally organic.
2. Those Darlins, "Repo Man"
Commissioned to write the theme song for the 1984 flick, Iggy Pop reportedly wrote this number on the fly. It wasn't until the Sex Pistols' Steve Jones and Blondie's Clem Burke and Nigel Harrison arrived in the studio that he wrote a single lyric; after testing out a few riffs, the bulk of the song was recorded in just two takes. Without declaring him entirely apathetic about the song, Iggy's vocals don't sound especially enthused here. There's a slight but nagging feeling that something's missing on "Repo Man," even more so when compared the rest of the now-classic punk-rock rippers on the rest of the soundtrack. If not for the movie's time-earned cult status, the song could have been somewhat forgotten in the flood of striking and seminal songs that comprise his canon.
When the compilation-focused label American Laundromat Records unveiled its Repo Man tribute in in 2012, Nashville's Those Darlins version gave the song a super-charged second life. For the last few years of the band's run, which officially ended this March, it was a regular fixture in their live show set list.
3. Neneh Cherry and The Thing, "Dirt"
Best known as an early innovator in melding hip-hop and pop (and the resulting international '88 hit "Buffalo Stance"), Neneh Cherry teamed up with experimental jazz group The Thing—named as an homage to her renowned jazz trumpeter step-father, Don Cherry—in 2011 for a one-off record aptly titled The Cherry Thing. The majority of it is warmer and more measured than you'd expect, but taking on the Stooges' "Dirt," the crew gets perfectly weird and wild. The Fun House track avoids self-deprecation and wallowing, favoring instead a sense of self-worth in singularity, no matter how strange. Cherry, who cut her teeth as a teen with post-punk bands like the Slits and Rip Rig + Panic, draws out another layer—that the message of acceptance is really a tragic white-flag surrender. The band's near-finale frenzy compounds it; Cherry's lyrical addition of "it's alright, it's alright" at the close feels tragically insincere.
4. Parálisis Permanente, "Quiero Ser Tu Perro"
Spain hit a cultural turning point immediately following the death of uber-conservative dictator Francisco Franco in 1975. The underground was already brewing, and the bands of La Movida Madrileña (Madrid's countercultural movement) represent a very idiosyncratic moment in Spanish punk. Still, there's no denying that the newfound easier access to thriving punk and rock 'n' roll scenes in the States and England left their mark.
On its only full-length record—frontman Eduardo Benavente died in a 1983 car crash— Parálisis Permanente served up a Spanish remake of the already iconic Stooges' song. The wording is slightly different, but the semantics—desperation, yearning—remain. In Benavente's breathy vocal delivery though, it's made slightly sinister.
5. Las Vulpess, "Me Gusta Ser Una Zorra"
Another Spanish act to commemorate the same iconic Stooges song is Vulpesss, an all-female band formed in '82 in Barakaldo, a few hours north of Madrid. Sonically, it's similar, albeit punchier. But lyrically, their take is more a radically feminist and sexually empowered take-back than a cover: To start, they reworked the titular line into "I like being a slut." One-night stands are the only way; they'd rather masturbate in bed than sleep with a potentially clingy partner. There's a secondary homage in there, too. They describe in detail exactly how they'd like to get down with Lou Reed.