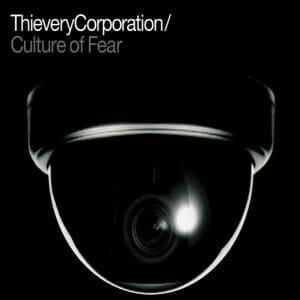 When Eric Hilton and Rob Garza came together to form Thievery Corporation in 1995, the two Washington D.C.-based musicians and DJs were breaking new ground. Taking inspiration from British trip-hop artists like Massive Attack, Tricky and Portishead, Thievery Corporation successfully combined downtempo electronica grooves with reggae and R&B sounds to create songs that were both musically challenging and great to dance to. In addition, more than any other band since U2, Hilton and Garza have always written lyrics that reflected the duo's radical politics while still maintaining a groove that makes their missives palatable.
Culture of Fear is Thievery Corporation's sixth album, and the collective's old fans will likely find a lot to enjoy on it. Their trademark mixture of real instruments, electronic textures and phrases that encapsulate everything from Brazilian bossa nova to old-school Jamaican dub are solidly intact. The juxtaposition of grooves is still profound and disturbing when it needs to be and light and dreamy when the going gets tough, but repeated plays of the new disc also reveal a band in a holding pattern. And, while that's not necessarily a bad thing—if something isn't broken, why fix it?—there is sometimes a creeping sense of sameness to the tracks on the new album that has never been present before.
The title track is by far the best song on the album. Voiced by hip-hop artist Mr. Lif, the song encapsulates all of the politics and justifiable paranoia that have been Thievery Corporation's stock and trade from the outset. It is a crucial, cutting edge song that is, by itself, reason enough to buy the album. Still, one wishes that the rest of the songs lived up to the high bar set by Mr. Lif. But sadly for the most part, the remainder of the tracks, even though they are uniformly well produced and sung, fail to generate much excitement or interest.
This isn't to say Culture of Fear is a bad album. There is some great guitar work from Frederico Aubele and Robbie Myers that gives some dimension and immediacy to the electronic sounds. TC regular LouLou Ghelichkhani adds some lovely vocals, but even her silken voice can't take songs such as "Where it all Starts" beyond the predictable boundaries the duo charted years ago. Similarly, rising Nigerian superstar Sleepy Wonder contributes some very impassioned vocals to "Star Gazer," but it's not enough to shake the feeling of having heard it all before.
At their best, Thievery Corporation created a true cultural melting pot of sounds. Their music never came off as gimmicky when they plundered West African or Indian classical themes. The fluidity and grace they demonstrated on album after album truly set them apart from other musicians working in the electronica field. Collaborations with the best artists in world and alternative music—including Femi Kuti, Anoushka Shankar, Perry Farrell and David Byrne—elevated Thievery Corporation to a level of musical integrity that few electronic musicians have ever achieved, much less maintained throughout their careers.
In the end, Culture of Fear is a good album, but it doesn't push any boundaries or claim any new ground. The burst of the unexpected that was once de rigeur with The Thievery Corporation is sadly missing on this place-keeper of a record. The grooves are still powerful, dense and spiritual, but they don't take the listener anywhere new on this surprise-free record.