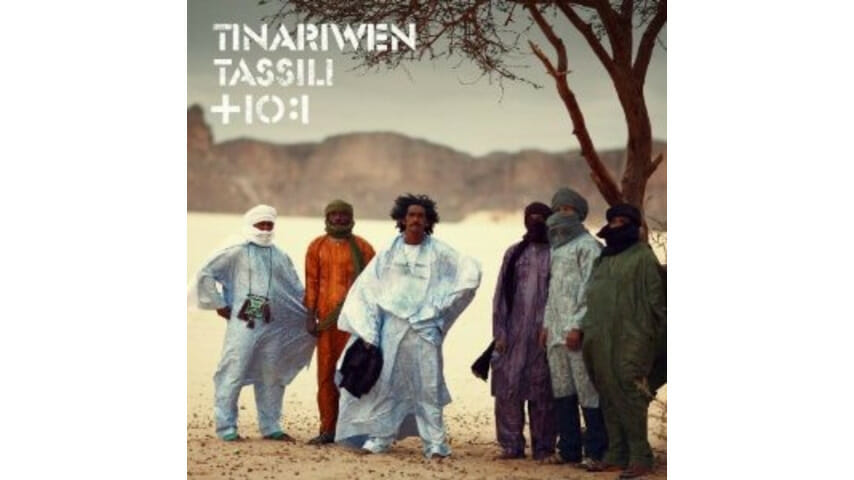 Tinariwen are revolutionaries in both senses of the word. The band members are former soldiers who during the early 1990s fought in the Tuareg uprisings in Niger and Mali. Even during that time, they performed at clubs and social gatherings in various countries, circulating cassette tapes of songs melding North African traditions with electrified blues and rock. The group long ago abandoned their weapons, giving the impression (upheld in English translations of their lyrics) that art in general and music in particular have become more powerful than guns.
Even a quarter century into a long and celebrated career, Tinariwen continue to innovate and revolutionize, developing a reputation outside their native countries as masters of an incredible guitar sound that has influenced such acts as Vampire Weekend and TV On The Radio. For their latest album, Tassili, the group abandoned their electric guitars to emphasize acoustic guitars and natural, unamplified percussion.
This may be their Unplugged album, but the hallmarks of their sound remain intact. Their placid, perfectly circular grooves sound like they could roll the length of the Sahara, and their chanted vocals still convey shades of determination and emotion that should be obvious even to listeners who don't speak Tuareg (the translations in the liner notes are almost beside the point). Although Tassili does not quite have the heft of their electric work, these songs create a different kind of gravity, one that is equally absorbing. "Tameyawt" gathers up bundles of abruptly strummed notes, crafting an austere accompaniment for Ibrahim Ag Alhabib's lonely vocals, while the scallops of guitar that open "Walla Illa" are achingly precise as they give way to a chorus of wordless chants, the strums mixing with the sustained voices.
Even as they plumb the acoustic roots of the Tuareg tradition, Tinariwen still see those traditions as a starting point rather than a destination. In that regard, they recruit American musicians to provide some flourishes to these songs: Wilco's Nels Cline adds some electric snap and flare to "Imidiwan Ma Tennam" and "Imidiwan win Sahara," while TV On The Radio's Tunde Adebimpe sings in English on "Tenere Taqqim Tossam" and adds his voice to the choir on "Walla Illa." But perhaps the most effective guest is the Dirty Dozen Brass Band, whose atonal horn flares and tracers sound like fireworks in "Ya Messinagh."
Even so, the best moments belong to Tinariwen themselves, who invest even some of the quieter moments with significance. Tassili ends with the gentle "Isswegh Attay," which the translated lyrics reveal to be a love song full of regret and yearning. The power of Tinariwen lies not only in their ability to communicate that idea musically, but most crucially in their ability to make such a simple idea sound fresh and profound.