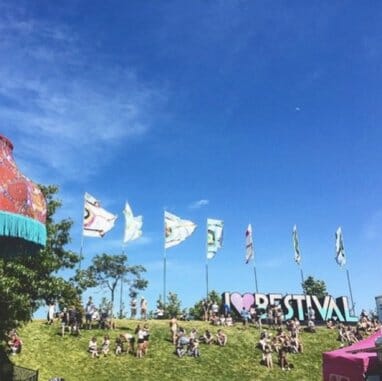 I can't talk about Bestival without first talking about Toronto. Having never set foot in Canada's largest city (or, TBH, on any other inch of Canadian soil), I had a complete picture formed in my head of what the metropolis would be like: cold weather, grey skies, little to no nature…corporate and lacking in overage of culture (apparently I'm a very negative thinker, yeesh). Bottom line? The picture couldn't have been more wrong.
Toronto is alive, Toronto is booming, and Toronto is lovely. The skies were bright and sunny throughout my entire trip, despite the 60 percent threat of rain on Bestival Day One (I heard a rumor that it rained during the night, but couldn't find any damning evidence to corroborate). Though the flawless weather was fortuitous happenstance, even if I'd been drenched throughout my stay, I'd still be raving about the 90 or so hours I spent in the city.
One trip to Kensington Market, walking distance from my downtown hotel, and I was hooked and completely reformed. The area, which felt a little bit like a California beach town that accidentally apparated into an urban environment, was a bevy of local coffee shops, longboard retailers, book stores and vintage clothing depots (scored myself a perfect pair of pre-worn Levi's for $20, which I proceeded to wear for the rest of the weekend). As I wandered the Toronto streets that evening, I was greeted by an absurd amount of music festival promo posters, some for the prior week's Field Trip which took place downtown, some for Bestival which I was preparing to attend (yes, shopping counts as prep), and some for the upcoming Way Home, located outside the city in Oro-Medonte. This city is a musical goldmine, and it's not just the festivals. According to Mike Tanner of Toronto's Music Sector Development Film and Entertainment Industries, the city holds 540 live music venues, 255 of which have live music at least twice per week. Not too shabby, eh?
Day One
Bestival Day One began on Saturday afternoon, arriving in time to catch DJ 4B and his crowd making glorious fools of themselves, 4B spitting cliched lingo like "trap head" and "turnt" and the crowd flailing around and spazzing out like maniacs every time he dropped his (rather excessive) beats.
After getting the lay of the land, wandering from stage to stage (the Bollywood Stage was by far the most decadent, a giant purple temple with elephant statues on each side and a peacock statue overhead) and snagging some life-changingly delicious poutine from one of the on-site food trucks, I headed over to the main stage for Jamie xx who put 4B to shame by showing us how a DJ set should be done, lacking pretense and allowing his expertly curated remixes, including samples from Drake's "One Dance" and Florence + the Machine's "You Got The Love," to do all the crowd hyping for him.
Odesza followed up Jamie xx on the main stage. While typically consisting only of members Harrison Mills (CatacombKid) and Clayton Knight (BeachesBeaches), the electronic duo announced that they'd be joined by a backing band for this performance. Having seen Odesza at SXSW a couple of years back with just Mills and Knight drumming along to their mixes, I can safely say that the full band filled out their sound in a huge way. Personally rooting for that to be a permanent installation for these guys.
Last but not least on Night One was Tame Impala, by far the best show of the day. The Australian band book-ended their set with songs off of their third album Currents, released in July of last year, while the middle was filled with an even mix of tracks from Currents, 2012's Lonerism and 2010's InnerSpeaker—not to mention a cover of Mark Ronson's "Daffodils." Complete with on-beat pyrotechnics and trippy projection visuals to punctuate their breezy psych rock, Tame Impala owned the night with an ease that only Aussies can truly pull off.
Day Two
Day Two promised just as much excitement as Day One, the final two acts being long-time favorite Grimes and even longer-time loves The Cure. I arrived at the festival and headed straight for the media section for a beer and a bench, so that I could sit and plan my front row attack. Sitting and sipping on my special Bestival-branded Budweiser, I looked around at the decor of the festival—truly, this was one of the most meticulously and whimsically decorated fests I have ever attended, kind of like Claire's took over Urban Outfitters' Apartment section and demanded that they take themselves less seriously—and the endless flower crowns and fringe bikini tops of its attendees. The bartender described it best, declaring that this was "Toronto's answer to Coachella." Nailed it, minus the H&M clothing collection and resident celeb Vanessa Hudgens.
Effortlessly gliding my way forward through the crowd during Daughters (Canadians are so polite, y'all), I landed on the front rail as the London-based threesome was in the midst of their set, enchanting the crowd with their haunting dream folk before daintily thanking us for listening and then tip-toeing off stage.
Enter Grimes. Having just seen the native Canadian artist/producer at Hangout Festival a few weeks back, I had a good idea of how psyched I should get for a second go 'round (hint: super psyched). Grimes galloped onto the stage, her skeletal frame draped in a giant leopard print Adidas jacket and clashing camo pants. She immediately informed the crowd that she was deathly sick with a cold, warning us that her voice wouldn't be quite up to par for this performance. Trust me, no one was disappointed by her set, as she threw just as much energy and commitment into each track as she did when I caught her on the beach in Alabama (though, unfortunately, no flying inflatable cockroaches this time around). My biggest problem here was that I realized that Toronto crowds aren't quite as wild as U.S. crowds, so in my first burst of screaming out the words to "REALiTi," I could actually hear my own voice, and it made me almost insecure enough to shut up.
Following Grimes, The Cure was scheduled to play for two and a half hours. Upon seeing this on the website, I had earlier in the week remarked that there were "few bands that I could stand through for two and a half hours." Turns out, The Cure is definitely one of them. In fact, I probably could have stayed there all night long if the band was willing to dive into some deep cuts and watch the sunrise with me. The second Robert Smith walked out on the stage in his signature eyeliner and red lipstick, my dormant The Cure obsession was awakened, and my stomach flipped with a burst of adrenaline. The English post-punk band began with "Kyoto Song" off of 1985's The Head On The Door (first vinyl record I ever got), and my trance was complete. I don't think I blinked once during their set full of songs from nearly every era of their endless catalog, leaning rapt on the rail and smiling up at the legends who influenced me and so many of the bands I love. It was hard to wrap my mind around, and I've watched the countless videos of their performance on my phone every day since. For me, The Cure was a life-changing band, and this was a life-changing concert. Thank you, Bestival. Hope to see you next year, rain or shine.