Vagabon Dances Her Way to Freedom in "Water Me Down"
Image courtesy of Nonesuch Records
Music
News
Vagabon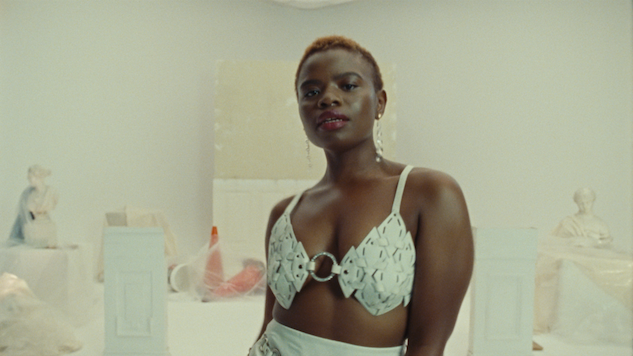 Vagabon, aka the Cameroon-born and New York-based Laetitia Tamko, is releasing her self-titled sophomore album (formerly known as All The Women In Me) on Oct. 18. On her first single, "Flood," we saw her trade the intricate guitar sounds of her debut, Infinite Worlds, for haunting drum machines and synthesizers. Today (Sept. 16), she's dropped a new video for her second single "Water Me Down," another percussion-heavy, largely electronic track, in which she merges the dense and the airy in service of a song about the weight of other people's expectations. "Never meant for all of this / Never meant for you to love / Never meant for you to trust," Tamko intones, pairing her rich vocals with feathery keyboards.
"Water Me Down" is about freeing yourself from someone who wants too much and waters you down in the process, and in the new visual Tamko fittingly shows us a totally unforeseen side of herself. "I wanted to flex a muscle I haven't shared yet," she says in a statement: "dancing." The Maegan Houang-directed video features Tamko flanked by two back-up dancers in a variety of colorful sets, with backdrops ranging from dark blue and warm white to the burnt orange of Vagabon's cover. Houang and Tamko explain that the choreography, as well as the costume, color and set changes, emphasize the track and video's sense of transformation. "[W]ith the 'Water Me Down' video, I knew I wanted to make a visual with striking vignettes," Tamko explains:
I wanted the colors to reflect those that illuminate my album cover, I worked with film again, as I have with all my videos so far, this time we went with 16mm … Derek Nemecheck, my choreographer, and I worked together on movement. We never strayed from the dancing that felt natural in my body and it was so rewarding. Director Maegan Houang executed these ideas beautifully.
Houang adds:
[W]e worked with Derek Nemechek to choreograph movement that went from feeling rigid and structured to something more free form. Lighting, camera movement, costume design, color and set changes then served to accentuate the transformation Laetitia undergoes, finally allowing herself to be free and alone from people that hold her back.
Watch the kaleidoscopic video below and catch up with Vagabon's tour dates here.