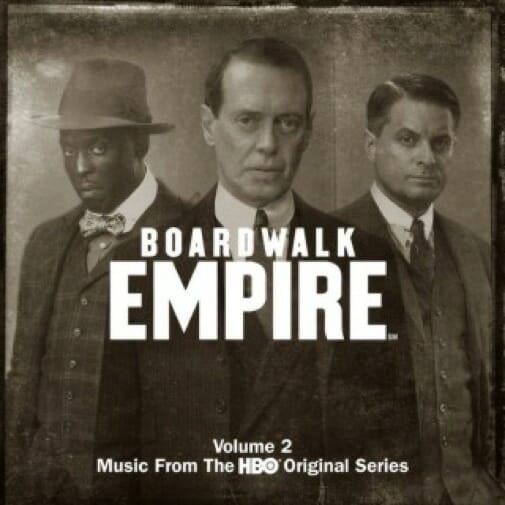 Perhaps it's not the wisest idea to open this review with an admission that I've never actually seen a single episode of HBO's epic series—okay, its other epic series. Boardwalk Empire has resided in the low hundreds on my Netflix queue for well over a year now, but has been passed up time and again in favor of cheesy horror films and dumb comedies—cinematic chewing gum rather than the multi-course meal of a serious-minded cable TV show. Maybe you're thinking right now that I'm incredibly irresponsible—or at least critically suspect just for admitting it—but for the purposes of this particular album review, I'll go ahead and argue that my ignorance of Boardwalk Empire at the very least gives me a certain objectivity to hear this second volume of Jazz Age songs gussied up by contemporary artists not as a soundtrack, but as a musical experiment.
Similar to Vol. 1, albeit broader and more ambitious in scope, Vol. 2 recruits contemporary singers like Annie Clark, Neko Case and Rufus Wainwright to perform Prohibition-era classics like "It Had to Be You" and "Nobody Knows You When You're Down and Out." They're not updating these chestnuts; instead, this album is more like a period piece with musicians instead of actors. There's a jolt of stuntwork here, as many of these artists rarely if ever venture into the realm of bathtub-gin jazz. The emphasis is on the urban and urbane, the stomping post-hot jazz and pop played in backalley clubs and password-protected speakeasies for flappers and hoofers.
While it's a novelty to hear 21st-century artists stretch so far out of their comfort zones, several sound out of their depth. Clark—the brains behind the rococo-pop outfit St. Vincent—delivers a workmanlike performance of "Make Believe," trading all her vocal eccentricities for a more straightforward, slightly anonymous delivery. Matt Berninger of The National tackles "I'll See You in My Dreams," but sounds like he's already drifting off to dreamland. The song isn't even two minutes long, but it's a wooden nickel.
Neko Case has better luck on "Nobody Knows You When You're Down and Out," inhabiting the song like a method actor, and since Pokey LaFarge lives in the past most of the time anyway, it's no surprise that he slips into "Lovesick Blues" comfortably and convincingly. Rufus Wainwright sounds like he's having a blast on "Jimbo Jambo," which is a fun, hoochy little number once you get past its ridiculously retrograde racial politics.
The closer an artist's birthdate is to the Jazz Age, the more they rev up Boardwalk Empire Vol. 2. Elvis Costello is unrecognizable singing a rendition of "It Had to Be You" that spryly sidesteps the humdrum big-band versions that weigh down romantic comedies, and Loudon Wainwright III turns in a wistful version of "The Prisoner's Song," whose strummed ukulele sounds like it's trying to float its way to freedom. Strangely, it's a fine match with Patti Smith's "I Ain't Got Nobody," which wryly plays up the boo-hoo quality in her voice.
And then there's Liza Minnelli. Millennials may know her as an Arrested Development mainstay, but she's from a school of well-rounded entertainers who can hold a stage for an hour or two by herself. In her mid-60s her voice sounds a bit diminished with age, huskier and not quite as powerful as it was in her prime, but that's just the one hand she's got tied behind her back. On "You've Gotta See Mama Ev'ry Night" Liza with a Z still schools the young'uns by injecting no small amount of lust and glamour into her vocals, concocting a potent cocktail of melancholy and self-biting humor. She sounds both hilarious and heartbreaking, like Sally Bowles closing up the Kit Kat Klub. In fact, you might be better off picking up the Cabaret soundtrack than this intriguing but not altogether successful music experiment.