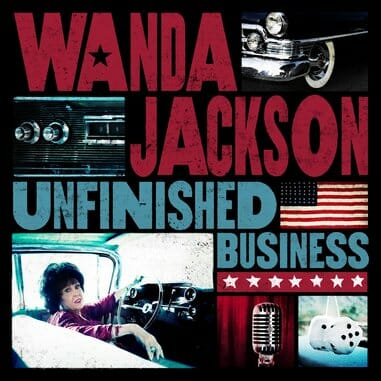 With a voice like a chainsaw swallowed by a little girl, Wanda Jackson's brand of "shake 'em up, baby" is as kitten-with-a-whip as ever. The 75-year-old rockabilly queen's sex is still on fire: taunting the boys with Steve Earle's "Graveyard Shift," the retro staccato bomp "Pushover" and blues-country compulsion "Old Weakness."
Lust isn't something Jackson shies from. Embracing legends (Townes Van Zant), modern progressives (Greg Garing) and classic soul (Bobby Womack), Jackson sounds randy, ready and able to bounce whatever comes her way with full-tilt vigor. As the high hat snaps, back up singers rise like cats in heat and the guitars spin like individual beams of neon, the woman who gave young Elvis a run for erotic-thrust savors it all.
After an infusion of hip via roots-necrophiler Jack White on last year's The Party Ain't Over, it's Justin Townes Earle who steps in this time around for a slightly more fluid presence for the Rock & Roll Hall of Famer. Maybe it's his DNA, perhaps his organic fascination with vintage hillbilly/soul/rock 'n' roll, but Earle brings freshness and vitality to what could be leadenly archival.
Even the revival-tent gospel of Van Zant's "Two Hands," all shook tambourine over a Tennesse Two train beat, is rapturous in its sanctity, making salvation visceral.
That immersion is unbridled in Jackson's throat: the steel guitar melting turpentine tears across Earle's "What Do You When You're Lonesome," while Jackson channels Kitty Wells' "It Wasn't God Who Made Honky Tonk Angels" for a core country reminiscence that's part dance hall, part stoic stroll.
Quick, fast and dirty, like 45s from the '50s, this is a stack of songs that sets the mood for the party—and never looks back.
It's not until Business' closing "California Stars," from the Woody Guthrie/WIlco collaboration, that things slow down. Reflecting on all that her life has been, it's not a dirge for the living with one foot in the grave, but an assessment of where one's been, the beauty of it all and the reality of what it is.
A philosophical benediction, "California Stars" lifts the package of firecrackers to a more balanced place. Not just a jaunty broad still feeling her oats, Jackson's a diva in fringe who ain't afraid to live, but she isn't denying the depth of what the ride is made of either.