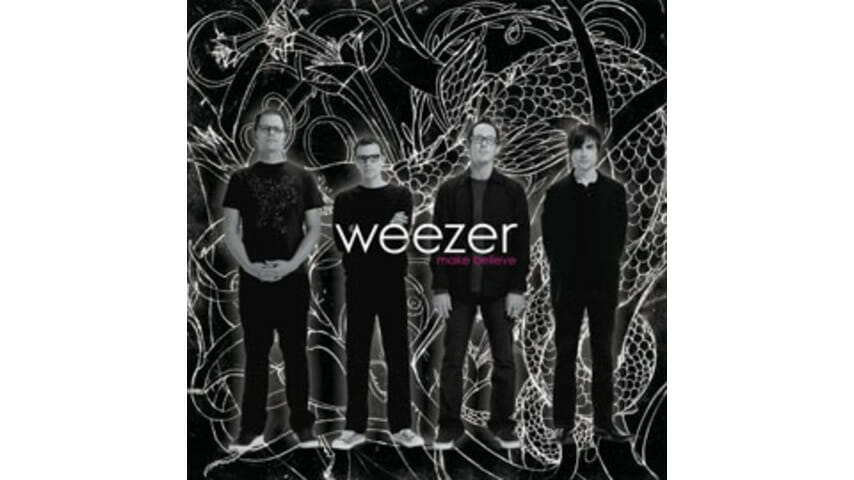 Weezer's main man Rivers Cuomo is a smart guy, so what's he up to here? Hard to say, really. The band's fifth record opens promisingly enough, leading us to believe that Make Believe is a refinement on the foursquare guitar pop of 2001's self-titled record. "Beverly Hills," Cuomo's love song for L.A.'s embalmed city of the nipped and tucked, is a good smile. Over a big, two-chord guitar stomp that sounds like a Bud Light ad jingle, Cuomo, whose "fashion sense is a little wack" and whose "automobile is a piece of crap," longs for the place where the "housemaids scrub the floors clean" and "get the spaces in between."
This is good, solid Weezer stuff—ironic but not particularly clever, catchy but not unusually so. That's all we can ask of Cuomo, really; he just wants to be your little sister's nerdy crush, an egghead with a big amp. As long as Cuomo sticks to that spirit of mild-mannered subversion—of singing heartfelt songs out the side of his mouth—Make Believe works and is at times immensely pleasurable.
But get a little deeper into the record, and something disturbing emerges: the sound of a good songwriter getting banality mixed up with sincerity. Or is he? How are we to take lines like "When everything is wrong I come talk to you / You make things alright when I'm feelin' blue," from the jaunty "My Best Friend?" And what about "We should all give our love to each other / Not this hate that destroys us," from the synth-driven "This is Such A Pity?"
Are these Rod McKuen-esque lyrics to be accepted at face value, or is Cuomo merely subverting the entire notion of the love song? Given that Cuomo is one of the most self-aware of songwriters, it's a vexing question. Suffice it to say that the new Weezer record seems to be the confessions of a bifurcated mind, a songwriter who can revel in moon-June banalities because they're fun to play around with, but who can also rise above them when he wants to.
The music itself is Make Believe's saving grace. Again, nothing startling, but it's all sturdy. Cuomo leans hard on mid-tempo guitar rock, all staccato 16th notes and stoopid, stomping drums. "We Are All On Drugs," a song that that will no doubt be getting a lot of attention, is a pile-driver anchored by the choral refrain "I wanna confiscate your drugs!" (Don't we all, River, don't we all.) "Haunt You Everyday" is Cuomo's "November Rain," a piano epic that may or may not be about a murderous stalker. "Pardon Me" is Cuomo at his self-pitying best, a wistful bit of self-recrimination only Weezer can pull off without sounding completely absurd.
On balance, Make Believe is a fine pop record, with an overlay of Comedy Central humor that makes it neither the best nor the worst album this band has recorded. Now, where are those confiscated drugs…