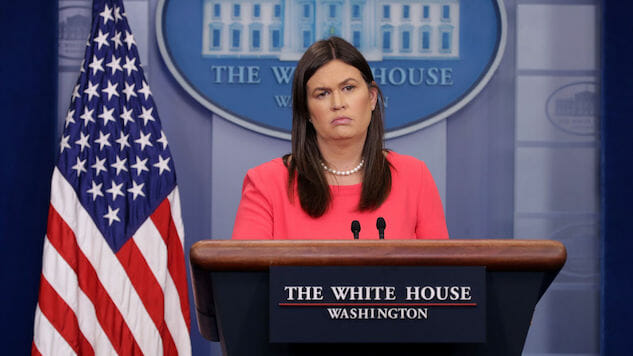 On Wednesday, CBS News reported that press secretary Sarah Huckabee Sanders and principle deputy press secretary Raj Shah are planning to leave the White House. Sanders and Shah declined to comment for the story, but Sanders tweeted a response to it on Thursday.
Does @CBSNews know something I don't about my plans and my future? I was at my daughter's year-end Kindergarten event and they ran a story about my "plans to leave the WH" without even talking to me. I love my job and am honored to work for @POTUS

— Sarah Sanders (@PressSec) June 14, 2018
According to CBS sources inside the White House and close to the administration, Sanders has told her friends that she plans to leave the White House at the end of the year, while Shah has yet to decide on a departure date. Sanders is the figurehead of White House communications and has become one of Trump's main confidants following the departure of Hope Hicks, the previous communications director. Despite the responses it received and her snarky tone, Sander's tweet does not actually deny the CBS report that she will be leaving the White House.
It isn't uncommon for staffers to leave the Trump White House—it happens frequently and often without warning. Whether Trump says "you're fired" or a staffer finally gets fed up and quits, the administration has been unable to keep positions filled, if they've filled them at all. Some of the lower-level communications positions have become vacant in the past few weeks and will most-likely remain that way.
As CBS notes, a few of those departures include:
Jared Kushner's top communications aide, Josh Raffel; homeland security adviser Tom Bossert; National Security Council spokesman Michael Anton; Trump personal aide John McEntee; director of White House message strategy Cliff Simms; communications aide Steven Cheung; congressional communications director Kaelan Dorr; assistant press secretary Natalie Strom; and deputy director of media affairs Tyler Ross.
These positions may never be filled, based on the administration's history. Multiple vacant positions remain unfilled, with extra work being handed off to other individual staffers. Trump has even eliminated positions altogether, consolidating the number of staffers while giving them each more work. According to the Brookings Institution, Trump's first year turnover rate was 34 percent, almost four times higher than that of Obama's first year. Since then, the administration's turnover rate has grown 51 percent.
According to a White House official, more departures can be expected in the coming weeks:
There will be even more people leaving the White House sooner rather than later, laid off or just leaving out of exhaustion. And it is going to be harder to find good people to replace them. I do think they're going to have a harder time getting the second wave of people in than the first, because those people were loyalists, and [new] folks will have to be recruited and encouraged and then survive the vetting process. In addition to all of that, the president prefers to have a small communications staff.
Sources close to the administration say they fear that Trump will be unable to find a replacement if Sanders resigns at the end of the year. The source stated, "nobody wants to come in so they've gone through two rounds and now they're at third tier of people who are just lucking out—battlefield promotion ends up promoting people who aren't qualified for the position."