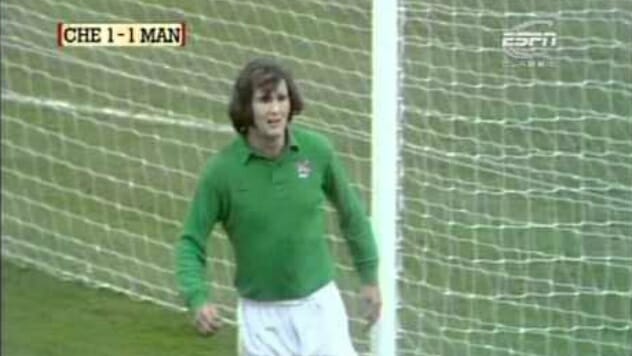 Yesterday, Chelsea topped Manchester City 2-1 in midweek Premier League action. The win kept Chelsea seven points clear at the top of the table with Manchester City clinging to a Top 4 spot for dear life. It was the kind of high-stakes clash we've come to expect from one of the toughest rivalries to emerge in the top flight in recent years.
Yet in the days before massive broadcasting contracts and obscene amounts of foreign investment, Chelsea VS City was just sort of… you know, there. It didn't send people in a tizzy the way it does now. Not to say that they didn't have memorable games. It was just different.
This week we look back at a meeting between these two before the Premier League era refashioned them into the behemoths we know today.
Manchester City had a fairly strong finish to the previous season. They finished fourth in Division 1, tied on points with Liverpool and Leeds and just one point behind champions Derby County. With their win in the Charity Shield over Aston Villa to start the campaign, there was every hope at Maine Road that they could build on the previous season and mount a real title challenge in 72-73.
Chelsea, on the other hand, were still basically a midtable outfit. They finished in seventh place with 48 points the previous season— which was pretty good, all things considered, but still well off the mark for anything resembling a title challenge. Still, they were eager to make a real statement this season, and hosting Man City in one of the first games of the season offered an enticing opportunity to raise some eyebrows.
And as far as this match goes, Chelsea acquitted themselves pretty well. Late in the first half, Chelsea's target man Peter Osgood collected a cross while two City defenders milled about aimless and fired home from close range to give the home side a 1-0 lead right before halftime. But City struck back early in the second half when Ian Mellor poked the ball in off a corner kick to level the score again. After some tense back-and-forth and close calls on each end of the pitch, the home side ultimately triumphed thanks to substitute Peter Houseman, who hit a thundering shot inside the box at a somewhat tight angle to give Chelsea a gamewinning 2-1 lead.
While it proved to be a strong early statement of intent, Chelsea were unable to keep that momentum going. They finished the 1972-73 season in 12th place, one point behind Manchester City in 11th. All in all, not the season either side had envisioned.
Both teams have a lot of work to do this weekend. Manchester City host Hull as they try to gain a tighter grip on the Top 4 while Chelsea are aiming to take another giant step toward the Premier League championship with a trip to Bournemouth. Both matches kick off on Saturday, with City-Hull at 10am Eastern (NBC Sports Live Extra) and Bournemouth-Chelsea at 12:30pm Eastern (NBC).