The clothing retailer Gap is coming under fire for sexist merchandise marketed toward children.
In a promotional email sent to U.K. customers, a boy wears a t-shirt with a picture of Albert Einstein (spelled as Einstien on the shirt, ironically), labeling the boy as "The Little Scholar." Meanwhile, the girl's sweater includes the letter "G" and she is labeled as "The Social Butterfly."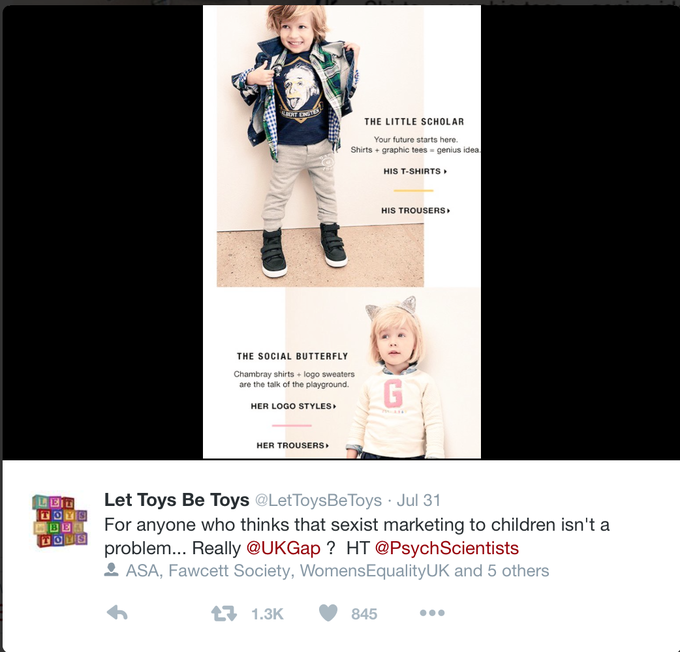 "I was shocked by the blatant sexism of the Gap advert – the boy allocated to science and the girl allocated to pink," Tessa Trabue from the Let Toys Be Toys campaign told Newsweek."There is a lack of girls going into STEM (Science, Technology, Engineering and Maths) subjects, and marketing like this certainly doesn't help combat this. Do we really want girls to be labelled as no more than social butterflies gossiping in the playground from such a young age?"
Let Toys Be Toys, a campaign seeking to discourage toy companies from boxing children into gender stereotypes, was one of the first to call out Gap on its sexist advertisement.
The retailer has yet to respond to the accusations. But this isn't the first time the company has been accused of sexism, either. Most recently, in December, Old Navy, a Gap affiliate, received backlash for marketing a sweater with the typed phrase "Young Aspiring Artist" with the word "Artist" crossed out and "President" and "Astronaut" written on the two different versions.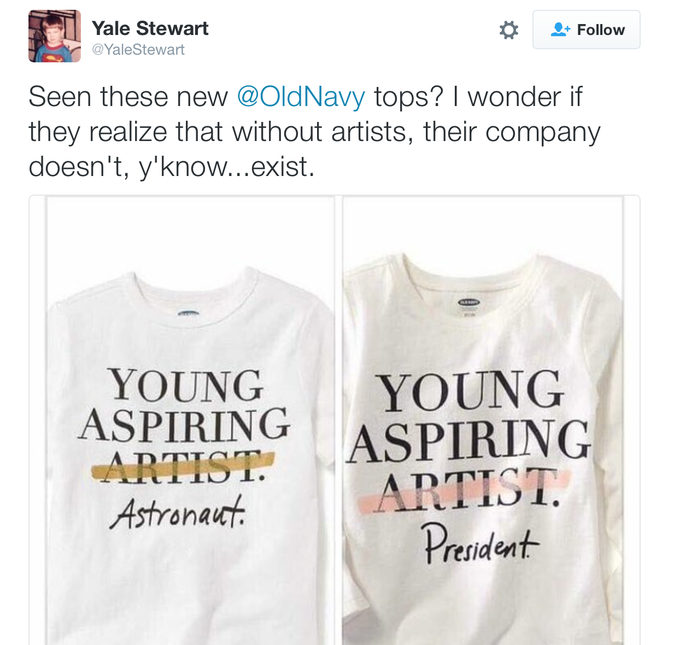 Twitter users took to the platform to explain how it's wrong to dissuade any child from pursuing a degree in the arts.
Maybe Gap will get the message one of these days.