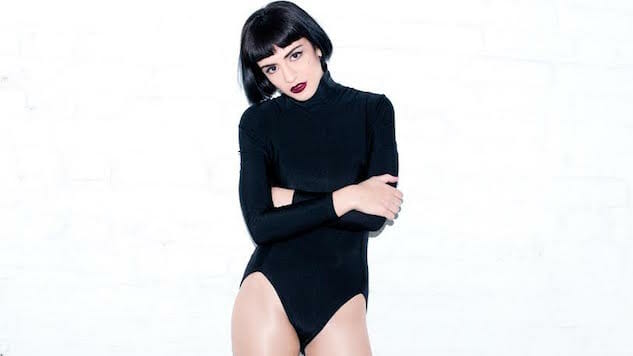 It's rare when classic style collides with starry glam pop vibes, but that's just one of the things that makes Cocovan's aesthetic so damn cool. Self-taught in guitar and piano, the Parisian pop minx has made a name for herself by combining old school and modern, in both her music and style.
Born in Paris to an Iranian musician father and French mother, Cocovan has evolved with her style, and visa versa. Her music, which she describes as having "started very folky and developed into a more poppy and electronic sound over the years," allowed her to explore her style from the start. Thriving on femininity and empowerment, she also believes in the uniform.
"I like the idea of a uniform for its convenience, but also for the visual "signature"—like Karl Lagerfeld or Steve Jobs," she told Paste. "But that's not all the time."
But, in a glam pop world, nothing is all the time. As Cocovan puts it, "the possibilities for imagery are literally limitless!"
Her new EP, "The Club," brings these larger-than-life ideas to reality, and we caught up with Cocovan to talk about her style, favorite places to shop and directing her on music video. We know, total badass.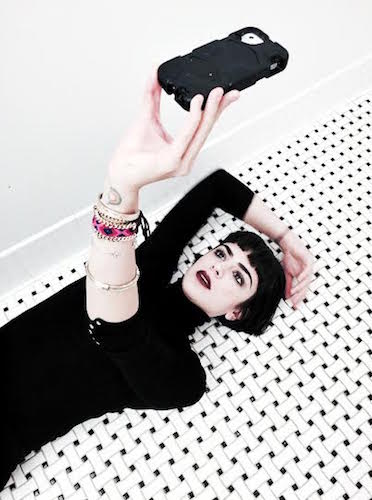 Paste: Tell us a little bit about your style and how it influences you and your performance on stage.
Cocovan: Most days I'm actually wearing sort of uniform: a black turtleneck with black high waisted pants, or variations of that. I like the idea of a uniform for its convenience, but also for the visual "signature"—like Karl Lagerfeld or Steve Jobs. But that's not all the time. For stage, I'm inspired by ballerinas and dancewear: bodysuits, full body unitards… I find these pieces very feminine and graceful, and they empower me and make me feel confident and sexy when I perform (and are actually comfy!).
Paste: What do you think makes up an ideal stage outfit?
Cocovan: Something you feel good dancing in and you can trust won't give you any wardrobe malfunction—because that's the last thing you want to be thinking about while on stage. Also, it needs to be sequiny and dramatic. It's a show, the lights are on you and it's your time to shine!
Paste: How would you say your on-stage style differs from your off-stage style?
Cocovan: I think it's pretty similar. I either wear my uniform, or I tend to dress up for no reason, because it's fun and creative to me. And you never know who you're going to run into at the grocery store, so you'd rather look fabulous when you step out!
Paste: I love that in your video for "Chic (Someone To Love)" you keep your glam pop vibes, but also show what goes on behind-the-scenes. Will you talk a little about this, as well as what it was like to direct your own video?
Cocovan: Thank you! There was this Natalie Imbruglia "Torn" music video back in the '90s where she stands still in front of the camera while technicians disassemble the set around her. It's really iconic. It was one of my inspirations for the "Chic" video. "Chic" is a fun song and I didn't want the video to take itself too seriously, so I thought it would be cool to mix theatrical with a little bit or realism.
Directing this video was a lot of work, but so much fun! It was shot in one take so it required massive rehearsal time and choreographing everything. I was lucky enough to collaborate with my best friends (and amazing artists) on it: up and coming art director Romain Yurkievich, super talented DOP Emily Jane Robinson and the incredible French choreographer Flamy Joyce.
Paste: How has your style changed since you first started performing?
Cocovan: I think my style evolved as my sound evolved. It started very folky and developed into a more poppy and electronic sound over the years, which allowed me to explore and experiment more visually. Pop is the best medium because the possibilities for imagery are literally limitless!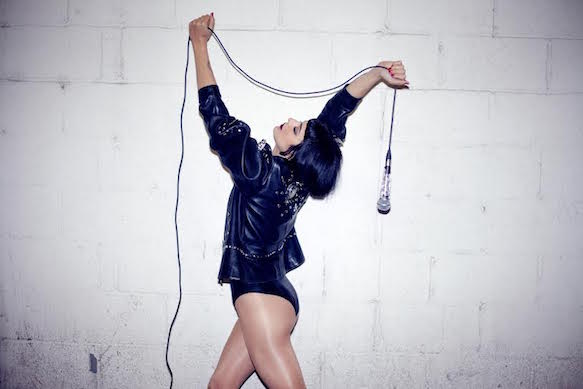 Paste: Are there any specific artists who have influenced your style?
Cocovan: Grace Jones, Prince, Mika… Artists that are uncompromisingly true to their vision. The french perfumer and artist Serge Lutens is also my ultimate muse.
Paste: What do you think is the main difference between Parisian and American style, and do you notice it in your own wardrobe?
Cocovan: I want to avoid clichés, as I think every city really has their different signature style. But LA—where I've spent a lot of time lately—is very active wear/practical during the day and dressed at night while Paris still has a pretty classic vibe. Also, Paris experiments less style-wise than NYC. It's a shame, but Paris isn't very open minded when it comes to dressing a little crazy.
Paste: Any favorite places to shop or find one of a kind wardrobe pieces?
Cocovan: LA — The American Apparel Factory's flea market in DTLA, and the Rose Bowl flea market once a month.
NYC — Beacon's Closet in Brooklyn. Affordable designer pieces!
Paris — Stop by perfumer Serge Lutens at the Jardin du Palais Royal – it's always an incredible and magical experience.
And Ebay for vintage couture everywhere.
Paste: Do you have any beauty essentials?
Cocovan: I use mostly natural and/or organic products. Coconut oil under the eyes, in hair, or to moisturize hands. Eight Hour cream by Elizabeth Arden is also one of my favs. And I recently learned that massaging your face every morning is a very effective way to prevent wrinkles!
Paste: If you had to sum up your personal style in three words, what would they be?
Cocovan: Over. The. Top.