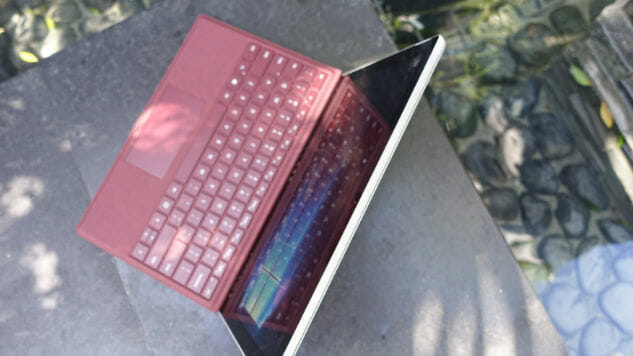 It's been nearly a year and a half since Microsoft updated its detachable hybrid form factor— an eternity in tech years—and the arrival of the Surface Pro this summer has been welcomed by devotees of Microsoft's hardware efforts. This year's refresh, however, is an iterative update, and most of Microsoft's engineering changes are found under the hood. Placed side-by-side with the late 2015 Surface Pro 4, you'll barely be able to notice the subtle refinements to 2017's Surface Pro design, but that's not necessarily a bad thing.
Long heralded as the gold standard for detachables—Windows fanatics might even argue that the Surface Pro inspired rival Apple's iPad Pro design with its detachable keyboard folio and Apple Pencil stylus—this year's Surface Pro doesn't disappoint. Lighter, thinner and with more fanless options, the Surface Pro continues to lead this category, and Microsoft even made the jump to Intel's latest Kaby Lake processors along with enhanced Intel Iris Plus graphics on higher end models.
And while it remains the versatile tablet that can replace a laptop, with its optional Alcantara-covered keyboard cover, or a desktop, with the optional Surface Docking Station, it still runs Microsoft's full-fledged Windows 10 operating system, unlike the more limited Windows 10S OS on the newly minted Surface Laptop, making the Pro an agile solution for road warriors who need to get things done. For performance-seeking road warriors, Microsoft promises up to 20 percent speed improvements and 40 percent battery life, making this year's upgrade very attractive.
Design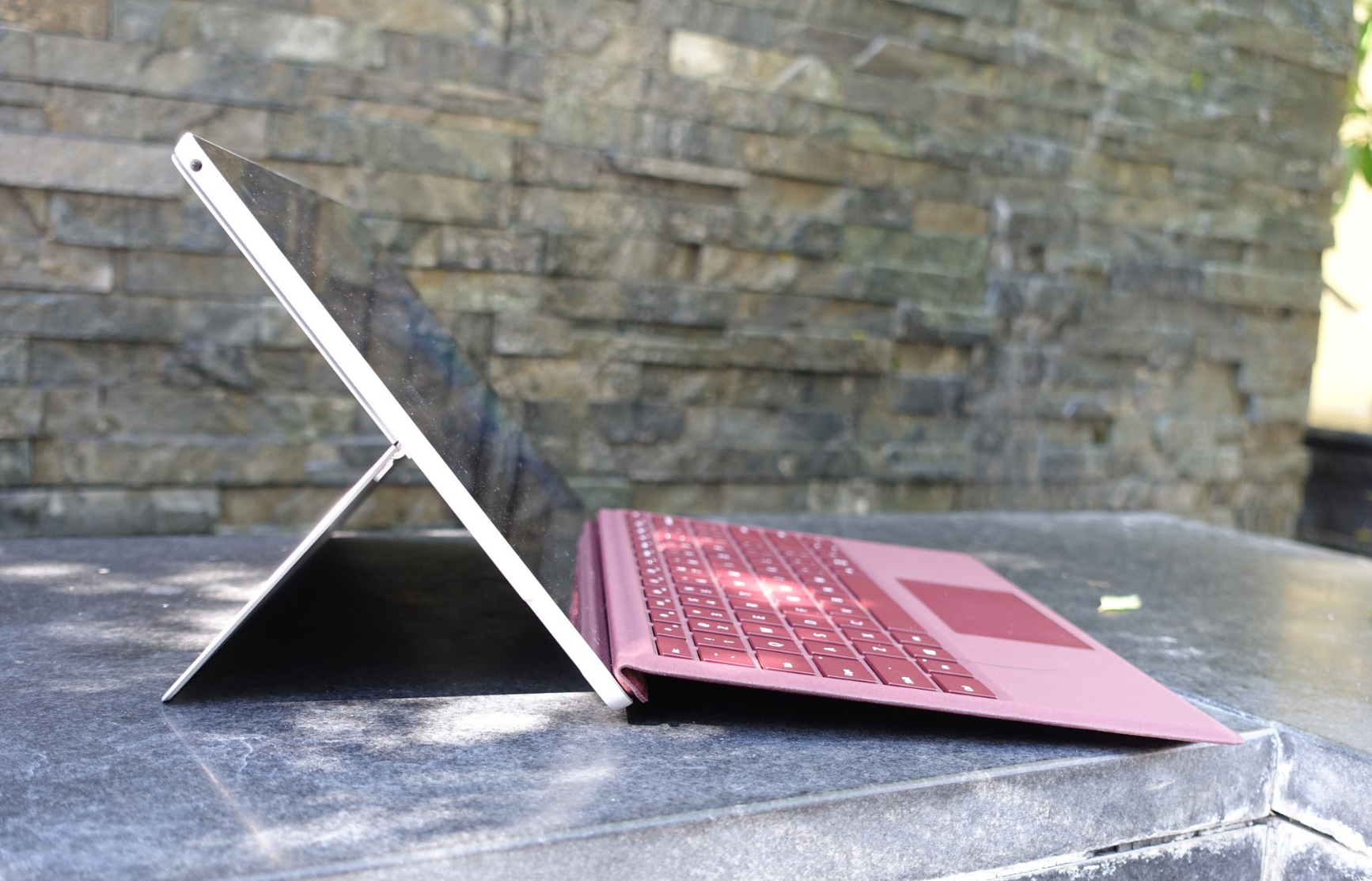 The design of the Surface Pro is largely unchanged from the Surface Pro 4. The slim slate is just a hair thinner, and unlike the angular model that it succeeds, 20017 introduces more bulbous edges. The rounded sides of the Surface Pro makes this year's model feel a bit less minimalist, but the curves make the tablet much more comfortable to grip and hold in tablet mode.
Like the last few generations of Surface Pro tablets, this year's model is clad in a matte silver finish on top of Microsoft's unibody magnesium shell, making it more durable than rival offerings that come with an aluminum cover. I continue to use Microsoft's Surface Pro 2 from late 2013, and when compared to a MacBook Pro from the same year, there are no dents or dings to the magnesium Pro 2 versus my battle-scarred Mac.
An adjustable kickstand retains its familiar position on the back, allowing users to use the tablet without the keyboard cover for consuming media, as an easel to draw on with the Surface Pen (this year, the digital stylus is not included in the box and is sold as a $99 accessory) or for browsing the web and reading documents. While the tablet itself is relatively light for its size at just 1.7 pounds for our Intel Core i5 review unit (the more powerful Core i7 weighs slightly more to accommodate for the fans that are not present on the Core m3 or i5 models), the kickstand makes the tablet much more useful and is a feature that I miss when I pick up an iPad or Android slates.
Compared to the iPad Pro, the two tablets are similarly sized. The largest difference is that the iPad Pro occupies a larger footprint to accommodate for a larger 12.9-inch screen and the larger bezel space to accommodate Apple's home button. The 12.3-inch PixelSense display on the Surface Pro with more reasonable bezels make it more compact, and Microsoft's tablet measures 11.5 × 7.9 × 0.33 inches versus Apple's 12.04 × 8.69 × 0.27-inch dimensions. The Surface Pro uses a 3:2 aspect ratio with a resolution of 2,736 × 1,824 pixels. The screen ratio makes it more ideal for reading documents and PDFs, multitasking and productivity tasks. In landscape orientation, consuming videos means you'll experience a letterbox effect with black bars at the top and bottom, but given that most smartphone cameras today default to 3:2 for photo captures, photos fill up and look stellar on the Surface Pro's display.
While port selection has been a point of frustration on prior models, it's a sore point on this year's model given Microsoft's refusal to embrace newer and future-forward ports. While this design decision may not be as important today, the lack of Thunderbolt 3 support or USB Type-C ports will make the Surface Pro dated when these technologies become more widespread. Like prior Surface Pro models, you'll find a single full-size USB Type-A 3.0 port, 3.5mm headphone jack, Mini DisplayPort and a magnetic Surface Connect port used for charging and attaching an optional desktop dock.
Microsoft's commitment to the Surface Connect port is a double-edged sword. Like Apple's MacBook Pros of yore, the magnetic connector means that if someone trips over your power cord, the cord will unlatch from the Surface Pro and your tablet won't end up flying to its doomed fate on the floor. It also allows Microsoft to continue support for the desktop dock accessory for owners who previously had invested in the Surface ecosystem. However, the downside—and it's a big one—is that unlike Lenovo's Miix 720 and HP's Spectre x2; continued support for the Surface Connect means that Microsoft doesn't have room to support newer ports, like USB-C or Thunderbolt 3, which could limit the Surface Pro's appeal a year or two from now if you plan on keeping the tablet for that long.
A Cover port is situated on the bottom, to magnetically attach the keyboard cover. A small plastic strip is found at the top of the tablet where the power and volume rocker are located. Because metal is hard for radio signals to penetrate, the plastic strip is used to house the antennas for the Bluetooth and Wi-Fi radios. Likely, it will also house the 4G LTE radio when that model becomes available. I was a bit disappointed with the plastic strip on my unit. Out of the box, there were already a few scratches and some small hairline nicks on the part, marring the appearance of a shiny new machine.
Additionally, there are stereo 1.6W front-firing speakers. The speakers are located one on each side of the Surface, and a small vertical cutout on the glass allows sound to reach the user. The speakers are good quality, and volume gets high enough for personal audio consumption, but don't expect to throw a party off of your Surface Pro's built-in speakers. The speakers are tuned with Dolby Audio Premium.
Like most consumer tablets, storage and RAM must be configured at the time of purchase, so you won't be able to manually upgrade these options later. However, if you need to increase storage on your Surface Pro, a small microSD card slot sits behind the tablet's kickstand. To date, the highest capacity microSD storage available is 512GB. The tablet is available in 128GB, 256GB, 512GB or 1TB configurations at purchase.
Specifications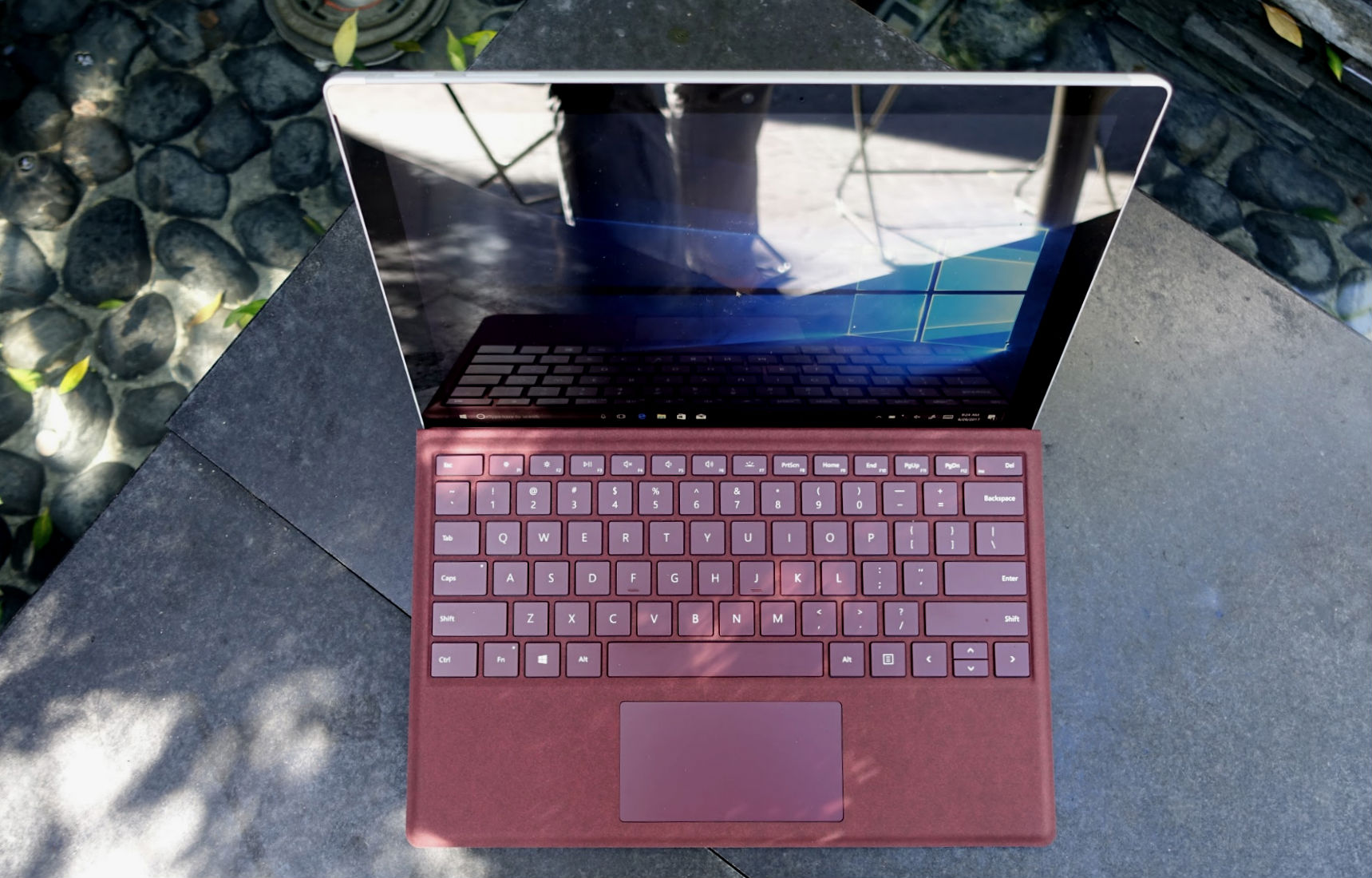 Microsoft offers a number of configuration options for the Surface Pro, but only certain options are available with certain configurations. For instance, if you want 1TB of storage, you'll have to get the maxed out option with a Core i7 processor and 16GB of RAM, as that amount of capacity isn't available on lower end Core m3 or Core i5 models.
Our mid-range Surface Pro review unit came with a U-series 7th Generation Core i5 processor, which was the same CPU that's found on most Ultrabooks and laptops. Intel also makes a more power efficient Y-series Core i5 chip that's a rebadge of last year's Core m5, but fortunately Microsoft went with the more powerful U-series option, which means better performance.
But even though Microsoft chose the more powerful U-series i5 processor, it still brought over the fanless benefits from the Y-series chip. This means that the 2017 Surface Pro with m3 and Core i5 processors are whisper quiet as neither option is equipped with a fan for cooling. Microsoft credits this with improved thermal designs, and only the Core i7 configurations require a fan. Compared to the Surface Pro 4, Microsoft's engineering efforts paid off, and the vents are much more discrete on this year's Pro, making the design a bit cleaner.
Additionally, our unit is equipped with 256GB storage, 8GB RAM and integrated Intel HD Graphics 620. As configured, our unit is priced at $1,299, but you'll likely want to add in $159 for the Type Cover and $99 for the pen.
The base model Surface Pro comes in at $799 with a Core m3 processor, 128GB SSD, 4GB RAM and Intel HD Graphics 615. The top-of-the-line configuration with an Intel Core i7 CPU, integrated Intel Iris Plus 640 GPU, 16GB RAM and 1TB SSD retails for $2,699, placing it in the same price point as high-end Ultrabooks.
Additionally, later in the year, Microsoft promises a version of the Surface Pro with 4G LTE built-in, but WWAN configurations aren't available today. WWAN would be a beneficial feature to enterprise users who don't want to tether or connect to insecure public hotspots, road warriors who need Internet access when mobile and business users. The feature also allows Microsoft to position the Surface Pro directly against the LTE-equipped iPad Pro.
Performance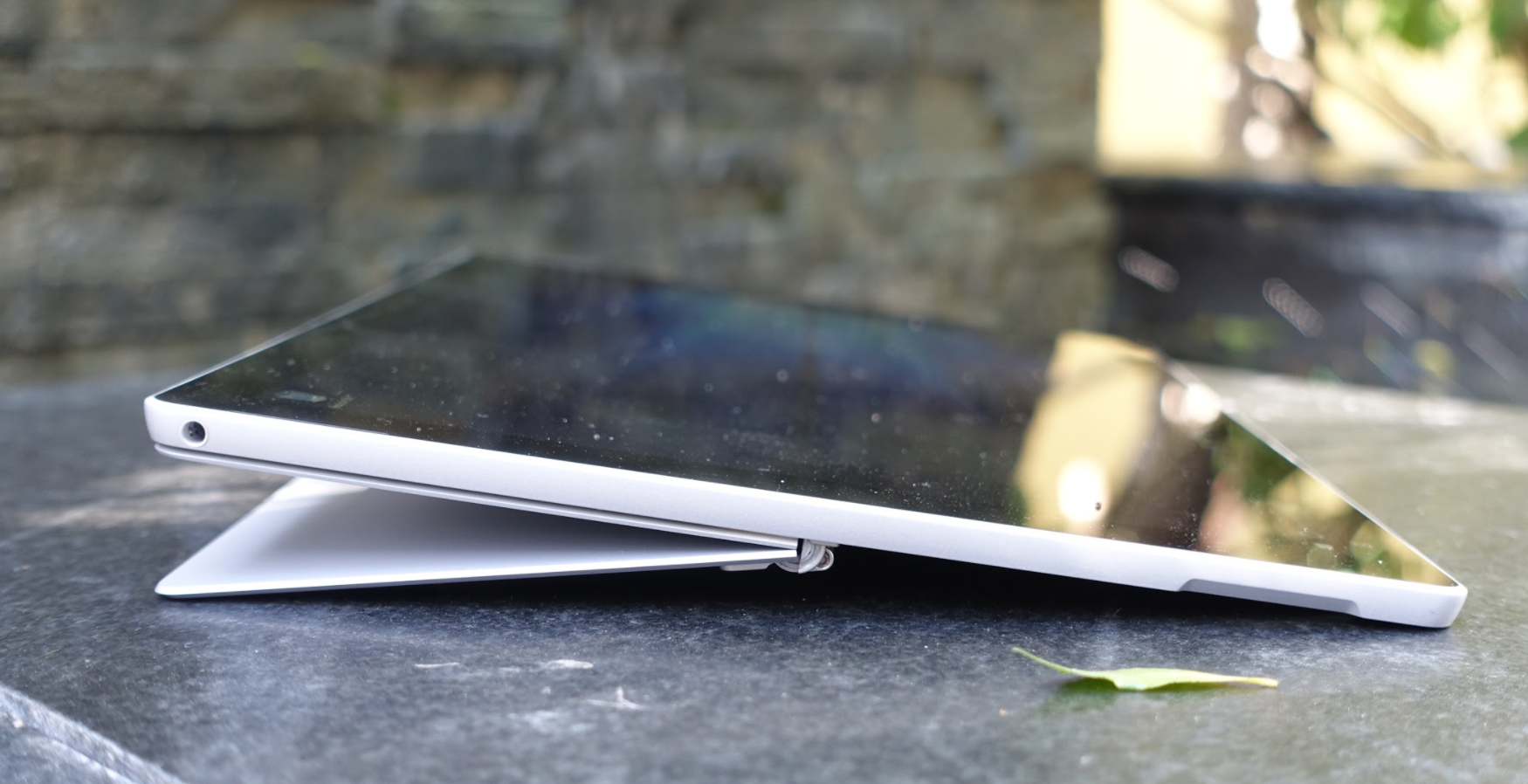 Loaded with a clean installation of Windows 10 and no bloatware in sight, our Core i5 Surface Pro felt extremely fast for most tasks. I never encountered any lags or hiccups, and the bright screen means that tablet is usable outdoors, an area of struggle for business-focused systems.
Yet, despite the promised improvements in performance, this year's Surface Pro also comes with stronger battery performance, with Microsoft rating battery life at 13.5 hours. During mixed use with Wi-Fi enabled, I got just over a full work day out of the internal battery, a significant improvement from the Surface Pro 4's approximate five hours of use. Your usage will vary based on the apps you run and the screen brightness settings, but in general, the Surface Pro is a worthy upgrade from the Pro 4 on battery numbers alone.
And because our Core i5 model is fanless this year, the good news is that even when stressed, the Pro runs silent. The downside is that if you stress the processor—as most of our benchmark tools did—the Surface Pro 5 runs hot. While the Surface Pro never got scalding hot, it can become uncomfortable to use when held in tablet mode. Most of the heat is dissipated through the back magnesium surface around the top center of the tablet just below where the placement of the webcam.
While the Surface Pro is a strong performer with our anecdotal tests, it doesn't disappoint with benchmark tools either. The tablet scored 2,229 points using Futuremark's new PCMark 10 test and netted 2,204 points using the older PCMark 8 Home Conventional test. The tablet also notched four hours and 32 minutes using the PCMark 8's battery life test. Graphics performance is on par with other devices with an Intel HD Graphics 630 GPU, and the Surface Pro scored 345 points using 3DMark's Time Spy benchmark.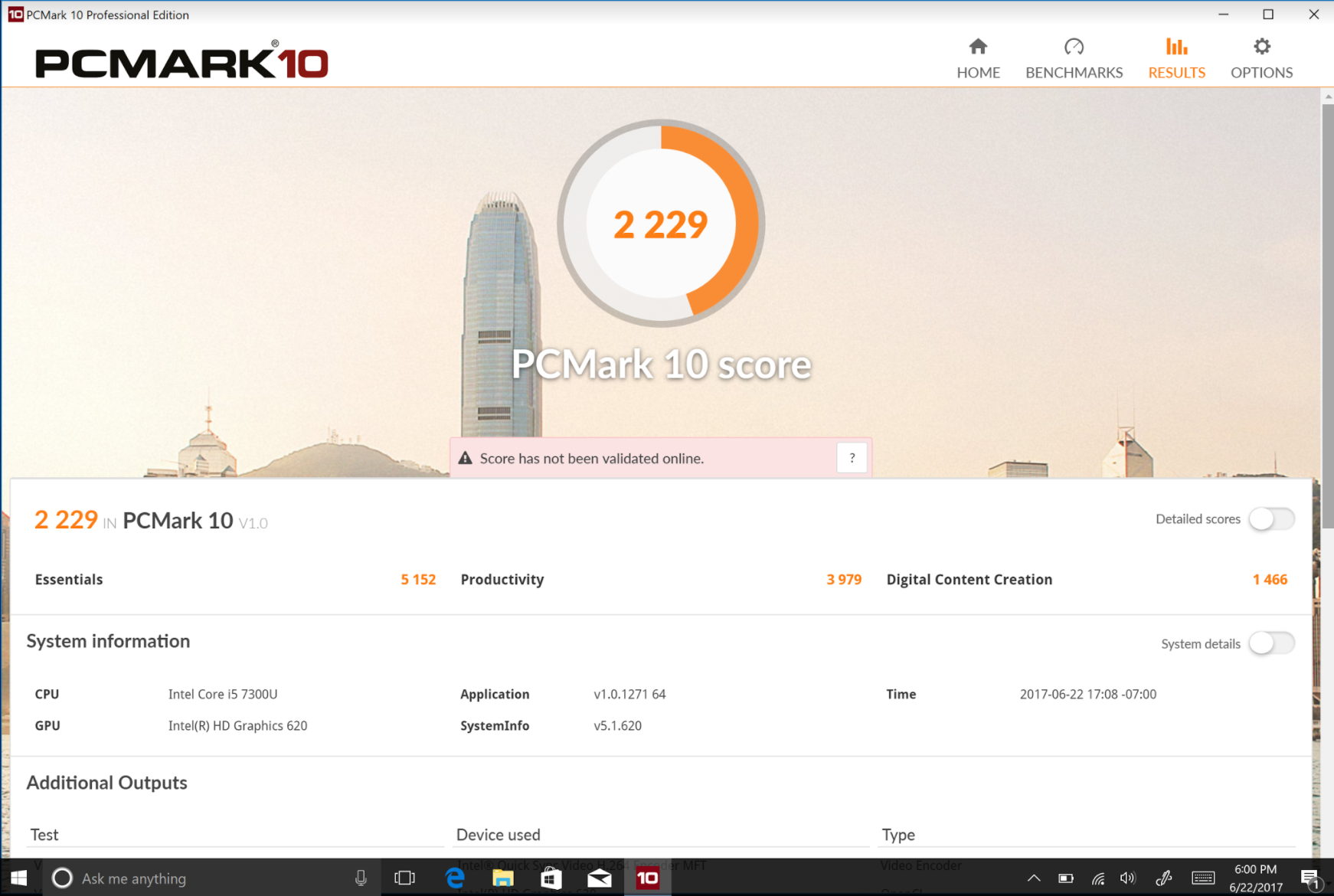 With Maxon's Cinebench R15 test, the tablet scored 315 points for the CPU test and delivered 36.84 frames per second with the graphics test. The Surface Pro's Cinebench scores are slightly better than a comparably equipped Core i5 Lenovo Miix 720 tablet, but the Miix 720 did a bit better with the Futuremark tests. In general, both systems performed similarly in real world settings.
I had no issues with multitasking, working within Microsoft's Office suite, using multiple tabs and browser windows on Microsoft Edge or Google Chrome browsers, moderate photo editing with Lightroom and Adobe Photoshop or light video editing with Adobe Premiere. If you're looking for a system for video editing, you'll likely be better off with a machine with discrete graphics or choosing the Core i7 Surface Pro with Iris Plus graphics for a mobile, secondary system.
And while the display is bright and sharp with accurate colors, pixel-peepers have other options with even higher resolution tablet screens. Lenovo's Miix 720 delivers a QHD+ resolution, for instance, while HP's Spectre x2 tops out with 3,000 × 2,000 pixels, matching the higher resolution panel on Microsoft's premium Surface Book convertible. All these alternatives maintain the 3:2 aspect ratio display popularized by Microsoft since the introduction of the Surface Pro 3.
I didn't get a chance to test out Microsoft's new Surface Pen, but Microsoft promises better performance, higher sensitivity and even lower latency—all great for note-takers, digital artists and students. The redesigned pen lacks the clip found on prior models, but I've read reports that it comes with stronger magnets, allowing the pen to stay attached to the left edge of the Surface Pro when the package is stowed in a bag or tablet sleeve. The magnetic attachment is a great alternative to the stylus silo found on Lenovo's ThinkPad X1 Yoga or Samsung's latest Notebook 9 Pro with S Pen. It's not quite as secure as having a dedicated silo, but the upside is that the Surface Pen has a larger barrel that makes it more ergonomic to use.
Security
Enterprise users looking to adopt the Surface Pro for business will find that the Surface Pro supports TPM security and biometrics via the IR camera for password-less Windows Hello logins. While Microsoft offered a Type Cover keyboard with a fingerprint reader with last year's Surface Pro 4 release, this year's Alcantera covers do not come with a fingerprint sensor.
I've grown very fond of the IR camera on various systems from HP, Lenovo and Microsoft since the debut of Windows 10, and I prefer it to a fingerprint scanner because it doesn't require me to do anything other than turn on the device. I just wished Windows Hello does more than just log me into Windows, and I'd like to see Microsoft implement it to log into apps, websites and authenticate me for payment like what Apple is doing with Touch ID on the new MacBook Pro.
Keyboard Cover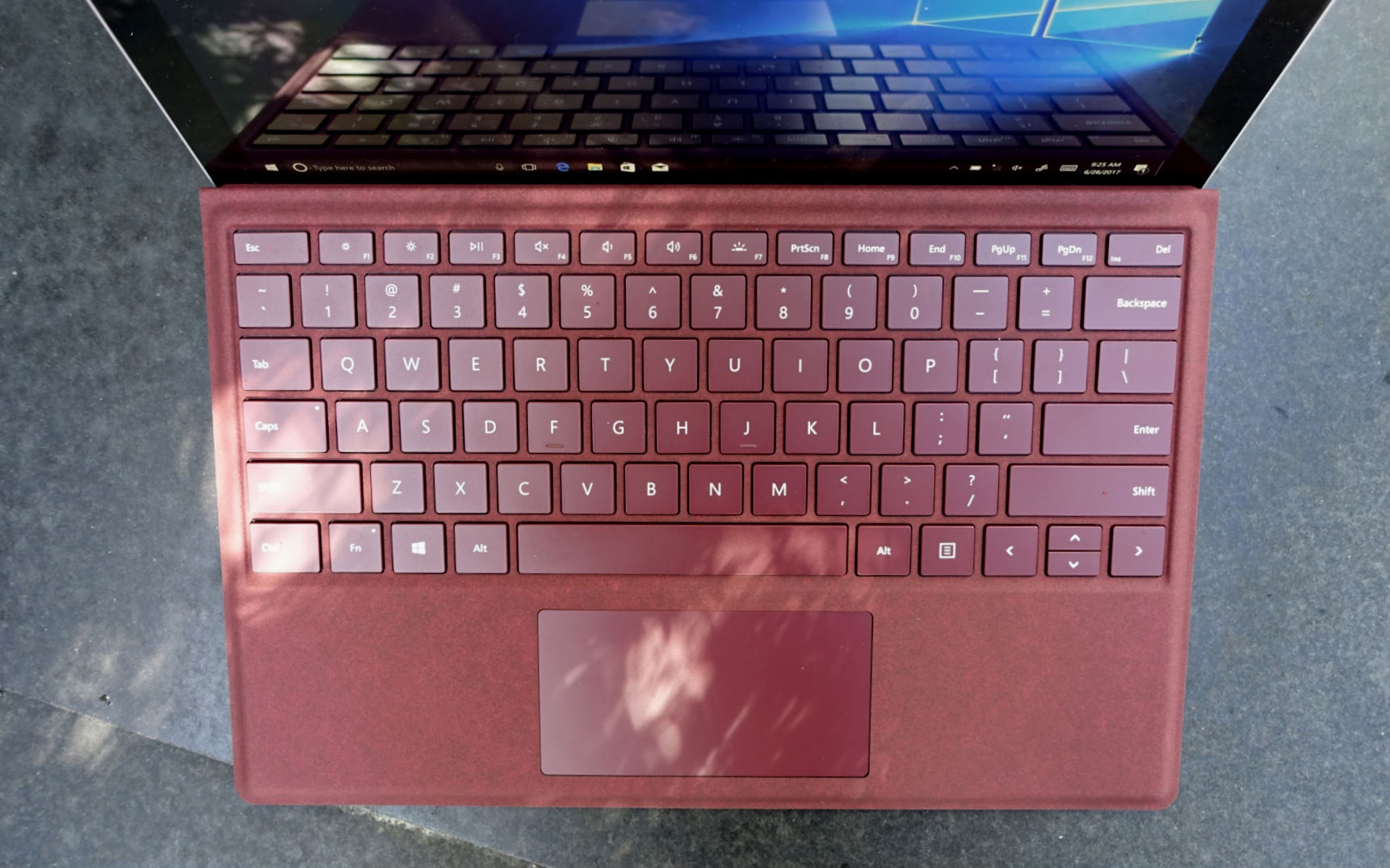 The Alcantara keyboard cover feels extremely luxurious, and the fabric covers all of the keyboard deck, save for the cutouts for the trackpad and island-styled keys. On the back, the cover is lined with a suede-like felt material, and for the premium you're paying for this accessory, I wished Microsoft had covered both the top and bottom of the Type Cover with Alcantara.
The Type Cover is available in a variety of colors—similar to the Microsoft Surface Laptop— and our unit comes with a burgundy red with matching keyboard keys.
The keyboard offers a very good typing experience. Key travel is at 1.3mm, which matches many Ultrabooks on the market today, including HP's 13-inch Spectre x360 from this year. In general, the keyboard is very comfortable to type on, but the Type Cover lacks structural support so there is a bit of flex and bounce if you're typing hard. The keyboard could be used in two positions—flat on the table, or attached to a secondary set of magnets to the front of the screen to give it an angle, making for a more ergonomic typing experience.
The secondary magnets also make the keyboard feel a bit more secure when using the tablet on your lap, but lapability remains a problem with this form factor because the rear kickstand requires additional legroom, compared to a more traditional clamshell laptop form factor. If you have longer thighs, you'll be fine, but people with shorter legs may have problems fitting the Surface Pro on their lap in laptop mode with the Type Cover.
Verdict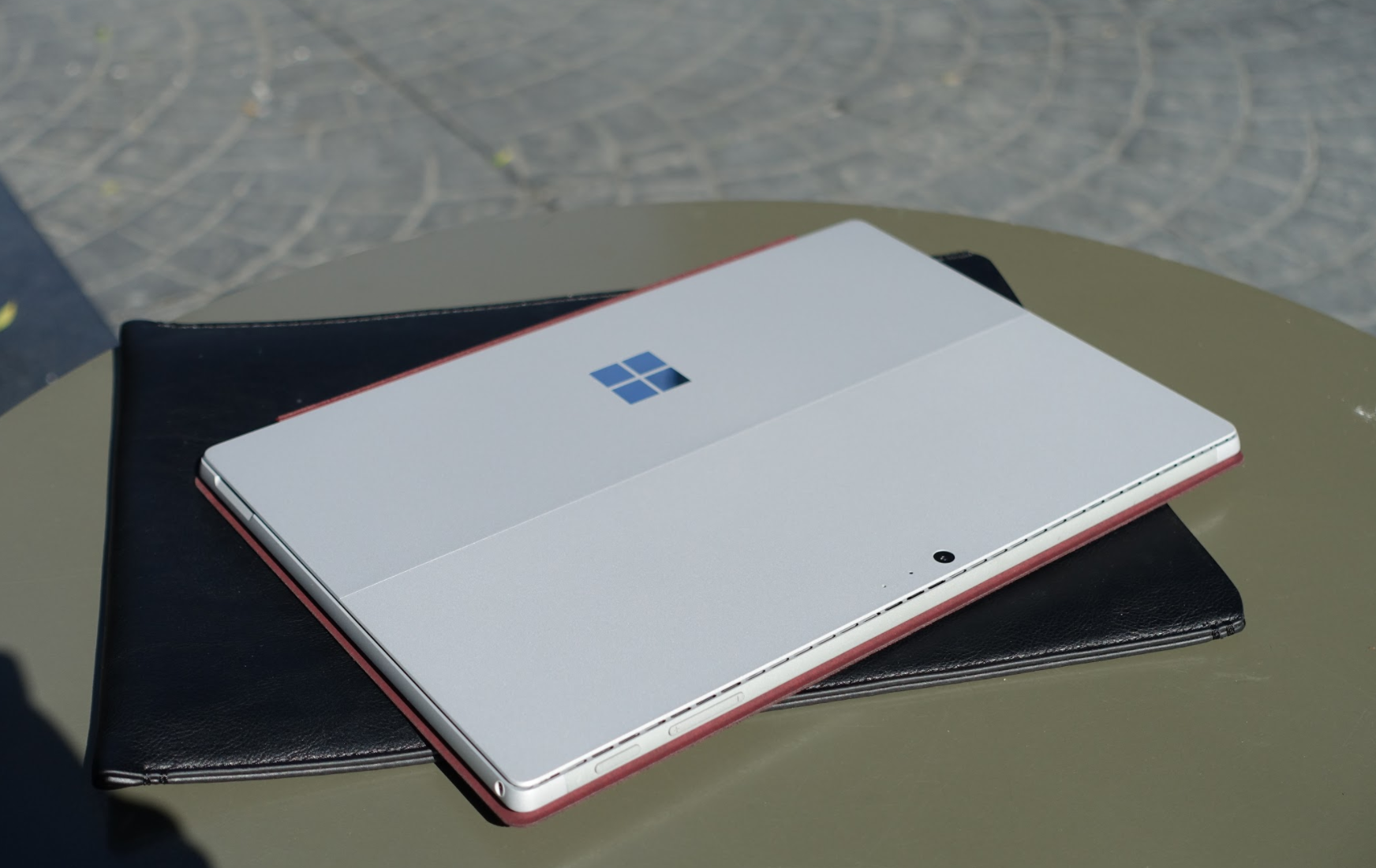 Microsoft gave the Surface Pro meaningful upgrades this year, even if the design remains largely unchanged from the prior iteration. The Surface Pro gains newer Intel Kaby Lake processors, and the Core i7 model benefits from even better graphics performance with support for Intel's Iris Plus discrete GPU, all wrapped in the iconic form factor complete with a kickstand. Better battery life, optional LTE configurations (coming later this year) and more options for fanless configurations round out some of our favorite feature upgrades for 2017.
And while the Surface Pro is the gold standard for detachables, it remains an expensive proposition to own. This year, it becomes even more expensive—the Surface Pen is no longer included in the box, and you'll have to shell out additional money for the keyboard Type Cover, which is a necessity if you plan on using the tablet in any meaningfully productive way. Rival options from HP and Lenovo, for instance, matches many of the hardware features of Microsoft's popular form factor, but these alternatives also end up being far less expensive as both the pen and keyboard folio covers are included in the box.
As priced, the Surface Pro remains a halo product to showcase the versatility of the Windows 10 operating system. If you want the best showcase tablet from Microsoft's engineering efforts, the Surface Pro retains its position as an aspirational piece of hardware targeted at creatives. But for its performance, you can find cheaper alternatives that's worthy your attention.