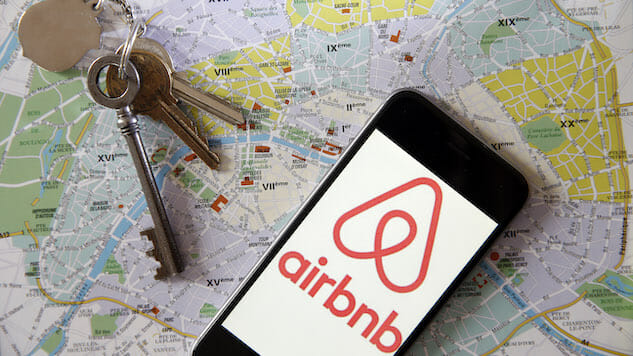 A week after a Vice report by Allie Conti uncovered a network of scammers systematically taking advantage of Airbnb's lax policy enforcement, the company's CEO, Brian Chesky, sent out an email to employees informing them of a series of big changes on the way regarding the company's listing verification and customer refund policies.
Conti's investigative report was triggered by her attempt to chase down a scammer who had not only grifted her, but also did the same to numerous other Airbnb customers. The scammer created various faked Airbnb profiles (false names, generic photos pulled from the web, etc.) with deceptive listings across the U.S., and at the last minute would claim those listings were undergoing maintenance and therefore unavailable, pressuring guests like Conti into staying at different properties—housing that was more often than not disgusting, and generally a crockpot of bull poo. Her frustrations only piled on as she reached out to the company for information, as they responded with a generic hand-wave about "looking into it." As Conti wrote, "No one at the company ever agreed to speak on the record about the specifics of what I uncovered. Nor would anyone answer any of my questions about Airbnb's verification process. As far as what obligation it has to people who have fallen victim to a scam on Airbnb's platform, the company only said in an email that it is 'here 24/7 to support with rebooking assistance, full refunds and reimbursements' in cases of fraud or misrepresentation by hosts."
Chesky explained in the email sent out on Wednesday (obtained by Vice) that the company would be making a year-long effort to ensure every one of their seven million listings are being advertised accurately: "Today, we are making the most significant steps in designing trust on our platform since our original design in 2008," he wrote. "We believe that trust on the Internet begins with verifying the accuracy of the information on Internet platforms, and we believe that this is an important step for our industry."
"Starting now, verification of all seven million listings on Airbnb will commence," Chesky continued. "By December 15, 2020, every home and every host on Airbnb will be reviewed with the objective of 100% verification."
Airbnb will also be implementing a "Guest Guarantee" policy, a promise that "Airbnb will rebook the guest a new listing of equal or greater value, or they will get 100% of their money back," and setting up "a new 24/7 Neighbor Hotline so that anyone can call us anytime, anywhere in the world and reach a real person at Airbnb." They also intend to crack down on "unauthorized house parties" by looking "at the duration of the stay and listing attributes such as the size of the listing, amongst hundreds of other factors."
Chesky closed the email with this:
With these additional protections, we will work together with our community of guests and hosts to reinforce the trust platform that we have built with our community. The world moves at the speed of trust, and the more trust that exists, the more access we can all have. Airbnb is founded on trust, and our vision depends on us continuing to increase this in our community.
More than 11 years after Joe, Nate, and I started Airbnb, I have been asked what has surprised me most about the world. My answer is two things: that people are, in fact, fundamentally good, and that we are 99% the same. We still believe this, and with these changes, we hope to continue to demonstrate this to the world.
Hopefully the company lives up to its word and puts in a greater effort to protect its users, but if you don't really feel like waiting around to find out, here are six Airbnb alternatives you can check out.
You can read Chesky's email in full via Vice here.