Off The Grid: The Best of New South Wales, Australia
Image courtesy of New South Wales Tourism
Travel
Features
Australia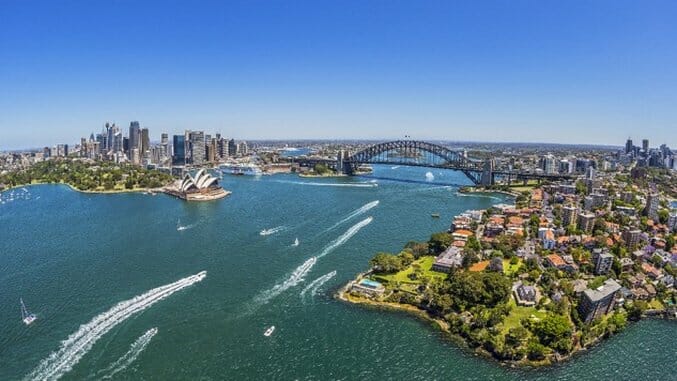 Australia might kill you. Not the land, of course. But the many strange and deadly creatures that inhabit this exotic continent. Crocodiles. Dingos. Tasmanian Devils. Great White Sharks. Snakes and spiders more poisonous than Cobras and Black Widows. Killer Kangaroos (kidding—they're harmless).
Of course, most of these are well out of harm's way. But their mere presence can still be intimidating, if not enchanting, for first-time visitors. Coupled with its extreme location, exterior good looks, and reputable society, that allure is largely what drives foreigners to Australia in the first place.
Where's the best place to start your search for your perfect version of Australia? Because the continent is about the size of mainland USA, that's a difficult question to answer. But for its diverse land and seascapes, cosmopolitan conveniences, and rip-curling beaches, New South Wales is the ideal gateway down under. Here's why.
Icons of Australia
If Melbourne is the soul of Australia and Brisbane the portal to underwater wonder, then Sydney is the country's brightly beating heart. In addition to being the economic capital, it's also the country's most picturesque city. Like a soft-rolling San Francisco with more tree canopy (including palms), better weather, and vertical architecture that's doesn't dwarf or overshadow the underlying parks, people, and walkways.
Just a few minutes east from the cozy downtown, iconic harbor bridge, and famous Opera House, you'll find Bondi (rhymes with "die"), my new favorite beach. Perfect waves for both novice and expert surfers. Soft sand your feet will remember. Warmer South Pacific water. And a ripping skate park that overlooks it all. In terms of beauty, nightlife, and beaches, Sydney compares to Rio, Miami, or Capetown—without the pretentiousness or harried atmosphere.
Last but not least, there's Byron Bay, a one-hour flight north from Sydney. Although unknown to most Americans, it's well known by Australians for being a popular coastal getaway and one of the state's biggest attractions.
Points of Interest
If the friendly turtles from Finding Nemo ran a surf school, it would probably be Let's Go Surfing on either the short but powerful waves at Bondi or long-lasting point breaks in Byron. Instructors Will and Blake were the best (and last) I'll ever have. After catching several waves and riding one for nearly 10 seconds, I'm competent enough to go alone now and will rent a board from them next time.
For the best-value adventure, head to Mountain Bike Tours Byron Bay. A half-day coastal rainforest tour is around $50 bucks with free pickup, homemade oatmeal cookie, banana, and a really accomplished guide named Bryon (really). It was a demanding but exhilarating ride.
To get up close and personal with the harbor in an extreme way, I recommend either Oz Jet Boating or if you really want to splurge, Red Baron Adventures. Both are a spin-filled and diving good time. But only the latter will send you on loop-de-loops, barrel rolls, and upside down flying over the beautiful Sydney coast.
For a more laid-back experience, I enjoyed hearing unidentified animals and birds go crazy in the covered trees of Hyde Park, walking Circular Quay and Pitt Street, and snorkeling in the protected bay of Clovelly.
Inventive Food
Over the last 10 years, there's been a surge of remarkable food in Sydney. This is because the city's chefs, I'm told, traveled the world, brought back their favorite recipes, then modified them with their own isolated flavors and produce. For Western palates, the result is remarkable. More than just good, it's utterly exciting.
At Brown Sugar, for example, I was floored by the creative bircher topped with coconut milk and exotic fruit medley. If Aussie chefs can get someone this excited about breakfast grains, it's a credit to their innovation.
At the beautifully lit Drake's, I finished my plate of flank and brussels sprouts while watching the chefs do their thing in an open kitchen and incredibly detailed dining room. At Trio in Bondi, I brunched on delectable scrambled eggs with feta, truffle oil, and avocado. At Sean's Panorama, I dined on the most delectable fish stock pea soup with clams, polished off a bowl of homemade bread and butter, savored a succulent roast chicken, and finished it off with dark chocolate mousse.
In truth, I don't think I've tasted food this rich in flavor without being overly complex or trying too hard. It is unexpectedly good and entirely worth writing home about.
Memorable Mates
Old world accents wearing new world sneakers. That's the best way to describe the New South Welsh. Not too American. Not too British. A good mix of the two without the downsides of either.
They're also really good sports. At the opening college football game between Cal and Hawaii, for instance, which took place in Sydney the week I was there, attending Aussies wholly embraced American football even if they didn't fully understand it. They enthusiastically cheered during "T-shirt cannon time!" and the "kiss-cam." They adorably wore conflicting garb (i.e. a Raiders cap with a Packer's jersey to an NCAA game) and proudly drank ordinary Budweiser. They also supportively stood during "Star Spangled Banner."
The best part, however, was hearing 61,000 attendees sing You Are The Voice as if it were their national anthem. Who knew John Farnham was so big here?
In an entire week, I didn't encounter a single rude or unpleasant person. I'm sure they exist. But they are few and far between and incapable of harming the Australian reputation for being a playful, pleasant, and considerate people.
Heaps of Service
From the moment I boarded my Qantas flight to Sydney, it was obvious I would be in good company as well as good hands. Whether dealing with a server, receptionist, cabbie or stranger, I was treated with kindness and care in a responsive and respectful way. That was the case at both QT Hotels in Sydney and Bondi, each with their own delighful motifs. And it was the standard at Elements of Byron, an extraordinary bungalow-filled beach resort with infinity pools and enduring relaxation.
With nature, lifestyles, and people this good, New South Wales is a no-brainer—a corner of the world I plan to return to as often as possible.
Off the Grid columnist Blake Snow writes epic stories for fancy publications and Fortune 500 companies. Follow him on Twitter.