If you rely on an underground subway to get around a new city, you often don't get a chance to see the parts of the city you bypass when traveling from one station to another.
In Berlin, luckily the S-Bahn and Tram public transportation systems go aboveground, but the rails often travel through some of the less scenic parts of the city, or whisk you too quickly past points of historic interest.
One of the best ways to see a city is at the street level, but not everyone wants to walk everywhere, even if they know where they want to go. You can get in a car or hop on a bus but then you have to see the city through a window and hope the driver stops where you want. If you're driving, keeping your eyes on the road might be tough.
For more control and a better connection with the city, Berlin offers many options for touring the city on two wheels.
1. Bicycle
Bicycles are taken seriously in Berlin, and not just by spandex-clad teams showing off their prowess. Most residents in Berlin use bicycles to commute to work or to school, for trips to the grocery store, or even just to go to a nearby park on a sunny day. Berlin has an extensive network of bike lanes and paths throughout the city, well-marked and often featuring bike-specific traffic lights. Tourists who want to see Berlin by bicycle have a variety of options.
Bike Tours
Many companies offer bike tours of Berlin's top attractions. Choose from tours of noteworthy stops along the Berlin Wall, ride through the Brandenburg Gate to the Reichstag and around the heart of Berlin, or enjoy exploring Berlin's hip neighborhoods such as Prenzlauer Berg or Kreuzberg. Most of the major tour providers offer public tours in English, while others offer individualized tours in French, Spanish, Dutch, Italian, or Swedish.
The top bike tour companies are Berlin on Bike, Fat Tire Bike Tours, and Berlin Bike Tour. Meeting points and tour costs vary depending on the subject and the duration, but most basic tours start around €24 (about $25). Making reservations online ahead of time is the best way to ensure space on a tour for a specific day and time.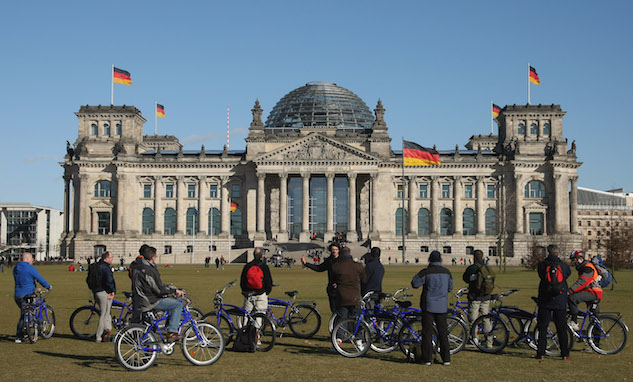 Bike Rentals
Some major hotels offer guests bike rentals. Hilton Berlin rents bikes for €19/day and Mercure Hotel Berlin Mitte rents them for €12/day. As part of the service, Hilton also provides guests with information about interesting routes in the city.
Many smaller boutique hotels—including Myer's Hotel in Prenzlauer Berg and Casa Camper Berlin in Mitte—also offer bike rentals. Myer's Hotel offers a special Berlin by Bike package that includes the cost of bike rental in the price of the stay.
Even some of the hostels and affordable hotels in the city have bikes. All of the MEININGER Hotels in Berlin, except for the airport location, provide bike rentals starting at €8/day. The Pfefferbett Hostel in Prenzlauer Berg rents bikes to guests for €10/day.
A few German words you'll want to know in order to rent a bike through a shop are Vermieter and Verleih, which both mean for hire or for rent, and Fahrrad/Fahrräder, which means Bicycle/Bicycles. However, since rental shops primarily cater to tourists, most have their signs in English.
In addition to providing bike tours in Berlin, Fat Tire has two central locations in the city that rent bicycles for 14 euros/day and e-bikes for €25/day. Prenzlberger Orange Bikes in Prenzlauer Berg allows you to support a local children's playground and activity center, because all bike rental profits benefit the Adventure Playground Kolle 37. Orange Bikes' rentals cost €7/day.
Bike Shares
There aren't many bike-sharing service providers in Berlin—likely because many who live in the city already own a bike. But, for those who don't want to rent a bike for an entire day, the following bike-sharing options will help get you from point A to point B.
With services in 14 countries, nextbike has dozens of bike stations in Berlin, as well as an interactive online map that shows you how many bikes are available at each station at any given time. Registration is free, and rates are €1/hour, with a €9 deposit that is applied toward your rental charges. You can register online, or via one of several available nextbike apps, ahead of your trip.
Call-a-Bike Berlin is run by Germany's Deutsche Bahn rail system, and caters to German-speaking customers (information is not currently available in English). Call-a-Bike requires registration ahead of time with a credit card number. Rates for rentals are €0.08/minute, or €15/day. Bike stands are located all over the city and you can find maps of locations online or via the Call-a-Bike mobile app. Once you find a bike, you call the number on the side of it to get an unlock code. You call them again to let them know when you're finished.
2. Inline Skates
While inline skating may not technically be a two-wheeled option, it does allow you to see the city using two wheeled feet. Inline skates have enjoyed a boom in popularity in Berlin. Parks like Volkspark Friedrichshain are magnets for inline skaters and skateboarders. Aficionados of inline skates can rent them at Skate-and-Glide in Prenzlauer Berg. Rentals start at 3€/hour for adult skates, plus 1€/hour for the protective gear.
For those with more competitive desires, the annual BMW Berlin Marathon and Vattenfall Berlin Half-Marathon provide opportunities to see some of the main attractions of the city while participating in an international race. Participants in the BMW Berlin Marathon can experience the Inline Village at historic Tempelhof Airport, as well as a legendary finish through the Brandenburg Gate.
3. Segway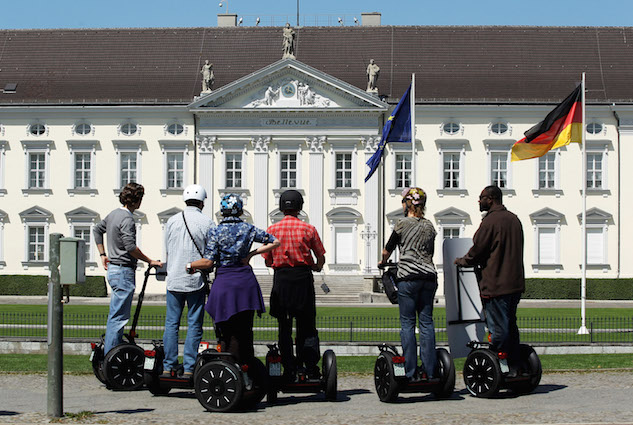 Segway tours of Berlin are also popular as providers offer tours in English, but you should be aware that there are age and weight restrictions, and you will need a valid driver's license. Two of the biggest Segway tour providers are City Segway Tours and Mindways Segway Citytour Berlin.
For a rate of €64.80 per person, Mindways offers one English-language tour of the major sites, originating near Alexanderplatz and lasting approximately two and a half hours. City Segway Tours offers a Classic City Segway Tour or a Berlin Wall Segway Tour, each costing €67 per person and lasting approximately three hours. City Segway Tours also offers an Afternoon Adventure Mini Tour that lasts approximately one and a half hours and costs €45.
If you don't have good balance, we suggest a different mode of transportation, otherwise you might crash into a pedestrian (or get pushed by one, depending on how obnoxious you are on your Segway).
Bernadette Geyer is a freelance writer, editor, and translator in Berlin, Germany.