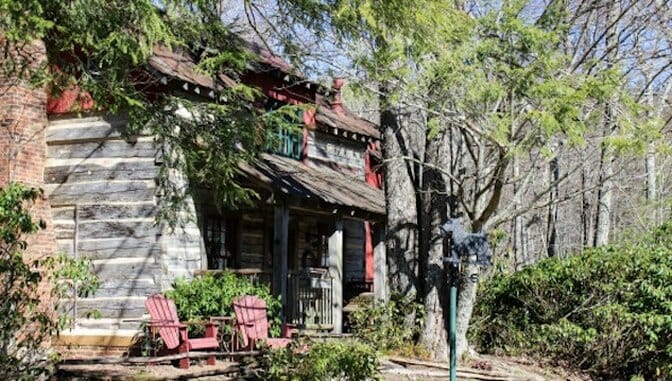 As your car climbs up the curvy roads leading into Highlands, N.C., worries seem to wither away with every inch of elevation gained. This tiny town sits a few miles over the Georgia/North Carolina border, perched on a plateau at 4,100 feet that's tucked neatly into the Nantahala National Forest portion of the Blue Ridge Mountains. While there are only a few thousand permanent residents in Highlands, come summer and fall, it swells with approximately 30,000 visitors, all beckoned by the afore-mentioned attitude-shifting altitude, the accompanying mountain scenery and abundant outdoor activities.
Another draw is Half-Mile Farm and the serenity and comfy, casual yet elegant accommodations found there. Sitting on the banks of Apple Lake just minutes from the main part of town, this upscale country inn—and the illusion of seclusion it provides—has been charming guests since 2001.
In 2015, it was purchased by Old Edwards Hospitality Group, the company that also owns the historic Old Edwards Inn and Spa that fronts Main Street (and that consistently racks up awards and accolades from national travel media). The Old Edwards team has just finished some renovations at Half-Mile Farm, adding a porte cochere and giving the inn's furnishings and fixtures a freshen-up. Half-Mile Farm guests also now have access to amenities like golf at the Old Edwards Club and the fitness center at Old Edwards Inn.
First Impressions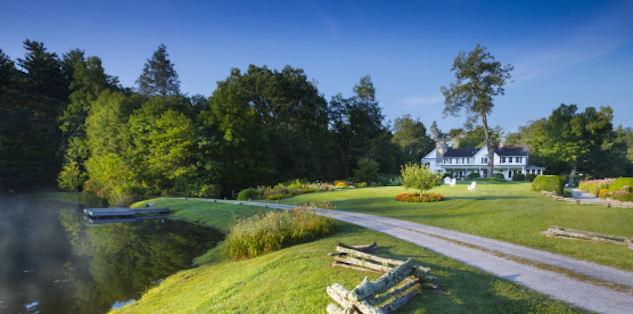 Photo courtesy of Half-Mile Farm
Half-Mile Farm offers you an idyllic scene immediately upon arrival. A winding drive leads to a white, 1880s farmhouse, its deep porch dotted with rocking chairs overlooking the reflections of pointy evergreens quivering on the mirror-surfaced lake. Park behind the house and walk across a natural-stone courtyard to enter the "lobby," actually the entry hall of the house. Your footfall on the wide-planked wood floors will alert one of the innkeepers to your presence so they can roll out their warm welcome and show you where you'll be staying.
The Room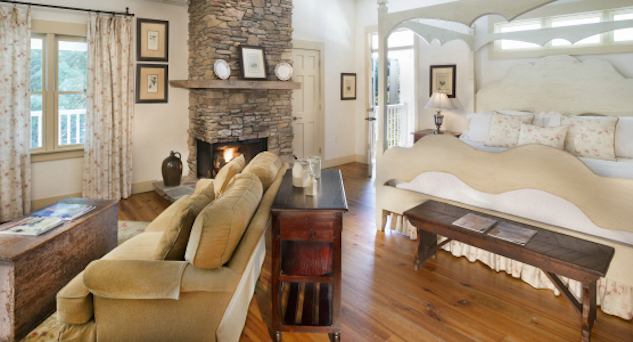 Photo courtesy of Half-Mile Farm
Half-Mile Farm offers more room options than many properties its size. Upstairs in the original farmhouse, there are four rooms; another 15 are in two, two-story additions to the back of the house (that frame the courtyard) built in the late 1990s and designed to look like natural extensions. Every room at the property has a full, private bath and is individually decorated in a cozy, chic style with original art, lush linens and antique rugs in soft, neutral hues that fit the Appalachian setting. Some of the rooms have working fireplaces and balconies with views of the lake or into the surrounding woodlands.
Across an expansive yard, three cabins are also available and can be rented in their entirety or as single cabin rooms. The rustic structures have modern amenities (central heat and air, equipped kitchens, good water pressure) yet with rough-hewn log walls and exposed timber ceilings, they look old and authentic. And that's because they are. They were built using the materials (walls, floors, doors) from several different mid-1800s mountain cabins that were taken apart and re-assembled onsite at Half-Mile Farm.
What Pops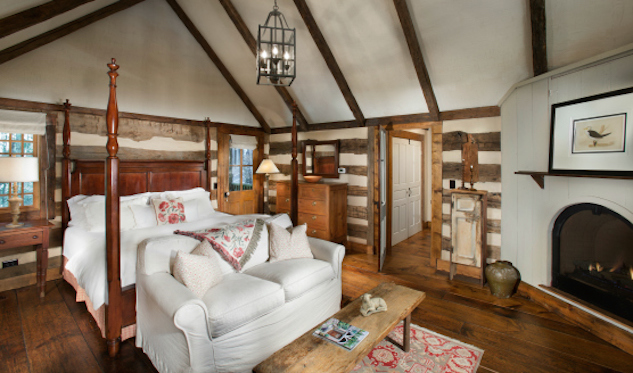 Photo courtesy of Half-Mile Farm
It's often the little things that set a stay apart, and that's the case at Half-Mile Farm. Things like staff who make you feel like family without being overbearing. Or fresh-baked cookies, fruit, chilled bottled water and soft drinks available to grab and go all day. Or the two-course gourmet breakfast prepared by the inn's Chef Jason Tardo (included in your room rate) that greets you every morning (at your leisure between 8 and 10 a.m.). Expect delights like fresh berries floating in a cloud of cannoli cream followed by eggs benedict with a side of salty and creamy roasted tomato grits or strawberry-stuffed French toast and thick-cut bacon. Add Chef Jason's hors 'd oeuvres (selections like grapes enrobed in soft, tangy goat cheese and rolled in chopped pecans and honey or cherry tomatoes stuffed with herbaceous housemade boursin) paired with carefully selected wines and served around the living room's stacked stone fireplace each evening, and you get why Half-Mile Farm boasts a bevy of return guests.
The Locale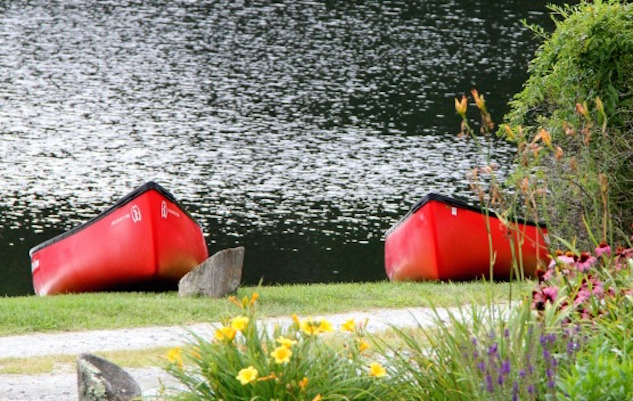 Photo courtesy of Half-Mile Farm
Chef Jason focuses on local ingredients, and so his cuisine is heavily influenced by what's ripe and ready in the area. Currently, he gets most of his produce from the farm that serves Old Edwards Inn and its restaurant, Madison's. But the vision is to take Half-Mile Farm back to its agrarian roots and put veggie and herb plots on property, as well as create a semi-covered outdoor dining space using an arbor of decades-old grape vines.
While Half-Mile Farm is a good base camp for exploring the area and its multitude of adventure options, you may find yourself so relaxed, you don't want to do much more than float around in a canoe on the little lake or sit on the porch, soak up some fresh mountain air and disappear into a good book.
Address: 214 Half Mile Farm Drive, Highlands, NC 28741
Website: Half-Mile Farm
Room Rates: $150 – $390
Cabin Rates: $195 – $975
Lead photo by Jennifer Kornegay
Jennifer Stewart Kornegay is a freelance writer based out of Montgomery, Ala. She writes about food and travel and traveling for food.