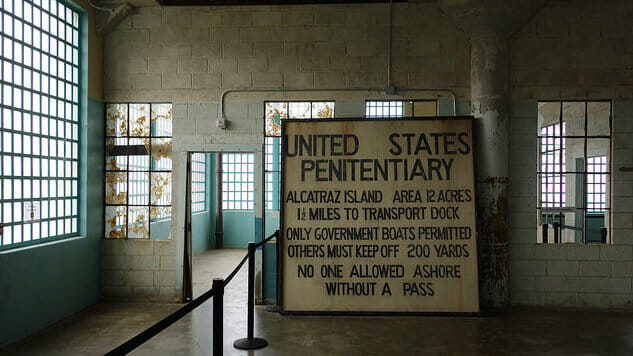 While national parks, especially those in the West, tend to invoke images of grandiosity and immense size, the Bay Area tackles things on a smaller scale. In San Francisco especially, it seems as though the city's beauty is best observed piece-by-piece, taking in each new sight as its own, independent marvel.
The federal government seems to share this opinion—so much so that in 1972 the National Park Service established the Golden National Gate Recreation Area, a collection of separate, miniature destinations, each of which provides a distinct view of one of the country's most spectacularly beautiful regions.
The parks include national landmarks, historical sights and extraordinary landscapes, and best of all, they're all located within a few miles of one another. As a result, some skillful planning can ensure that you can tackle a large part of the Golden Gate Recreation Area in a single weekend.
Day One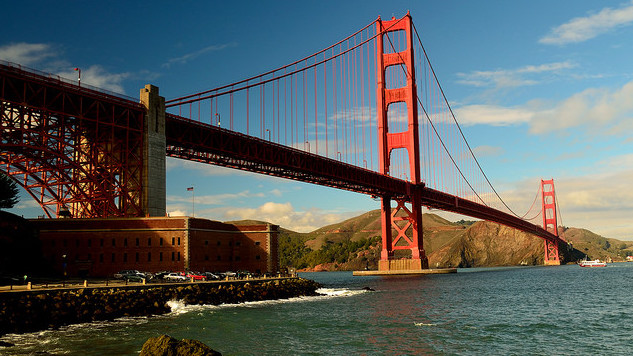 Photo: Tom Hilton, CC-BY
Morning
Few things feel more West Coast than starting your morning face-to-face with the Pacific Ocean. And at Land's End, located on the northwestern tip of the San Francisco peninsula, rugged sea cliffs, inexplicable rock formations and endless stretches of deep blue water provide a fairly unbeatably warm welcome to the Bay Area.
The park also has a small-but-impressive network of hiking trails, which are worth taking advantage of before a Ghirardelli Square sundae inevitably renders your body incapable of physical activity. Along the path, winding dirt walkways bend and curve through whale-watching overlooks, some gorgeous coastline and even a little bit of history—the area is home to ruins of the Sutro Baths, a magnificent 120-year-old resort and spa whose pools hosted as many as 10,000 people at a time.
After your journey ends, go ahead and snag some souvenirs early at the Land's End gift shop, which features some surprisingly high quality books and memorabilia from the entire Golden Gate Recreation Area.
Afternoon
Taking rented street bikes across the Golden Gate Bridge may be a complete tourist cliche, but that doesn't mean it isn't worth the trip. Fort Point offers one of the easiest paths to the bridge's pedestrian road, as well as its own incredible vantage point from beneath one of the nation's most famous structures. Before a ride across the bay brings your vacation to its supposed peak, you'll want to lock up the bicycles and devote some time to the fort itself.
Built just before the Civil War and designed during the Gold Rush, the building's history is fairly uncommon—strolling through the fort's brick-walled, seaside premises, you'll feel as though you've temporality left San Francisco and entered a completely different time. Of course, it just takes looking toward the sky to remember that you're actually standing under a national landmark.
Evening
After returning your daytime transportation and refueling (this may be where that sundae comes into play) it's time to head across the Golden Gate once again. This time, though, you'll need a car, as it takes a bit more horsepower to scale the sharp hills of the Marin Headlands.
At night, there's no better place—and no higher vantage point—from which to observe the Golden Gate Bridge and the lights of downtown San Francisco. The headlands' cliffs are littered with parking spots and plateaued observation areas, perfect for rolling up, kicking back and watching the sunset from the comfort of your own vehicle.

Day Two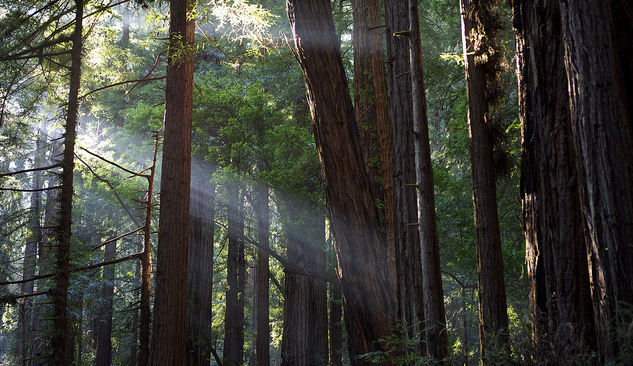 Photo: Julian Fong, CC-BY
Morning
The Golden Gate Recreation Area's greatest strength is almost certainty its diversity, and starting your second day off with some geographical variety is a great way to understand just how much these parks really have to offer. For example, it doesn't take a drive to the state's far north to see redwoods, with the Muir Woods providing an immersive exploration of one of the country's most marveled-at organisms.
Technically classified as a national monument, the park is named after famous environmentalist and Sierra Club founder John Muir. Especially in the morning, the serene, dark forest has an almost inexplicable atmosphere, and it's easy to spend hours gazing upward at the tree's sheer largeness—with all of this in mind, it's fairly easy to see how the area became deserving of Muir's name.
Afternoon
For your daytime excursion, take State Route 1 just a bit further until you find yourself at Stinson Beach, one of the recreation area's more straightforward parks. Lying beneath Mt. Tamalpais and on a far quieter stretch of road, Stinson Beach offers uninterrupted views of true, Pacific mountains-to-ocean beauty, as well as a nearly perfect place to enjoy a sunny afternoon.
While the area isn't incredibly developed, there are a few, simple waterside amenities that take care of all of the essentials—you can rent gear for surfing, hang gliding and kayaking from nearby shops, and there are outdoor grills and wooden tables that make for ideal picnic conditions.
Evening
After washing off all of the sand, you'll need to gather all of your remaining energy for the last, and probably most frightening stop of the weekend. Alcatraz Island offers walkthroughs of its legendary prison during the daytime, but if you're going to do the tour, do it at night—because experiencing one of the nation's most terrifying landmarks is that much more exhilarating in the dark.
With little only a few rays of moonlight infiltrating the building as you walk through cells and dining halls once inhabited by the likes of Al Capone and George "Machine Gun" Kelly, it's hard not to get a bit scared—but it's also impossible not to feel the prison's tremendous history, which should be enough to fascinate even the most history-declined tourist. Additionally, the ferry ride back will put you face to face with the San Francisco skyline, which, while perhaps a little overly symbolic, is an absolutely fantastic way to cap off a weekend in the Bay Area.
Top photo: vhines200, CC-BY
Dillon Thompson is a freelance writer from Athens, Georgia who, as you're reading this, is probably drinking coffee and listening to hip-hop music a little too loudly.