Tasting: 2 New Ciders From San Francisco's Fort Point Beer Co.
Photos via Fort Point Beer Co.
Drink
Features
craft beer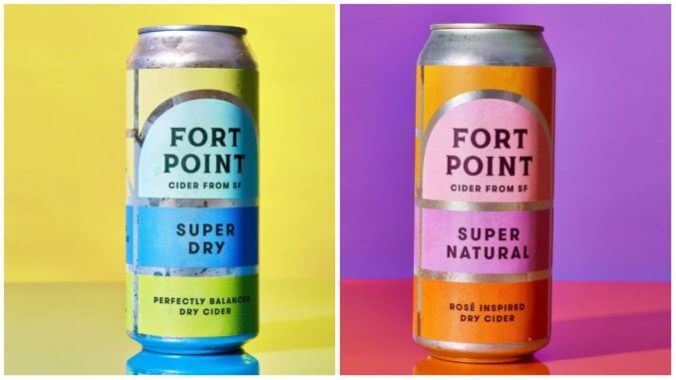 It's an interesting experience, as a veteran beer writer, to sample the product lineup of a longtime, successful and large-scale brewing operation that just so happens to represent a part of the country where you've never really traveled. Tasting some of the beer from San Francisco's Fort Point Beer Co., I found myself considering that these brands probably have strong connotations to many Californians—intense opinions on the relative quality of any of these cans, or which beloved brands may have been canceled before their time. Frankly, though, I have no idea—living on the East Coast, and rarely having been anywhere in the vicinity of San Francisco, I have the freedom to approach a brand like Fort Point with no preconceived notions at all. My conclusion: They make a really great Italian-style pilsner in particular, and I really wish I could get that beer on a regular basis in Virginia. Alas, I'll have to make do without that star of the lineup from this, San Francisco's largest independent brewery.
There's another thing that is likely drawing some new attention to Fort Point here in 2023, however, which is the launch of a new series of flagship hard ciders. Solely a craft beer brewery since its founding in 2014, these ciders represent Fort Point's first foray into other fermentables, and a welcome choice to buck currently zeitgeisty trends such as hard seltzer or kombucha in the process. Launching a cider brand feels almost old fashioned at this point for a well-established craft brewery … and that's exactly why it now strikes me as interesting. Fort Point just launched the series via "two dry cider styles each made with 100% West Coast apples, zero added sugar, and obsessive attention to detail," in the company's words.
That was enough to get me to bite, so I request some samples. So without further ado, let's get to tasting some California cider, which is not something I'm certain I've ever tasted before.
---
Fort Point Super DryABV: 6.4%
Super Dry is described as "perfectly balanced dry cider," an unflavored flagship for Fort Point's cider program that hews as closely to the core tenets of American cider as possible. This is the kind of cider I tend to prefer, but isn't necessarily the style most likely to become a brewery flagship—most of the time, one sees a "dry" option available, but it's understood that it's more of a niche brand, where the flagship exists in at least semi-sweet territory. Not so, here.
On the nose, Super Dry is on the delicate side. It's distinctly floral, evocative of the honey essence that is translated into mead, albeit without the suggestion of residual sugar. On the palate, this is crisp, with fresh apple flesh flavors, combined with wildflower honey—although again, it's largely without the sweetness. These floral tones, and a slight funkiness and hint of acidity—not really "tart," but getting there—do remind me a bit of sparkling mead, overall. It's fairly dry overall as promised, although notably this is not bone dry by any means. There are flashes of natural sweetness, and that's enough to make it an easy drinker. I'm not sure the ABV actually needed to be quite as high as it actually is, but perhaps the flavors were getting lost in the 4-5% ABV range.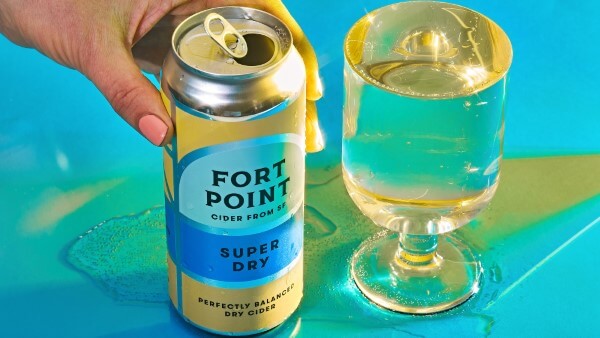 ---
Fort Point Super NaturalABV: 6.4%
In the last decade, there's rarely been much to lose in marketing an alcoholic product as rosé-adjacent, and I've tasted everything from gin and tequila to seltzers and bottled cocktails that were all trying to jump on board the train of rosé's pop cultural clout. Initially, I assumed that meant that Fort Point's Super Natural would be grape-infused, or make use of grape must or grape skins, but this take on rosé is more figurative and less literal. Instead, this blend of 100% West Coast apples is "accented by tart dried hibiscus and slightly sweet rosehips."
Those feel like flavors that could go wrong, or obnoxious, pretty easily, but the result in Super Natural is actually quite subtle and delicate. This is clear from the color alone, which does have a delicate pink blush, but none of the brash, vivid pink it's easy to get from larger amounts of hibiscus. To me, this suggests a delicate hand at work. On the nose, this one is lightly perfumey and pleasant, with faint berry fruitiness and citrus. It's a nose that actuall does evoke rosé wine more than many of the rosé-themed beers do, likely because the apple base is already significantly more like wine than anything with a malt base.
On the palate, though, Super Natural is quite subtle and not on the flashy or assertive side. A bit rounder and sweet than the Super Dry, is combines juicy apple with some more citrus and very subtle notes that my brain insists is likely hibiscus, but I question how much of that I would pick up if blindfolded. This is not inherently a bad thing by any means—it's just not as different from the Super Dry as I would have expected. With that said, I quite like the Super Natural's delicate sweetness, and it makes for a lovely glass of cider that is also quite pretty to look at. With that said, I can imagine a consumer who might want a flavored twist on the company's dry cider to be a bit more dramatic.
All in all, though, it's easy to be impressed with both the restraint and nuance shown by the Fort Point team in crafting their first ciders. A refreshing lack of gimmickry is always worth applauding.
---
Jim Vorel is a Paste staff writer and resident beer and liquor geek. You can follow him on Twitter for more drink writing.