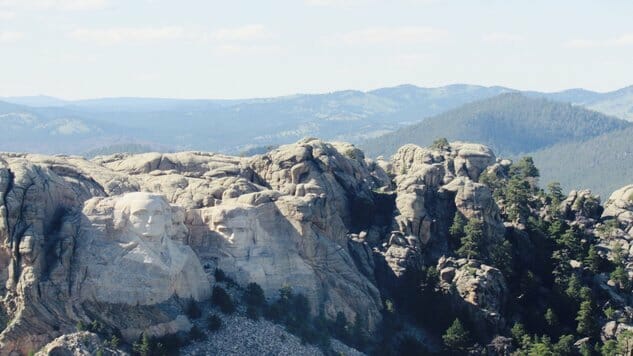 Mother Nature had something up her sleeve when sculpting the intricate, stunning landscape that is South Dakota. Often an overlooked touristic destination, South Dakota is a land of breathtaking nature, adrenaline pumping adventure and cultural phenomena. The land exudes a distinct quirkiness and is an ideal place to venture for those looking to explore the more unique pockets of their own backyard.
And while the state is worth its own singular visit, its location in the geographic center of the United States (in Belle Fourche, SD) makes it seamless to include on itineraries for larger US road trips. With scenic highways that make the journey just as spectacular as the destination, you will be fighting over a window seat. "Fly over" state? Hell no. More like "drive through, windows down" state.
Breathtaking Nature
Ironically, the defining feature of Western South Dakota's breathtaking nature is that it is indefinable. Exceptionally varied, yet incredibly geographically close, you'll witness the diversity of the nation's natural world, while also experiencing how the landscape can change over time — reminiscent of the ruins in Rome, where Renaissance facades are displayed over Early Christian churches, allowing you to trace periods of time and enjoy how they find a certain harmony in the present.
Start in Badlands National Park (or, as it should more aptly be called, Radlands) which is truly a natural anomaly. This rather off-putting nickname was first coined by the Lakota people, who called it "mako sica" ("land bad'), due to its extremity of temperatures, mixed prairie and the exposed rugged and exceptionally eroded sedimentary rock. It is these very characteristics, however, that make it an ideal location for your more off-beaten travel itinerary today.  
For a strenuous hike and captivating vistas, consider embarking on "The Notch Trail," which snakes through a pristine canyon—reminiscent of a cathedral's architecture— before ascending to a view of the entire White River Valley.
Black Hills & Night Skies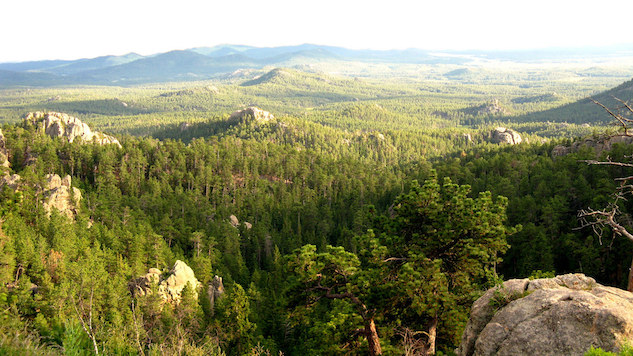 Photo by Steven Coutts/Flickr CC BY 2.0
A mere two-hour drive across the state brings you to the foreboding Black Hills. Despite its namesake, you will find verdant lookouts surrounding monumental mountain peaks the color of clay and gold. The Black Hills are famous for Black Elk Peak (the highest point east of the Rocky Mountains and west of the Pyrenees Mountains of Europe), which reaches a tremendous height of 7,242 feet.
Perhaps the most breathtaking natural splendor is that of South Dakota's night sky, which will surely be a sight for sore eyes used to the light pollution of bigger cities. You will have to squint to stop the twinkling of the silver studded skyscape, which appear like rhinestones fixed to a black velvet backdrop. The family owned and operated Circle View Guest Ranch, a working cattle ranch and bed and breakfast, is just the place to see the Earth at its most exposed and vulnerable.
Experience America's Treasures
South Dakota's extensive menu for adrenaline pumping adventures allows you to experience the region and its wealth of cultural phenomena from a variety of mediums and perspectives.
Though in all likelihood Mount Rushmore will outlast humanity, you should not wait any longer to visit this must-see road trip destination. The construction in its entirety took over 400 workers more than 14 years to sculpt, and will forever remain a testament to American patriotism. There is something rather overwhelming about it, as if it is a giant projection of our proud past on the rugged landscape of the indelible natural land.
Another powerful and impressive monument in the works yet open to visitation is the Crazy Horse Memorial, a depiction of the fascinating Oglala Lakota warrior. The privately-funded project began construction in 1948, yet is still quite far from completion. Once completed, however, the statue, carved out of Thunderhead Mountain, will be the world's largest sculpture at 641 feet wide and 563 feet tall. Witness history in the making by adding this stop to your itinerary.
The only better way to experience these two American treasures is by changing your vantage point—to 850 feet in the air, to be exact.  A helicopter tour with Black Hill Aerial Adventures provides that entirely unique angle, showcasing 24 miles of the overflying Elkhorn Mountain Wilderness Area, with a eye level view of the "Shrine of Democracy."
Adventure Awaits
Need for speed? Adventure is brought to a whole new level when driving an ATV down the dusty, windy trails of The Black Forest with Mystic Hills Hideaway, an ATV resort that also offers snowmobiling during the winter season.
And a stone's throw away from this powered-by-nature adrenaline rush is Deadwood, a classic cowboy town which is an adventure in its own right to explore. Deadwood has an inexplicable dollop of badassery and lawlessness, which lurks in the corners of cedar saloons dating back to the 1870s, of the flashing casinos that whose seedy history finds its roots in the greedy gold rushers who settled there and in the legends of Wild Bill Hickok, a folk hero of the American Old West, who was assassinated while playing poker downtown.
And the town of Spearfish, located in the northern Black Hills between Mount Rushmore National Memorial and Devils Tower National Monument, is the prime place to enjoy more low-key adventure—with miles of varying levels of walking, hiking and biking trails and Spearfish Creek, the second largest stream in the Black Hills, there is no shortage of activity—all with views that won't disappoint.
Quirky Pit Stops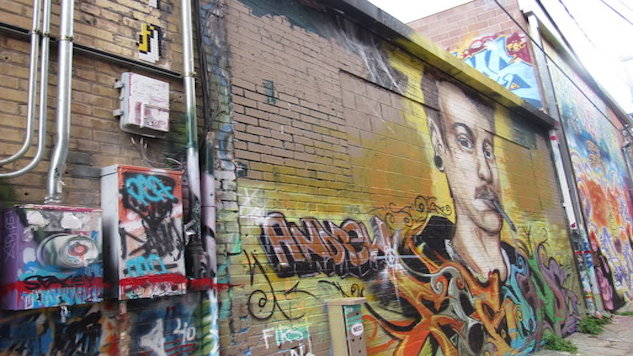 South Dakota is all about those quirky pit stops. Stretch your legs between the Badlands and Black Hills with a coffee and meander through downtown Rapid City's Art Alley—between 5th and 7th Streets lives a colorful public arts project in the town that has revitalized the arts scene, by taking creative pursuits of locals and international artists to the streets. In a town that could stereotypically be believed to be entirely conservative and bland, the walls that are adorned with messages of love and acceptance are especially welcoming and inspiring.
Another necessary pit stop is Wall Drug in the town of Wall (the gateway to The Badlands), an establishment that embraces its quirkiness and welcomes 15,0000 to 20,000 tourists a day. A stop at Wall Drug may include a cup of five cent coffee, a buffalo sandwich in a restaurant that can seat 520 tourists at a time, homemade pumpkin praline fudge and a traveler's chapel when you can spontaneously get married on a bathroom break pit stop. Here corniness is key, and, despite your best efforts, you will more than likely leave with a Wall Drug tee shirt.
Grab a Window Seat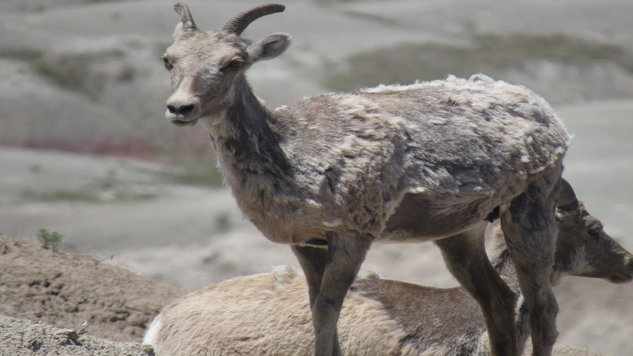 They say that the journey is just as important as the destination, and these words can not reach higher truth than referring to South Dakota. Driving through Custer State Park, you will see nearly 1,300 buffalo roaming alongside burros, mountain goats and pronghorns.
Or, if you ever want to feel confounded by Mother Nature's capabilities, Needles Highway is the drive for you (and, preferably, windows down). Fourteen miles of steep turns, stunning vistas and granite spires connect Rapid City to mountains of the Black Hills.
Or, opt to take the road less traveled (by tourists, anyway), while still having plenty of buffalo to cause traffic jams, by choosing Spearfish Canyon Scenic Byway. While you won't exactly be able to put the pedal to the medal, with speed limits of only 35 miles per hour, throngs of wildlife and two waterfalls—Bridal Veil Falls and Roughlock Falls —not to mention the thousand-foot-high limestone palisades— all speak to the speed levels of this route.
Take a trip through America to experience its celebrate its unique landscape and gifts of the natural world. Windows down, of course.
---
Olivia Balsinger is a travel writer based in New York City. She is also a Paste Health columnist, deputy editor of About.com's Sustainable Travel and OhThePeopleYouMeet.com