Netflix's Agent Elvis Is Alright, Alright, Alright… and Not Much More
Photo Courtesy of Netflix
TV
Reviews
Agent Elvis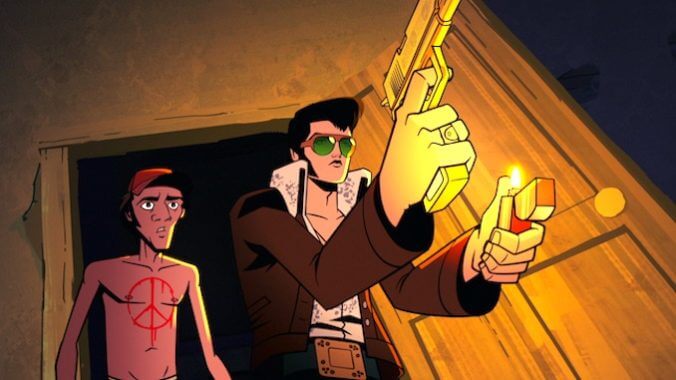 When Agent Elvis was first announced under the title Agent King in 2019, Netflix was positioning itself as the go-to place for animation. Cut to the adult action-comedy's premiere four years later and Netflix's reputation has shifted to the go-to place for canceling animation. Look at the responses any time Netflix posts the Agent Elvis trailer on social media and you'll find a mix of people blaming the show for their favorite cartoons being canceled (not how it works), and others assuming it will be the next such series to face sudden cancellation (probably closer to how it works). Whether these commenters will eventually be mourning the loss of Agent Elvis depends on what they're looking for, in this series that does action shockingly well and comedy not as much.
I assume Netflix greenlit Agent Elvis with the intention of it being the next Archer. The streamer has already done "Archer with a gimmick" well before with Q-Force, though this time they hired a showrunner (Mike Arnold) and many writers from Archer. The creators of Agent Elvis, Priscilla Presley (voicing her 50+ years younger self) and John Eddie, come from outside the world of animation and have a different goal for the show: this is the latest of Priscilla's attempts at, in her words, "introducing Elvis to the youth today."
Presumably, she's defining "the youth" as "anyone younger than a Boomer," given that Agent Elvis is decidedly not for kids under 18. This is yet another adult cartoon desperate to prove its "adult" nature by throwing in all the graphic violence, sex, nudity, drugs, and foul language it can at any given moment. It might set records for the numbers of both bones tearing through skin and barely obscured boners on TV. Sometimes the excess of immature "mature" content is funny, particularly where it involves Elvis' depraved pet chimp Scatter. Much of the time, it's just excessive.
The show's other main go-to source of humor is through playing around with historical events of the late '60s and early '70s. This 10-episode first season spans the period from 1968 to 1973, essentially a "best of" of the era's pop culture with various twists. Netflix has kindly asked reviewers not to spoil details of how the show toys with history, but in general, this material is mildly amusing, but also pretty obvious. To give one vague example, the treatment of one popular conspiracy theory here is far less inventive and funny than the handling of the same theory in Netflix's gone-too-soon Inside Job.
The voice cast is solid—with the exception of one big miscast role. That exception is unfortunately Elvis Presley himself, played by Matthew McConaughey. Especially at the same time Austin Butler still hasn't been able to drop his Elvis voice, it's striking just how little McConaughey sounds like Elvis beyond both having Southern accents. There are so many voice actors who can do a good Elvis impersonation, and instead they just went with a big-name celebrity.
The other big names in the cast fit better, fortunately. Kaitlin Olson is well-suited for the part of Elvis's obnoxious wannabe-hippie spy partner, and Don Cheadle has fun as the suspicious Commander of the organization. The clear standout of the ensemble is easily Jason Matzoukas as Howard Hughes, the funniest and most out-there of the show's celebrity caricatures. And hey, it's not all Hollywood stars—they also got some actual voice actors involved as well, including Tom Kenny doing Scatter's ape noises!
The best thing about Agent Elvis is easily the animation. You might recognize the style of character designer Robert Valley from his episodes of Love Death + Robots ("Zima Blue" and "Ice"), Gorillaz music videos, and the opening to The Beatles: Rock Band. He's the perfect artist for translating rock 'n roll iconography into comic book action, and the teams at Sony Pictures Animation and Titmouse make the most of the excellent designs with vibrant compositions and exciting action sequences. The visual direction is so good that it singlehandedly sells Priscilla's earnest goal of making her late husband into a superhero, even if the layers of irony in the scripts make it confusing to parse out just what the show's going for.
The stereotypical image of "adult animation" on American TV is one of crude animation and crude humor. Agent Elvis completely defies the former stereotype while fully embracing the latter. On visual strength alone, this would be an easy recommendation, if only it were more consistently funny and had a more fitting lead voice actor. As is, it's still a pretty good time despite some cringy gags, but Netflix can rest easy knowing they're probably not going to be flooded with messages from fans begging for more when they inevitably cancel it.
Agent Elvis is now streaming on Netflix. 
---
Reuben Baron is the author of the webcomic Con Job: Revenge of the SamurAlchemist and a contributor to Looper and Anime News Network, among other websites. You can follow him on Twitter at @AndalusianDoge.
For all the latest TV news, reviews, lists and features, follow @Paste_TV.