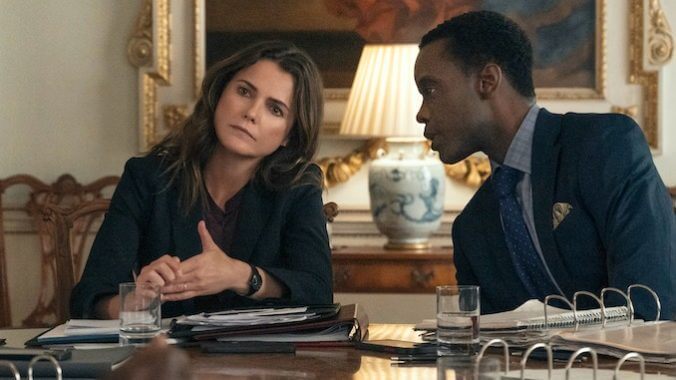 Netflix is releasing so many original new TV series, it can be easy to lose track of the latest shows. We've compiled a running list of the all the biggest new Netflix original shows and exclusive releases from the streaming giant's partners, and we'll continue to update it as new shows get added. We've skipped reality shows and focused on recent narrative series.
As always, some of these new Netflix series we recommend heartily and others aren't quite our cup of streaming tea, but there's definitely something for everyone below, especially if you don't mind subtitles. Here are 12 of the biggest new shows at Netflix released in the past several months.
1. Black Knight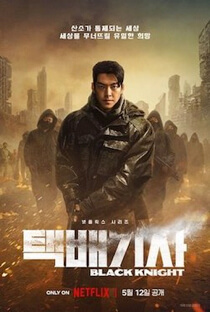 Netflix Release Date: May 12, 2023
Creators: Lee Yun-kyun
Stars: Kim Woo-bin, Song Seung-heon, Kang Yoo-seok, Esom
Genre: Sci-fi
Rating: TV-14
In the aftermath of a comet colliding with Earth, most continents have been covered by the ocean, and Korea has become a desert. With only 1% of the population left on the planet, survivors have been divided up into tiers, and those on the bottom are forced to scratch out a living in the desolate ruins. This Korean dystopian sci-fi series has Mad Max K-drama vibes.
---
2. Queen Charlotte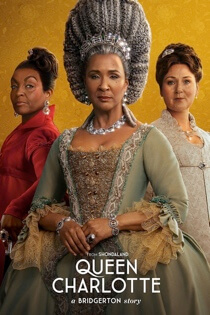 Netflix Release Date: May 4, 2023
Creator: Chris Coelen
Stars: India Amarteifio, Adjoa Andoh, Michelle Fairley, Ruth Gemmell, Corey Mylchreest, Golda Rosheuvel
Genre: Historical romance
Rating: TV-MA


When the news first broke that Netflix would be expanding the onscreen world of its mega-popular period drama Bridgerton, many people (read: me) were likely more than a bit apprehensive. Sure, Golda Rosheuvel's Queen Charlotte has always been an entertaining standout in the series' first two seasons, but was that enough reason to focus an entirely separate show on her story? Particularly when we already know some of the broad strokes of tragedy that will come to touch her life by the time the main series takes place? Could a seemingly throwaway origin story really have anything all that meaningful to say? Queen Charlotte: A Bridgerton Story, starring India Amarteifio as the young Charlotte of Mecklenburg-Strelitz, not only provides a resoundingly confident yes to all those questions, the prequel series actually manages to provide an important narrative and emotional context for the larger world in which it is set. Deftly weaving an origin story for its titular fan-favorite character through and alongside a present-day tale of love and duty, in which Rosheuvel's Charlotte attempts to convince her squad of offspring to produce a royal heir, this is a delightful, frothy romp with a deceptively bittersweet center. And unlike the rest of the Bridgerton onscreen universe, this is a story that is willing to wrestle with larger issues than just romance. Here, love isn't something you feel, or fall into. It's something you do. —Lacy Baugher Milas
---
3. The Diplomat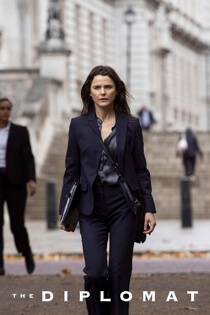 Netflix Release Date: April 20, 2023
Creator: Deborah Cahn
Stars: Keri Russell, Rufus Sewell, David Syasi, Ato Essandoh, Ali Ahn, Michael McKean
Genre: Political drama
Rating: TV-MA
The Diplomat stars Keri Russell as ambassador Kate Wyler, and Rufus Sewell as Hal Wyler, a disgraced ambassador who also happens to be her husband. Kate is on the verge of a career posting to Kabul, charged with picking up the pieces from the Afghanistan mess, when fate intervenes with a terrorist attack on a British warship that results in over 40 dead. The general belief is that it's an Iranian attack designed to send a message to the United States, and as rhetoric escalates on the U.S. and U.K. side, she's sent to London as a peacemaker. Hal comes along, and things quickly get complicated as it emerges that Iran is likely not behind the attack, but that diplomatic momentum may be propelling the two sides into a war anyway. If misinterpreted intelligence leading to a war in the Middle East sounds familiar, The Diplomat is also aware, and references Iraq with some frequency. But deep down, this show isn't about Iraq, Iran, or really even global politics at all. It's about the strange interplay between husband and wife, which has become complex enough that divorce seems imminent. Russell's Kate Wyler is perpetually frazzled, seems to hate the public-facing parts of her job, but maintains a sincerity even as she juggles the superficialities of life in the semi-spotlight. Sewell, on the other hand, has that perfect amount of irresistible sleaze/charm required of a political figure, but also has the unfortunate trait of being unable to resist massive risks that can become huge coups or huge disasters, and which ran him out of favor with everyone that mattered in D.C. Watching the two is a pleasure, particularly Kate's inability to extricate herself from her husband's dark maneuvering, even as she realizes—and tells anyone who will listen—that he's a shark. Russell and Sewell are worth the price of admission, and if you treat The Diplomat as the story of a really screwed up marriage, rather than a tale of international intrigue, you'll come away pleased. —Shane Ryan
---
4. Beef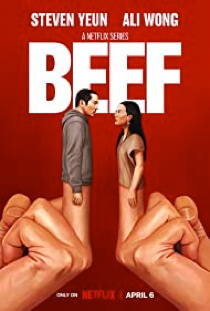 Netflix Release Date: April 6, 2023
Creator: Lee Sung Jin
Stars: Steven Yeun, Ali Wong, Joseph Lee, Young Mazino, David Choe, Patti Yasutake, Ashley Park, Mia Serafino, Bernard White, Maria Bello, Remy Holt
Genre: Drama, Comedy
Rating: TV-MA
There's an argument to be made that struggle and conflict is at the heart of the human condition, perhaps more so for someone born to a hard life, but still fundamental and even necessary for fulfillment. At the end of the first episode of the new Netflix series Beef, the brilliant Ali Wong, playing the well-off boutique entrepreneur Amy Lau, has become engaged in a feud with the suicidal contractor Danny Cho, played by Steven Yeun. It's not healthy, it's going to harm them both, but you know beyond any doubt that they are going to chase this high as long as they can. A raw thrill brought them both back to life, from a chance encounter in a parking lot, and through it they'll even come to depend on each other. As far as premise-setting, you just can't do it any better, and there's very little that you need to know about the show beyond that. They fight, and fight, and fight, and as the stifling atmosphere of modern lives continues to let them down, to leave them unhappy and confused, they'll seek solace in each other, but that solace will come in the form of violence, because what they both require is the thrumming, hot conflict that can be waged between two people without the restrictions that society and the dual strictures of wealth and poverty have put in place. The direction and acting are superb, and it's nice to know that even when Netflix seeks the path of least resistance, something brilliant can still slip through the cracks. —Shane Ryan
---
5. Unstable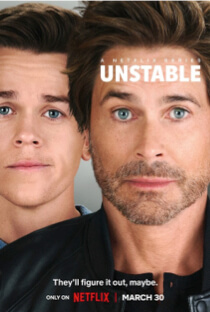 Netflix Release Date: March 30, 2023
Creator: Rob Lowe, John Owen Lowe, Victor Fresco
Stars: Rob Lowe, John Owen Lowe, Sian Clifford, Aaron Branch, Rachel Marsh, Emma Ferreira
Genre: Comedy
Rating: TV-MA
Rob Lowe stars alongside his son John Owen Lowe as a father-son duo in this workplace comedy they co-created. The elder Lowe plays Ellis Dragon, a brilliant and eccentric biotech CEO in the middle of a nervous breakdown after the death of his wife. The younger Lowe plays an equally brilliant biochemist whose left the world of science to pursue his dreams of playing the flute but gets pulled back into his father's orbit. Keeping the company together in the wake of Dragon's erratic behavior is Anna, played by Fleabag's Sian Clifford. It's a fun if not groundbreaking eight episodes of a father and son learning to overcome their differences alongside budding office romance and guests like Fred Armisen as Dragon's psychiatrist who may be more unstable than his would-be patient. —Josh Jackson
6. The Night Agent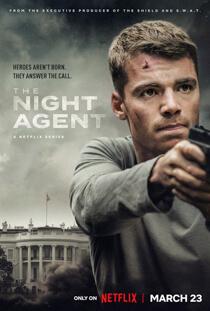 Netflix Release Date: March 23, 2023
Creator: Shawn Ryan
Stars: Gabriel Basso, Luciane Buchanan, Hong Chau, D.B. Woodside
Genre: Thriller
Rating: TV-MA
Based on the novel of the same name by Matthew Quirk, this 10-episode series follows Peter Sutherland (Gabriell Basso), an FBI agent working in the White House basement. His job is pretty boring until one night the phone that never rings actually rings—sending Peter head-first into a dangerous conspiracy that goes all the way up to the Oval Office (the best political thrillers always do!). The series comes from executive producer Shawn Ryan, the man behind The Shield, Terriers, and Timeless, among others. —Amy Amatangelo
7. Agent Elvis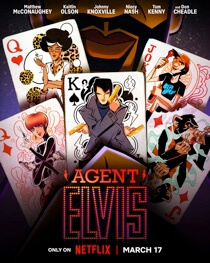 Netflix Release Date: March 17, 2023
Creators: Priscilla Presley, John Eddie
Stars: Matthew McConaughey, Kaitlin Olson, Johnny Knoxville, Niecy Nash, Tom Kenny, Don Cheadle
Genre: Spy comedy
Rating: TV-MA
Agent Elvis is yet another adult cartoon desperate to prove its "adult" nature by throwing in all the graphic violence, sex, nudity, drugs, and foul language it can at any given moment. It might set records for the numbers of both bones tearing through skin and barely obscured boners on TV. Sometimes the excess of immature "mature" content is funny, particularly where it involves Elvis' depraved pet chimp Scatter. Much of the time, it's just excessive. The show's other main go-to source of humor is through playing around with historical events of the late '60s and early '70s. This 10-episode first season spans the period from 1968 to 1973, essentially a "best of" of the era's pop culture with various twists. The voice cast is solid—with the exception of one big miscast role. That exception is unfortunately Elvis Presley himself, played by Matthew McConaughey. Kaitlin Olson is well-suited for the part of Elvis's obnoxious wannabe-hippie spy partner, and Don Cheadle has fun as the suspicious Commander of the organization. The clear standout of the ensemble is easily Jason Matzoukas as Howard Hughes, the funniest and most out-there of the show's celebrity caricatures. The best thing about Agent Elvis is easily the animation. Character designer Robert Valley is the perfect artist for translating rock 'n roll iconography into comic-book action, and the teams at Sony Pictures Animation and Titmouse make the most of the excellent designs with vibrant compositions and exciting action sequences. It's a pretty good time despite some cringy gags. —Reuben Baron
---
8. On My Block: Freeridge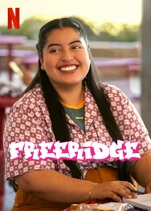 Netflix Release Date: February 2, 2023
Creators: Lauren Iungerich, Eddie Gonzalez, Jeremy Haft, Jamie Dooner, Jamie Uyeshiro
Stars: Keyla Monterroso Mejia, Bryana Salaz, Tenzing Norgay Trainor , Ciara Riley Wilson and Peggy Blow
Genre: Teen mystery, romance, comedy
Rating: TV-14
This On My Block spinoff finds a new group of Freeridge teens navigating high school, mystery and, this time, mysticism. Gloria (Keyla Monterroso Mejia), Ines (Bryana Salaz), Cam (Tenzing Norgay Trainor), and Demi (Ciara Riley Wilson) unwittingly unleash a curse and must deal with the misfortune coming their way. On My Block executive producer Lauren Iungerich returns as showrunner as do many familiar On My Block faces, including Peggy Blow who plays a brand new character here (her Abuelita died in On My Block's fourth season). —Amy Amatangelo
---
9. Lookwood & Co.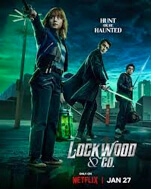 Netflix Release Date: January 27, 2023
Creator: Joe Cornish
Stars: Ruby Stokes, Cameron Chapman, Ali Hadji-Heshmati
Genre: Supernatural, fantasy
Rating: TV-14
With approximately 1 million recent TV series populated with teens fighting supernatural baddies, how do you choose which ones are worth your while? Well, you might start with one developed by the writer and director of 2011 indie sci-fi comedy Attack the Block. Joe Cornish adapted the new Netflix original Lockwood & Co. from Jonathan Stroud's YA novels about a psychic detection agency in an alternate London where ghosts run amok and only certain young people can fight them. Ruby Stokes plays Lucy Carlyle, a talented runaway ghost-hunter who finds her place at a newly established—and adult-free—outfit run by the posh upstart Anthony Lockwood (Cameron Chapman) and his socially challenged friend George Karim (Ali Hadji-Heshmati). The show is better written and more original than the vast majority of series trying to carry the mantle of Buffy into the streaming era. —Josh Jackson
---
10. That '90s ShowNetflix Release Date: January 19, 2023
Creators: Bonnie Turner, Terry Turner, Lindsey Turner, Gregg Mettler
Stars: Debra Jo Rupp, Kurtwood Smith, Callie Haverda, Ashley Aufderheide, Mace Coronel, Reyn Doi, Sam Morelos, Maxwell Acee Donovan
Genre: Sitcom
Rating: TV-14
The world of That '70s Show returns in Netflix's grunge-era revival That '90s Show, which picks up with the children of OG fan favorites and brings the action back to the tried and true basement of Red and Kitty Forman for a whole new generation of misspent youth. It's a series about the fleetingness of summer, and of youth, and (these days) Netflix shows in general. It's also a lot of fun, especially for fans of That '70s Show. It's the same type of silly, goofy, heartfelt and funny as the old show—with just enough newness to make you glad Netflix brought the franchise back for a few more "BURNS!" and love triangles. It doesn't try to reinvent the sitcom, or even improve it. It's the TV equivalent of putting on a comfortable pair of sweat pants, and trading your Led Zeppelin shirt in for a Pearl Jam hoodie. But sometimes? That's more than enough. —Trent Moore
---
11. Copenhagen Cowboy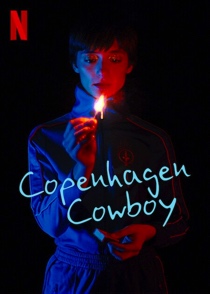 Release Date: January 5, 2023
Creator: Nicolas Winding Refn
Stars: Angela Bundalovic, Fleur Frilund, Lola Corfixen, Zlatko Buri?
Genre: Thriller
Rating: TV-MA
Paste Review Rating: 7.4
Oh, what peaks and valleys have defined the career of one Nicolas Winding Refn. His new miniseries Copenhagen Cowboy continues his exploration of stylized, extra-minimalist narrative design. Inexplicably premiering on Netflix (no other show will be treated more unfavorably by "the algorithm"), Copenhagen Cowboy brings Refn (or, as he's credited, NWR) back to the unsavory world of Danish crime, his first return trip since closing his Pusher trilogy in 2005. A superstitious woman who housekeeps for her brother's sex trafficking ring hires a young woman, Miu (Angela Bundalovic, rocking an '80s Agnès Varda look), as a "lucky charm," but when doubts about Miu's superstitious powers first start to appear, it becomes clear how dangerous the young woman can be. This is merely the trigger point for a story that keeps moving; as Miu ventures out into a hazy labyrinth of multicultural gangs and lost souls, she becomes more elemental than human—which alerts the attention of what can only be described as a castle of vengeful Aryan succubi. With its relentlessly abstracted narrative and insistent repetition of the same few visual tricks, you sort of know immediately whether you're on this train or not. Everything is washed with either vibrant blue or red, none of the dialogue sounds like something a real person would say, and if you drank every time the camera pans a full 360 degrees, you'd end up in a coma. Hopefully Copenhagen Cowboy offers something daring for Netflix's large audience, but even if it's unlikely to draw many non-NWR converts, it should hopefully convince apostates to give his streaming work a shot. —Rory Doherty
---
12. The Recruit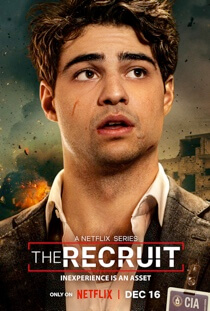 Netflix Release Date: December 16, 2022
Creator: Alexi Hawley
Stars: Noah Centineo, Laura Haddock, Aarti Mann, Colton Dunn, Fivel Stewart, Daniel Quincy Annoh, Kristian Bruun, Vondie Curtis-Hall
Genre: Action, Thriller
Rating: TV-MA
The Recruit plays to Netflix heartthrob Noah Centineo's charismatic and comedic strengths, adding more flair, drama and—deep breath—sex to his streaming portfolio. He confidently leads a spotty but overall impressive spy romp that makes for a suitably fun binge watch. This man is Owen Hendricks, a rookie lawyer for the General Consul at the CIA. He's charming, quick-witted, and instantly in over his head, especially when he gets involved with a former agent (or, asset) who wants to reveal devastating state secrets (or, graymail). He has two smart, attractive roommates, Hannah (Fivel Stewart) and Terence (Daniel Quincy Annoh), a suitably stern boss, Nyland (Vondie Curtis-Hall), and a couple colleagues with the sole purpose of leaving Owen in their dust, Violet (Aarti Mann) and Lester (Colton Dunn). Over the course of 8 episodes (all of which were available for review), characters undercut each other, beg for favours, and deceive for their own benefit. A lot of research from show creator Alexi Hawley has gone into a variety of CIA lingo, procedures, and personalities; it really feels like you're immersed in an authentically complex (sometimes laughably so) intelligence bureaucracy. As well as this, Owen's newbie status means we get to learn a lot of this intel organically as he does, always at the quick, urgent pace that CIA field work demands. While it's not impossible to make a comedy about the oceans of paperwork and insecure agents that get field work done, putting a hot smirk on it feels a little manipulative given the agency's tendency to destabilize nation states. That said, the hot smirking goes a long way, with Doug Liman injecting the sweaty sexual tension his best work is known for into what could just be an exercise in pulpy action thrills. It's clear Netflix are looking for a new splashy and exciting hit, and they have indeed successfully recruited us. —Rory Doherty