In Season 3, a Compelling Ted Lasso Returns with a New Mission—And a New Rival
Photo Courtesy of Apple TV+
TV
Reviews
Ted Lasso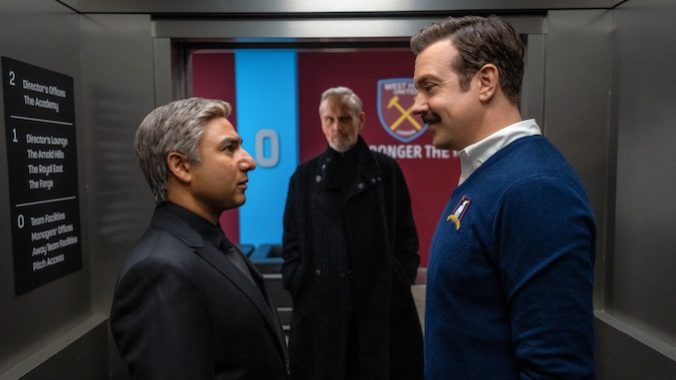 The poignant, feel-good sports story Ted Lasso put Apple TV+ on the map, winning Emmy Awards and making us all believe a bit more along the way. It's been more than a year since Season 2 ended, and the gang at AFC Richmond is finally back for another season (literally, as the team is ramping up for its own kickoff after being promoted back to the Premier League at the end of last season).
As Ted Lasso headers into its third and likely final season, the show aims to recapture that same glory that made it such a fan favorite over its first two years, while also introducing something Lasso has never really had up until this point: a rival. An enemy. A true, straight-up antagonist on the other side of the pitch. It's a tried and true piece of the sports story formula, and if anything, it's wild to think they haven't really done it up until this point. That rival is, of course, West Ham United. Rebecca's (Hannah Waddingham) ex-husband Rupert (Anthony Head) purchased the club to compete against Richmond at the end of Season 2, and poached "wonder kid" assistant coach Nate (Nick Mohammed) to serve as team manager.
The start of Season 3 is a fascinating exploration of Nate finally getting everything he ever wanted, and seeing how quickly that absolute power brings out the seething, wildly insecure person inside. Following his journey—now separated from the decency of Team Lasso that at least tethered him to some semblance of humanity—looks to make for a fascinating arc in Year 3. Nate is chasing validation, and dank memes, but can it ever make him happy? As for Rupert, he can see straight through him, and knows a young man desperate for a father's approval can be an easy mark for someone like him to manipulate.
Though it could be a cliched sports story with less nuanced execution, setting up Richmond and West Ham as rivals—with Nate and Ted in the spotlight on both sides—makes for a fascinating dynamic as the season continues to unravel.
As for Ted himself, we've seen him grapple with anxiety and depression over the past two seasons, clinging to coaching as a purpose while his marriage falls apart and he struggles to maintain a relationship with his son. That story goes in some unexpected directions, which continue to push Ted to find balance. As gleaned from the end of Season 2, his friendship with sports psychologist Dr. Sharon Fieldstone (Sarah Niles) at least started Ted on a more psychologically and emotionally healthy path, and it's refreshing to see a story about someone working to get better but still right in the thick of the doing. That might be the true Ted Lasso story by the time it's all said and done.
Not surprisingly, Richmond is the biggest of underdogs as the team returns to the Premier League, though that's right where Lasso thrives. He still has a few coaching tricks left up his sleeve when it comes to dealing with those public perceptions, and it's always fun to take a moment and see the world the way Ted does. With Nate gone, Roy (Brett Goldstein) steps into a larger assistant coach role, bringing his player's mentality to the strategy sessions alongside Coach Beard (Brendan Hunt).
Rebecca (Hannah Waddingham), not surprisingly, is desperate to defeat Rupert—to the point where she may need to be reminded that trusting the process and "letting Ted be Ted" is the right way to get there, as we've learned over the past two years, even if it's the long way around. We also pick up with Keeley (Juno Temple) running her own PR firm now, where we see the impact that change has on her relationship with Roy and how she deals with being her own "boss bitch." It'll certainly be a different dynamic, but the writers also know that alongside that, the friendship between Rebecca and Keeley is a thing that really works, and they don't seem to be messing with it.
Thankfully, the team itself seems to be in good spirits, a testament to the culture we've seen Ted build, brick by brick, across two seasons. But there are always twists and turns (no spoilers here), and one mainstay of pro sports is that the rosters are always changing a bit. I'm also afraid you're probably going to continue to like Jamie Tartt (Phil Dunster) as this thing gets going, after he's come full circle in his journey back to Richmond as he tries to be a decent guy. New haircut and all.
Upon making it back to the Premier League at the end of Season 2, Ted pledged they'd come back the next season and win the whole thing. But Ted Lasso is nothing if not a show that plays with your expectations, so it'll be interesting to see in the end if the winning comes on the pitch, or in the lives of those around AFC Richmond, or both.
So is Ted Lasso still good? Does Season 3 live up to the hype? It's early, but the answer seems to be yes, thankfully. Despite the bar napkin pitch on the logline of "American football coach moves to England to coach soccer," this has never been a simple show. It's a story about broken people doing their best, and it all just happens to revolve around a football club. In Season 3, these relationships and bonds are stronger and more nuanced than ever, and if anything, it looks like it will be compelling as hell to see the creative team playing in the world they've built a little longer. We love these characters, we love this team, and that hasn't changed.
So can Ted and Richmond really win it all? Will Keeley and Roy make it? Will Nate finally get that window table at the cafe? We'll absolutely be watching to find out.
Ted Lasso Season 3 premieres Wednesday, March 15th on Apple TV+.
---
Trent Moore is a recovering print journalist, and freelance editor and writer with bylines at lots of places. He likes to find the sweet spot where pop culture crosses over with everything else. Follow him at @trentlmoore on Twitter.
For all the latest TV news, reviews, lists and features, follow @Paste_TV.