Damien Chazelle Headed to Netflix For Multilingual Musical Drama Series The Eddy
Photo by Matt Winkelmeyer/Getty
TV
News
Damien Chazelle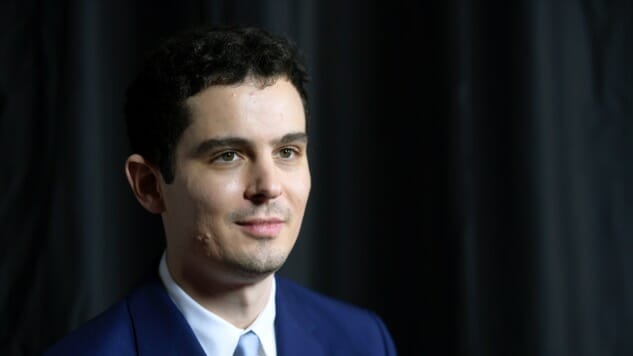 The swirling vortex of film and television talent that is Netflix has ensnared another outstanding entry. The streamer announced today that Oscar-winning La La Land and Whiplash writer-director Damien Chazelle will make his first foray into television by bringing a new series to Netflix called The Eddy, a musical drama set in multi-cultural, contemporary Paris. The eight-episode series revolves around a club (presumably the eponymous Eddy), its owner, the house band and the chaotic city that surrounds them.
Chazelle will executive produce the IMG series and direct two of its eight episodes from scripts written by Jack Thorne (Wonder), who was recently brought onboard Star Wars: Episode IX. Six-time Grammy winner Glen Ballard (Alanis Morissette's Jagged Little Pill, Michael Jackson's Bad) will write the show's original music, Emmy-winning producer Alan Poul (Six Feet Under, The Newsroom) will executive produce alongside Chazelle, Thorne and Ballard, and Patrick Spence and Katie Swinden's Fifty Fathoms will produce.
The Eddy will be shot in France, featuring dialogue in French, English and Arabic, and continuing Netflix's focus on international (specifically French) content. "I've always dreamed of shooting in Paris, so I'm doubly excited to be teaming up with Jack, Glen and Alan on this story, and thrilled that we have found a home for it at Netflix," said Chazelle in a statement.
Netflix Vice President of International Originals Erik Barmack added:
From the intense, complex relationship between a jazz drummer and his instructor in Whiplash to his dazzling duo of lovelorn Los Angelenos in La La Land, Damien's work is emotional and electrifying. His projects have a rhythm all their own, and we're incredibly excited for him, Jack, Glen, Alan and the production team to bring their vision for The Eddy to Netflix.
Knowing Chazelle's aptitude for music-focused filmmaking, it's hard to be anything but optimistic about The Eddy, even in spite of his relatively minor involvement and lack of TV experience. But if the series sounds like it's not your tempo, there's more to look forward to from the director: His Ryan Gosling-starring Neil Armstrong biopic First Man is due out on October 12, 2018, and will surely be a title to take note of come awards season.
The Eddy is currently without a premiere date or casting details—stay tuned.