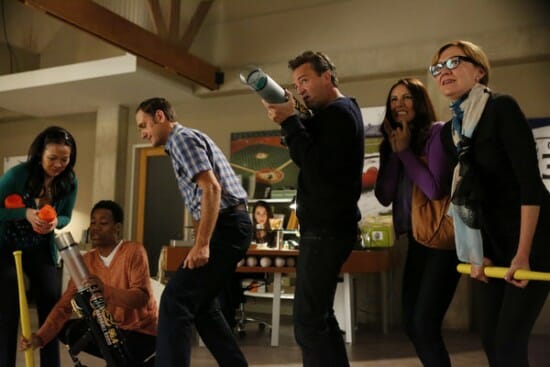 Go On is slowly evolving from another average sitcom to an off-the-wall NBC comedy. The show still plays it safe, but now the characters are being molded into overly quirky ones, which helps the plot become all that more interesting.
"Any Given Birthday" begins with the group convincing Ryan—who hates his birthdays because Janie always planned elaborate days when he just wanted to stay home and relax—to go on a Ryan-centric scavenger hunt. Even in this early scene you can tell that the show is beginning to find its own voice when the group begins to chant to convince Ryan to participate. They chant, "Chant, chant, chant, chant" until Ryan sarcastically reminds them that chants need content. So what do they do? Chant "Content, content, content."
It may not work on paper, but it worked on screen. This was really one of the first episodes where I laughed out loud multiple times and didn't just let out a chuckle for how "nice" the show was. The scavenger hunt was great. It allowed Ryan to participate in a smaller group, which let characters shine without competing for screen time. The hard and edgy Anne finally connects with the creepy Mr. K over Cyd Charisse, and Lauren has some great one-liners. But the funniest line comes when part of the hunt requires someone to streak at a college and Owen runs laughing, "White ones look funny! They don't even look real!" It was one of those lines that was placed perfectly in a scene.
The other half of the episode focused on Sonia, a nurse, taking care of Ryan's boss Steven after he had a colonoscopy and was still high on the anesthesia. Ryan warned her of two things: Steven is not to leave the house and he's especially not supposed to go shopping. So what happens? Steven shops and shops hard. Thousands of dollars later, and the character provides a terrifically hopped-up performance that helps balance the show.
It's not all fun and games, though. Eventually the show needs to place Ryan in a situation that brings him down from cloud nine and reminds him how much he misses Janie. The group gets detoured from the scavenger hunt to a romantic hotel room, complete with a candlelit dinner and a violin soloist that Janie had planned before her death. The show does a great job of transitioning from a fun-filled episode to a somber mood. However, Go On doesn't force the viewer to dwell on the sadness of the situation and the scene turns lighthearted when Anne and Mr. K save the day by dancing like Cyd Charisse.
Go On is definitely on its way to breaking through. It is not there yet, but almost. Unlike the other NBC goofball comedies, this one can balance the humor with the pathos extremely well. Each episode the humor continues to get funnier and will definitely get where it needs to go by the end of the season, if not sooner.