John Carpenter Returns to Director's Chair for First Time in 13 Years for Peacock's Suburban Screams
Photos via Peacock
TV
News
John Carpenter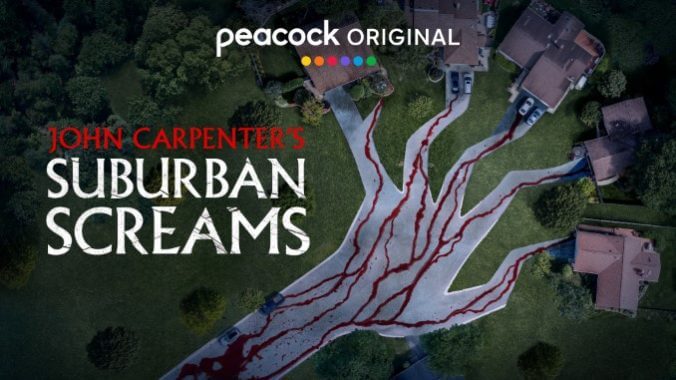 It's been 13 years since the last time legendary genre director John Carpenter sat down behind the camera for a major project, 2010's The Ward. For all that time, horror geeks have begged the master to return, something he's hinted at on any number of occasions, such as suggesting that he might adapt a popular videogame franchise like Dead Space. And yet here, out of the blue, we today get notice that not only is Carpenter coming back for a series on Peacock, but its release is just around the corner. John Carpenter's Suburban Screams is a new horror docuseries that will fittingly premiere on Friday, Oct. 13, 2023, with a first trailer (which you can view below) arriving today.
The six-episode series "combines the aching suspense and visual language of horror films with the tools and techniques of documentaries — creating a uniquely unsettling experience for viewers," according to Peacock. Producer Carpenter, joined by Sandy King, Tony DiSanto, Jordan Roberts, Patrick Smith and Andy Portnoy, directs only a single episode himself, and we don't yet know which one that will be. But the writer-composer also created the show's theme music–we would have expected no less, given the amount of time that Carpenter has dedicated to composing and touring with his band in recent years.
John Carpenter is of course the director of innumerable sci-fi and horror classics such as Halloween, The Thing, They Live and In the Mouth of Madness. We ranked his entire filmography last year in tribute, but never suspected that he would pop back up on the small screen in time for Halloween a year later. Each episode of Suburban Screams features "true stories"–though it's clear some are in the vein of urban legends–which "weaves together archival footage, personal photos, news clips and cinematic-level dramatic production." Peacock doesn't state specifics on each episode, though it's clear from the trailer below that at least one is based on the Northern Virginia urban legend of the hatchet-wielding Bunny Man, supposedly seen in a variety of menacing locales in 1970. Other snippets in the trailer seem to include incidents of both real-world evil and the supernatural.
"Victims of these crimes are never the same afterward," said producer Sandy King in a statement. "What they have lived through is true horror — worse than movies, and too often told from the perspective of the heinous murderers and stalkers. No one talks about the wreckage left behind, and that is truly where the drama, and the terror, lie. We want viewers to come away from Suburban Screams unnerved and frightened, but also filled with immense sympathy for the brave souls whose lives were endangered and all too often lost."
It will certainly be interesting to see how much of his own personal style Carpenter manages to infuse into Suburban Screams, but we can't help but be nostalgic at the use of his iconic "Carpenter font" on the title card above. Check out the full trailer for the Peacock series below.