A New Adaptation of King Lear Shows Why Shakespeare's Tragedy Is Relevant in Every Time and Place
Photo: Ed Miller/Amazon Prime Video
TV
Reviews
King Lear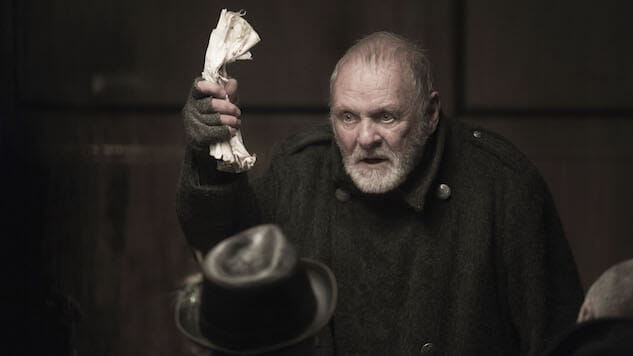 An arrogant, demanding king divides his kingdom among his three daughters, according to who makes the most effusive claims of adoration. Two try to outdo each other. The third refuses, saying it's superficial, and is angrily cast out. The two elder daughters begin scheming for control, kicking their aging father out of the castle. The Prime Minister is betrayed by one son and the other is forced into hiding. The king descends into madness, while the PM is maimed; the king and his more honest daughter are briefly reunited before war and dissipation bring ruin on all and sundry.
William Shakespeare's super-lighthearted little romp about the decline of an insane mythical king has been adapted many, many times. And it's true: I have an ongoing rant about adapt-o-philia with regard to certain properties and I recognize that one might be within one's rights to call me inconsistent on the subject. But look: Sometimes the material warrants it and sometimes the production more than justifies it with a very unique interpretation, a fascinating style, or pure high-voltage casting. So I was down for the BBC's new iteration of King Lear, coming Friday to Amazon Prime, based solely on the presence of Sir Anthony Hopkins in the title role. I hadn't even asked who else was in it.
I guess Ciaran Hinds, Maggie Smith and Liam Cunningham were occupied, because other than that, the answer is "almost everyone." And I have to ask a delicate question here. Why do American actors even exist when the U.K. and Ireland so relentlessly trounce us in terms of sheer quality?
Set in an alt-now version of England, Lear is blessedly immune to Revamp the Script To Be Timely Disease (though it's trimmed to two hours), so prepare to have to focus a little bit: You're gonna get 115 minutes of AP English words and a lot of what a Joe Bob Briggs review might once have termed "soliloquy-fu." Lear is timely in every time and place, because men in power are reliably arrogant, judgmental, and keen to maintain a grip on their power at all costs, and it is always tragic. Every character in this adaptation is cast brilliantly, from Lear's three daughters (Emma Thompson, Emily Watson and Florence Pugh, respectively) to the various schemers and plotters in his inner circle (Jim Broadbent as Gloucester and Tobias Menzies as Cornwall stand out, but then again, so do Andrew Scott as Edgar, Jim Carter as Kent, and Karl Johnson as the Fool. And you know what? Basically everyone with a line. Seriously, it is wall-to-wall brilliant acting). Broadbent, Thompson and Hopkins are all utterly masterful in interpreting Shakespeare's complex 400-year-old diction and making it feel modern, approachable and powerful. Hopkins' increasingly demented ranting, capering and jeering are eloquent as hell and profoundly discomfiting to watch. Thompson is honed like a high-end chef's knife. Broadbent is an elocutionary magician; Jim Carter exudes his hallmark gravitas and I'm not sure who currently does bat-shit crazy better than Andrew Scott. The production design is sleek and cogent and a bit creepy, both opulent and bleak. There's affecting use of cinematography—it doesn't come across as a camera trained on a stage play—yet it retains its form in a way that reminds you that it is a stage play at heart.
The frightening mood swings of a declining and judgmental monarch, the backstabbing power-mongers who surround him, the attack of brother on brother, the slippery descent into chaos and war, the torment of delusion, the pitfalls of hubris. Literal and figurative blindness; failure to see what's in front of you. These things are always timely, always powerful, always terrible.
And in the hands of Anthony Hopkins and the rest of this stunning ensemble, completely to die for. Which is just as well, because of course most of the characters keel over elaborately in the last act.
If somehow you've gone this long without ever being exposed to this dramatic masterwork, this is a thoroughly approachable introduction. If you're a connoisseur, I suspect you won't even mind that it's been pared down a bit, in the way that you don't worry about the bits that have been cut off a diamond solitaire. You just admire the way it catches the light.
King Lear premieres Friday, Sept. 28 on Amazon Prime Video.
---
Amy Glynn is a poet, essayist and fiction writer who really likes that you can multi-task by reviewing television and glasses of Cabernet simultaneously. She lives in the San Francisco Bay Area.