Paste's Power Rankings: The 10 Best Shows on TV Right Now
Week of 10/15/2018
Header photo: Robert Voets/The CW
TV
Lists
power rankings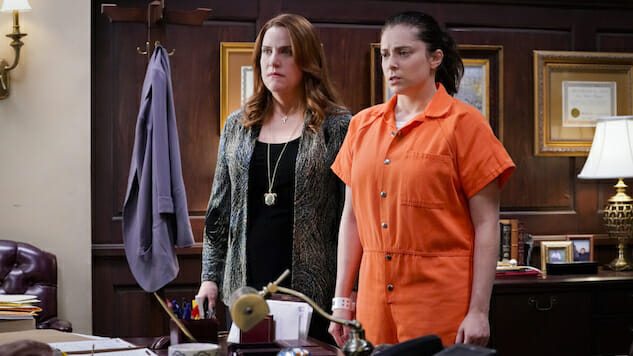 Netflix's full-court press continues to dominate the Paste Power Rankings this week, combining quality (including a well-received adaptation of The Haunting at Hill House) and quantity to nab four of the 10 spots. Otherwise, the big news is the return of a Power Rankings regular, Crazy Ex-Girlfriend, for its fourth and final season—plus a sort-of newcomer from the same network. Something to do with witchy sisters?
The rules for this list are simple: Any series on TV qualifies, whether it's a comedy, drama, news program, animated series, variety show or sports event. It can be on a network, basic cable, premium channel, Netflix, Amazon, Hulu, YouTube or whatever you can stream on your smart TV, as long as a new episode was made available the previous week—or, in the case of shows released all at once, it has to have been released within the previous six weeks.
The voting panel is comprised of Paste editors and TV writers with a pretty broad range of tastes. We're merciless: a bad episode can knock you right off this list, as much good TV is available right now.
Honorable Mentions:
The Good Place, Grey's Anatomy/Station 19, Murphy Brown, Shameless
10. BoJack Horseman
Network: Netflix
Last Week's Ranking: 8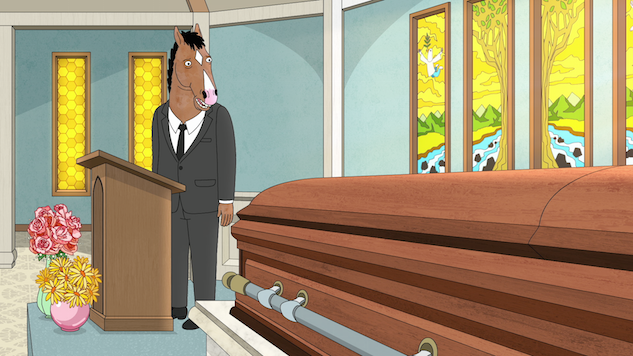 BoJack Horseman, like the depressed, pill-popping star of its Hollywoo satire, may be getting on in age, but in its fifth season it remains as audacious as ever. As BoJack (Will Arnett) films a prestige drama named Philbert—produced by his agent, Princess Carolyn (Amy Sedaris), co-written by his closest friend, Diane Nguyen (Alison Brie), and co-starring Diane's ex-husband, Mr. Peanutbutter (Paul F. Tompkins), Netlfix's wickedly funny, pitch-dark original series tackles its usual array of topical material, most especially #MeToo, with its usual blend of rapid-fire quips, industry inside baseball, and marrow-deep pathos. All this and it still squares space for a travelogue in Vietnam, a flashback to a country childhood, an installment that takes places across four Halloweens (and four romances), and another, the extraordinary "Free Churro," almost entirely comprised of BoJack's wrenching eulogy for his mother. BoJack Horseman, are you Season two through Nine of The Simpsons right now? Because you're one of the best animated series in the history of television. —Matt Brennan (Photo: Netflix)
9. King Lear
Network: Amazon Prime
Last Week's Ranking: 7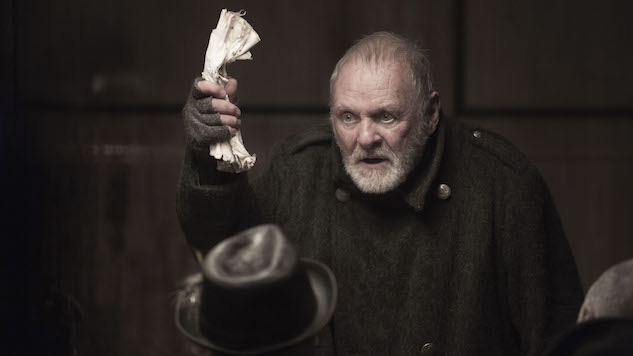 Set in an alt-now version of England, the latest adaptation of King Lear, starring Anthony Hopkins, is blessedly immune to Revamp the Script To Be Timely Disease (though it's trimmed to two hours), so prepare to have to focus a little bit: You're gonna get 115 minutes of AP English words and a lot of what a Joe Bob Briggs review might once have termed "soliloquy-fu." Every character in this adaptation is cast brilliantly, from Lear's three daughters (Emma Thompson, Emily Watson and Florence Pugh, respectively) to the various schemers and plotters in his inner circle (Jim Broadbent as Gloucester and Tobias Menzies as Cornwall stand out, but then again, so do Andrew Scott as Edgar, Jim Carter as Kent, and Karl Johnson as the Fool. And you know what? Basically everyone with a line. Seriously, it is wall-to-wall brilliant acting). Broadbent, Thompson and Hopkins are all utterly masterful in interpreting Shakespeare's complex 400-year-old diction and making it feel modern, approachable and powerful. Hopkins' increasingly demented ranting, capering and jeering are eloquent as hell and profoundly discomfiting to watch. Thompson is honed like a high-end chef's knife. Broadbent is an elocutionary magician; Jim Carter exudes his hallmark gravitas and I'm not sure who currently does bat-shit crazy better than Andrew Scott. The production design is sleek and cogent and a bit creepy, both opulent and bleak. There's affecting use of cinematography—it doesn't come across as a camera trained on a stage play—yet it retains its form in a way that reminds you that it is a stage play at heart. After all, Lear is timely in every time and place, because men in power are reliably arrogant, judgmental, and keen to maintain a grip on their power at all costs, and it is always tragic. —Amy Glynn (Photo: Ed Miller/Amazon Prime Video)
8. Maniac
Network: Netflix
Last Week's Ranking: 5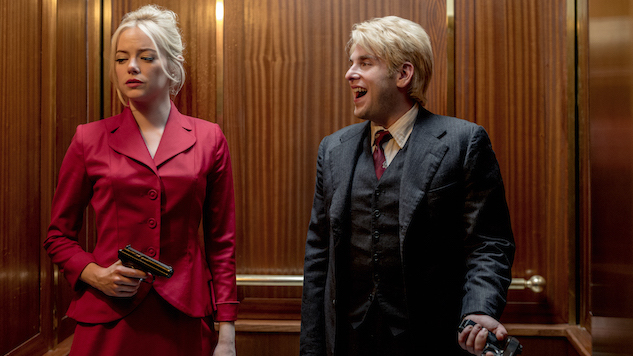 A trafficked ring-tailed lemur. Popcorn problems. The lost final chapter of Don Quixote. And Gassing Up the Miata. Netflix's new miniseries, Maniac, has its imperfections. But it proves that even if reality might be a debatable construct, metaphors and tropes and symbols are pretty stinkin' permanent. Writer Patrick Somerville (The Leftovers) and director Cary Joji Fukunaga (True Detective) have created something that's as much like visual poetry as any TV show I can recall seeing recently-and unlike most poetry, it's also freaking hilarious. Annie (Emma Stone) is profoundly depressed, prone to substance abuse and lying, and has some serious issues with a sibling. Owen (Jonah Hill) might be schizophrenic, and he's under a lot of pressure from his wealthy family over a legal matter, and he has some serious issues with a sibling. Arguably, neither of them is a good test subject for a highly experimental pharmaceutical trial, but this one happens to be for a series of pills to "cure" all the ills of the psyche, and they're both hard up for money… and for answers, closure… relief. The result? A surrealist masterpiece. —Amy Glynn (Photo: Michele K. Short/Netflix)
7. Charmed
Network: The CW
Last Week's Ranking: Ineligible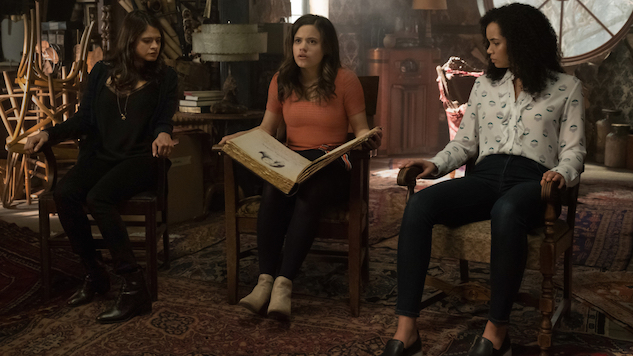 Despite outward appearances, The CW's reboot is not a self-important, self-serious approach to Charmed: The new version chooses to be earnest instead of glossy, which is one of the more lasting (and endearing) qualities any WB or CW show can have. One of the major talking points about the original Charmed was how series creator Constance M. Burge originally considered the show, first and foremost, a series about sisters who just happened to be witches; Jessica O'Toole and Amy Rardin's pilot script for the new Charmed approaches things the same way. Importantly, the show excels at the established sister dynamic between Mel (Melonie Diaz) and Maggie (Sarah Jeffery), and later has the same success with Macy's (Madeleine Mantock) entry into the family (while also learning what it means to be a part of this family).
The series' biggest struggle might be that its goals are too lofty for its abilities. The original's biggest issue was the opposite—how much it chose to stay within its comfort zone and keep things simple. Here, outside of the sisters' relationship with each other, no other dynamic has enough focus, at least so far. As the season progresses, there's potential to let these stories breathe, and that's the keyword for new Charmed: "potential." All it needs to do is nurture that.—LaToya Ferguson (Photo: Katie Yu/The CW)
6. Big Mouth
Network: Netflix
Last Week's Ranking: 3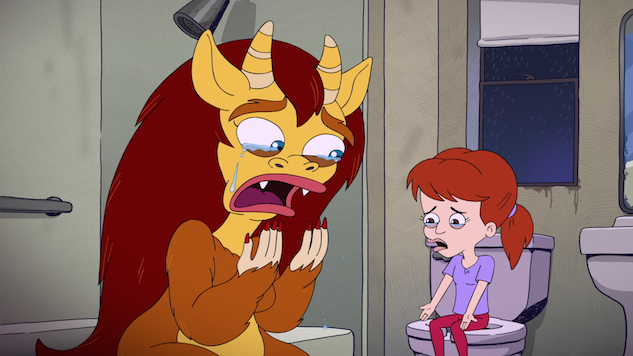 The second season of Netflix's animated sex-ed comedy is more unwieldy than the first, losing the element of surprise and adding way, way too much of that gross-out nincompoop, Coach Steve. Still, Big Mouth, from creators Nick Kroll, Andrew Goldberg, Mark Levin, and Jennifer Flackett, might be the flat-out funniest comedy on TV, pulling off a one-liner/sight gag hit rate to rival BoJack Horseman (without the despair) and The Good Place (without the profound philosophical questions). Highlights include a Planned Parenthood explainer episode in the form of a pop culture-inspired anthology—replete with an ingenious, contraception-themed Bachelor spoof—a ribald two-parter set at a school sleepover, and the addition of David Thewlis as the nefarious Shame Wizard, though the series' MVP remains (of course) Maya Rudolph as the Hormone Monstress, offering a multi-episode master class in voice acting. (The way she pronounces "pharmacy" should be in the MoMA.) "I'm horny all the time," Andrew Glouberman (John Mulaney) laments at one point, summing up Big Mouth's laugh riot, 'and I'm makin' bad choices." Let's hope there are still many more to come. —Matt Brennan (Photo: Netflix)
5. The Sentence
Network: HBO
Last Week's Ranking: Ineligible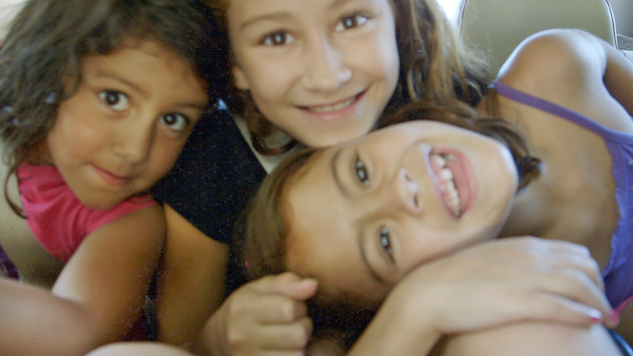 With The Sentence, you know you're not watching an Alex Gibney film. Elements of it are amateurish; it's artistically sometimes a bit crude. But there is a kind of eloquence even in that, since you know that director Rudy Valdez is cutting his teeth as a documentarian on the tearjerker case of his own sister, Cindy, who served many years in prison on a mandatory-minimum-sentence "conspiracy" conviction (her boyfriend started dealing drugs and, being young and in love, she didn't turn him in). The film tracks Cindy's three daughters and her husband—and, to a lesser but significant extent, her parents and siblings—through the agonies of growing up with an incarcerated mother, and through them we get a very needful window into an especially swollen, idiotic, brainless side of the criminal justice system. We also see a valuable portrait of a human being enduring that system with a kind of emotional generosity that would be beaten out of many in her situation. —Amy Glynn (Photo: HBO)
4. Doctor Who
Network: BBC America
Last Week's Ranking: 1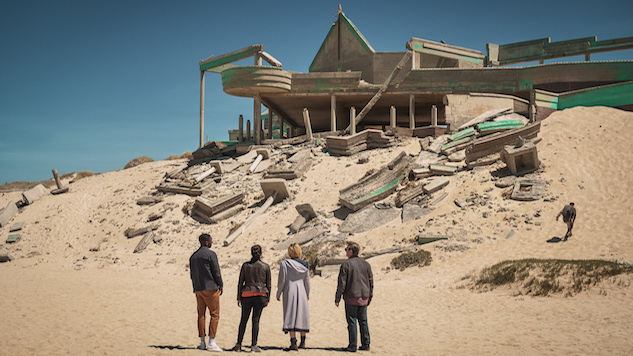 Though "The Ghost Monument" tapers off after the strong opening sequence—in which the Doctor (Jodie Whittaker) and her companions crash land on an alien planet named Desolation, just in time for the final stage of an intergalactic race known as the Rally of the Twelve Galaxies—it draws the viewer in with the Doctor's almost militant pacifism. After all, the episode is set on a planet that has been destroyed by "poisons, weapons, creatures" of destruction, built under duress by captive scientists, and it's the Doctor that insists, time and again, that understanding what happened on Desolation is the key to avoiding a grisly fate. The writing and Whittaker's delivery put real backbone behind the sentiment, until "The Ghost Monument" emerges as a celebration of moxie over might. (Photo: Coco Van Oppens/BBC America)
3. Crazy Ex-Girlfriend
Network: The CW
Last Week's Ranking: Ineligible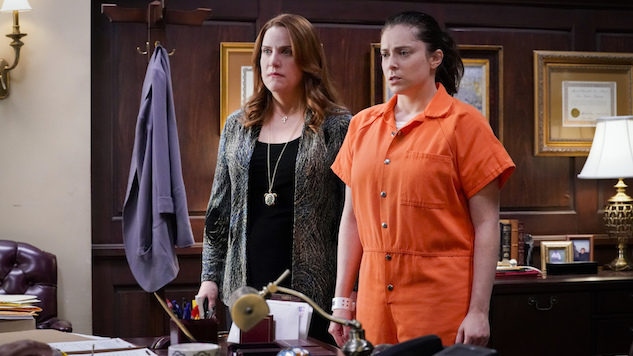 Creators Rachel Bloom and Aline Brosh McKenna have long maintained that their pro-feminism, pro-mental health, and pro-pretzel musical comedy is a story in four acts. So it makes sense that the show's fourth (and final) season premiere centers on redemption and accepting one's imperfections— while also owning one's privilege. Following up last season's cliffhanger (or ledge-pusher?), which saw Bloom's Rebecca Bunch facing jail time for accidentally sending her own crazy ex, Trent (Paul Welsh) careening off a roof in the name of protecting her on-again/off-again paramour, Nathaniel (Scott Michael Foster), we now see her stubbornly and self-righteously heading off to the slammer. In one of the show's most woke numbers—a parody on the musical Chicago's "Cell Block Tango" entitled "What's Your Story?"—she learns that most prisoners' backstories don't allow for jazz hands and, if she really wants to be a better person, she should use the lucky hand life's dealt her to help others. It's both a positive message and (hopefully) a way to chart Rebecca's course to awkward, hysterical redemption. —Whitney Friedlander (Photo: Robert Voets/The CW)
2. The Deuce
Network: HBO
Last Week's Ranking: Honorable mention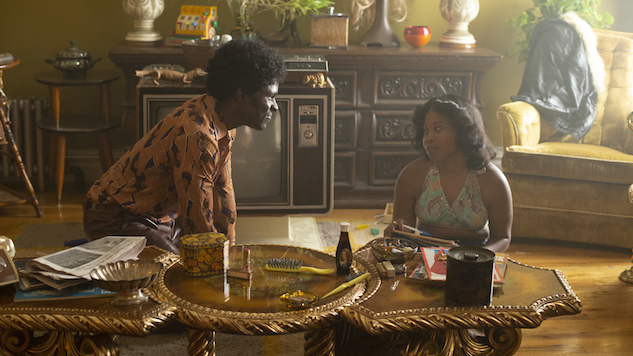 "We're All Beasts" layers the time spent this season on the power imbalance of a pimp and a newcomer sex worker atop of the porn industry's limitations for Larry—he's black—and Lori (Emily Meade)—her pimp is always in the way—to create complex acting moments inside of scenes that, on their face, just seem fun. And they are fun. Almost too fun. The porn shoot is so clever—and involves the best characters, including the always incredible David Krumholtz ripping off another blistering sermon to these sinners in the hands of a horny God—that it hurts the other parts of the episode. It's too fun to leave, even if it's for Anwan Glover's immaculate deadpan. Still, that makes "We're All Beasts" the season's funniest, sexiest, and most engaging episode yet—one spent damning characters from all walks of life for the same sins. —Jacob Oller (Photo: Paul Schiraldi/HBO)
1. The Haunting of Hill House
Network: Netflix
Last Week's Ranking: Ineligible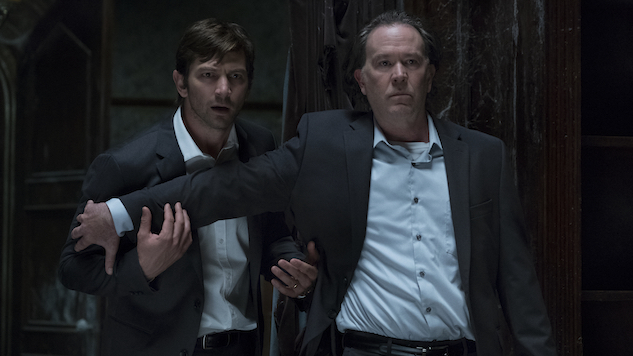 The aesthetic of The Haunting of Hill House makes it work not only as horror TV, but also as a deft adaptation of Shirley Jackson's classic novel. The monsters, ghosts, and things that go bump on the wall are off-screen, barely shown, or obscured by shadow. The series even goes back to some of the first film adaptation's decisions, in terms of camera movement and shot design, in order to develop uneasiness and inconsistency. Well, maybe "inconsistency" is the wrong word. The only thing that feels truly inconsistent while watching it is your mind: You're constantly wary of being tricked, but the construction of its scenes often gets you anyway. By embracing the squirm—and the time necessary to get us to squirm rather than jump—The Haunting of Hill House is great at creating troubling scenarios, and even better about letting us marinate in them. —Jacob Oller (Photo: Steve Dietl/Netflix)