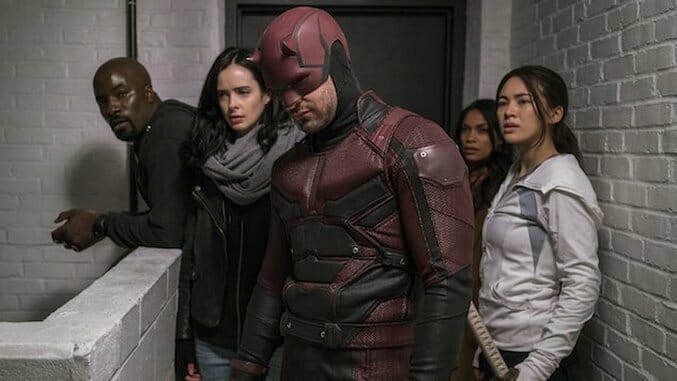 Netflix's The Defenders is a good superhero series, but in being simply that, it misses the spirit of what's made Marvel's other Netflix series—Iron Fist excepted—so successful in the first place.
There's no doubt the formula has a proven track record. By seeding solo films to set up a big-screen crossover, Marvel struck box office gold with The Avengers. It was epic, ambitious and felt like a true culmination of the five movies that preceded it. That template was the basis for Marvel's Netflix slate, which was announced with Daredevil, Jessica Jones, Luke Cage and Iron Fist all threading into an eventual crossover event via The Defenders. The problem is, these shows became something very different from Marvel's cinematic output along the way.
Where Marvel's film output has evolved to tackle different film genres through the lens of the superhero story (Captain America: The Winter Soldier is a political thriller, Guardians of the Galaxy is a riff on Star Wars, Ant-Man is a heist picture, etc.), Netflix's series tackle more heady topics, such as the black experience (Luke Cage), psychological/emotional abuse (Jessica Jones) and questions of identity (Daredevil). (The first season of Iron Fist, with the story of a rich white guy learning kung-fu, admittedly lacked one of those trademark emotional arcs.) What's made most of Netflix's catalogue of Marvel series so great is that they transcend their genre roots to tell these ambitious, deeply human stories, with far more poignancy than anyone expected. As a result, though, it's also set the bar extremely high for a miniseries designed to bring all these disparate characters together under one roof.
On one level, The Defenders succeeds at this task, picking up the threads left dangling from the ends of the various solo series as it brings our heroes into each other's orbits. It even shakes up the transitions between scenes to make it clear that we're jumping around New York to follow the characters in their own little worlds, though those "worlds" are at times just a few blocks apart. The use of color, though a bit heavy-handed, also reminds you which hero is getting the spotlight, until they all eventually come together. It's a slow boil to put them all on the same case, and yes, it's certainly an explosive good time when we get the hallway fight to end all highway fights—a mainstay of these series, dating back to the first season of Daredevil—with all four heroes showing off their skills against a seemingly-endless supply of suit-clad ninjas. Sigourney Weaver's mysterious Alexandra, teamed with Elodie Yung's super-powered Elektra, also make a compelling one-two punch to keep the assembled Defenders on their toes.
The miniseries keeps the characters' banter and interactions clever, with Danny's Iron Fist punch set against Luke Cage's unbreakable skin and a raft of jokes about Daredevil's melodramatic efforts to protect his identity; fans will appreciate Rosario Dawson's Claire Temple finally piecing together the relationship among the intersecting worlds she's encountered, one-by-one, across the solo series. It could've been awkward making four separate TV shows' distinct tones work together, but when the Defenders kick back, hide out and grab dinner? It works, and makes for a truly enjoyable dynamic.
Still, The Defenders fails to recapture what distinguished Daredevil, Jessica Jones and Luke Cage—if not necessarily Iron Fist—from other superhero narratives on television. In picking up all these characters and trying to push them toward a common enemy for a whole lot of punching and kicking, the miniseries loses sight of the themes that made the solo shows resonate with viewers. Yes, there are nods back to those stories—we see Luke's release from prison, and Jessica's daily battle to reenter society in the wake of her dealings with Kilgrave—but it never digs deep enough into that character development to tell a story greater than the sum of its super-heroic parts.
Marvel's Netflix line-up has made us weep in horror and disgust at what Jessica Jones suffered, given us a bird's eye view of a conflicted, nuanced Harlem in Luke Cage, and challenged our moral compasses right alongside Matt Murdock's over two seasons of Daredevil. (Ironically enough, it's arguably Iron Fist who receives the most development here, inspired to be a better hero after working with Daredevil.) Complex, richly imagined characters on their own are harder to juggle in tandem without drawing them in broad strokes, which leaves the The Defenders—a clever premise, a good time, a real romp—feeling rather too familiar. It's just another story about a group of heroes coming together to save New York from a bad guy.
With bigger baddies, (literally) city-shaking attacks, and the culmination of a war with the Hand (a villainous organization that has hung over these series since the first season of Daredevil), The Defenders raises the stakes in every conceivable way—except when it comes to the personal dramas that fans fell in love with at the start. This is the story of heroes putting their lives on hold to team up for the big fight, but it's those lives that fans enjoyed watching. Netflix's Marvel series were hits because of subtlety and depth, not knuckle-busting. The Avengers formula might print money at the multiplex, but when translated to the streaming service's more grounded corner of its connected universe, bigger isn't always better.
---
Trent Moore is an award-winning journalist and professional geek. You can read more of his stuff at Syfy Wire, and keep up with all his shenanigans @trentlmoore.