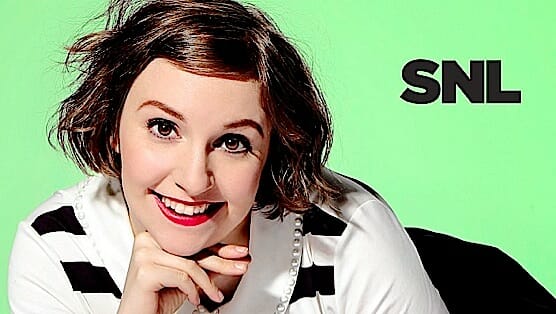 Considering how gigantically popular Lena Dunham has become in the past few years, we haven't really seen her in any large roles that she wasn't completely in control of. Her characters in Tiny Furniture and especially on Girls are always considered not that far removed from Dunham herself, since she wrote and stars as the main characters in both. So putting Dunham on SNL puts her in a position where she's much less in control, yet for the most part Dunham does a fine job in her first hosting gig.
The opening skit has President Obama addressing the country about Russia's recent activities in Crimea, leading to a cameo by Liam Neeson who of course hates when things are taken. While it is great to see Neeson jumping into his newfound action star status, and he's clearly fine with parodying himself as he does here, on Key & Peele and The Lego Movie, I am getting incredibly tired of hearing different takes on the one line from Taken that everyone remembers. I mean, the movie came out five years ago; give Neeson a break from it.
Dunham's monologue has her poking fun at the sexuality and nudity on Girls, saying that now strangers want to give her personal information about their sex lives. This leads to the cast interrupting to share their various details, then to Kate McKinnon playing Dunham's grandmother. Throughout the night, Dunham's performance seems to be combination of understandable nervousness and excitement, but she's also ready to roll with the punches, go along with her mistakes and just have fun with the opportunity, which works well for her.
Dunham is much more comfortable in both of the prerecorded skits she appears in, which also end up as two of the stronger bits of the night. The first involves four friends in a car singing along to "Ooh Child," yet whenever it's Dunham's turn to sing, the GPS directions interrupt her time to shine. It's a cute skit that ends with a great twist.
The second prerecorded skit is a Girls parody simply called Girl, about Eve in the Garden of Eden. Taran Killam plays Adam—a combination of the Bible's Adam and Adam Driver—with Vanessa Bayer showing up as a Marnie snake. SNL has pretty much nailed parodying Girls in the past, so having Dunham involved is just icing on the cake.
Dunham's best performance of the night as far as the live show goes is in a perfect Scandal parody. She plays a new member of Olivia Pope's Gladiator team and constantly points out just how insane this show truly is. I basically quit watching Scandal because of the ridiculous things that are pointed out in this skit and Dunham's fascination with just how perfect everyone in the cast is really sells this one.
The rest of the night consisted mostly of fake TV shows, most of which just went on far too long, the biggest offender being "What's Poppin,'" a show about rap music hosted by Jay Pharaoh and Kenan Thompson. The show's musical guest is an all-white jazzy ensemble called "That's a Rap," whose raps are bland and filled with flute music. At the very least, it gives Mike O'Brien more time in the spotlight, but goes on for far too long and doesn't really have an ending.
"What Are You Even Doing? You're Being Crazy," which seems like it really wants to be a recurring segment, was another fake TV show starring Nasim Pedrad and Dunham as two girls who have hit puberty three hours earlier, and now they're insanely awkward around guys. Their first guest is Kyle Mooney as a soccer player at their school who is there because he was promised pizza. Their second guest in Jon Hamm as himself, who is afraid this is some sort of Dateline thing and is also disappointed with the lack of pizza. The whole situation is watched over by Pedrad's older brother, Brett, played by Bobby Moynihan, who gets some great reactions in an episode where he rarely features. I could see this working a few more times, especially since having an actual star appear is quite funny, even more so if every time Jon Hamm returns.
It's crazy to think that The National haven't been the musical guest on SNL before, but it surely won't be the last after their two performances. "Graceless" ended with an intense finale that seemed reminiscent of some of their older material, while "I Need My Girl" was a beautiful finale for them and more in line with the types of songs for which they're more well known.
Weekend Update hasn't found the right balance between Colin Jost and Cecily Strong yet, and there's not really any interaction between the two. However, we do get Killam appearing as Matthew McConaughey—or a version that combines Oscar's McConaughey with Rust Cohle—which is also really close to Killam's Brad Pitt impression. Putin's best friends also show up with Bayer and Fred Armisen popping up again. Now that Armisen is back in 30 Rock thanks to his gig on Seth Meyers' new show, I wouldn't be surprised if we still see a bit of him.
A jewelry party skit gave O'Brien another chance to shine as a men's rights activist at a party filled with women. It's incredibly awkward, and O'Brien's interactions with Strong make for the funniest bits (while also continuing my disappointment that O'Brien isn't at the Update desk with Strong instead of Jost).
"Pimpin' Pimpin' Pimpin' with Katt Williams" stars Jay Pharaoh as Williams doing an Oscar post-show. This is the second time Katt Williams has been parodied this season, and it feels like SNL is a few years behind on this impression. Williams brings on Jared Leto (Whelan), Liza Minnelli (Dunham) and Harrison Ford (Killam), all of whom deliver merely okay impressions. The bit ends with Noel Wells popping up as Lena Dunham, which had to be thrown in there somewhere, but is completely out of place in this skit.
I do love that SNL has been ending the night with the Beck Bennett and Kyle Mooney skits, which are just weird enough to make the last slot of the night. Here they play two office workers trying to organize the office into seeing Will Smith perform at Radio City Music Hall, with Whelan as the employee who just doesn't want any part of their e-mail chains and plans. It also has a great twist. Whelan hasn't had much time on the show this year, but after appearing several times this episode, I hope we see a lot more of him.
Dunham's enthusiasm in her first hosting gig made her a success. Give her a few more episodes, and she could really find her groove and be quite a great host. Yet sometimes just having the excitement and desire to be there can really make up for the fear and insecurities that can come from live television.
Ross Bonaime is a D.C.-based freelance writer and regular contributor to Paste. You can follow him on Twitter.