It Is Happening Again: Showtime to Marathon All 18 Episodes of Twin Peaks: The Return
Images via Showtime
TV
News
Twin Peaks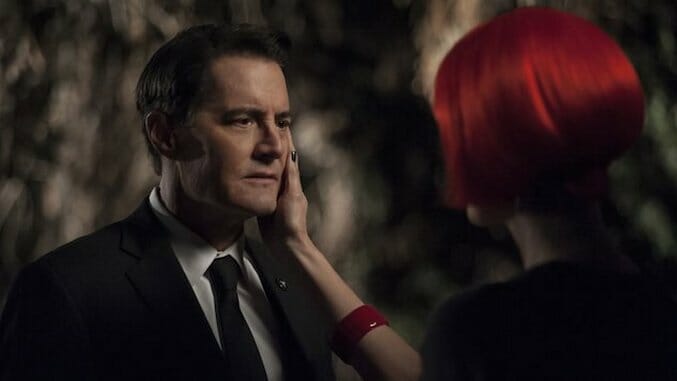 If you enjoy long ominous shots of floors being swept, extended sequences inside of nuclear mushroom clouds, unanswered plot threads to nowhere and, in general, a lingering sense of existential dread, then you're in luck! On Saturday, June 2, Showtime is airing a marathon of all 18 episodes of Twin Peaks: The Return, David Lynch's fuck you to nostalgic TV revivals, the network announced Thursday.
Oh, is that you screaming à la Laura Palmer at your computer screen in a way that could be either rabid excitement or Lynchian-induced frustration carried over from last year's finale? You're welcome.
The uninterrupted Emmy For Your Consideration marathon will begin at 4:35 a.m. ET on Showtime 2 and will conclude at 10 p.m. that night, so you'll literally never have to see the sun as you tumble headlong into the Twin Peaks well (or is this the water? Aw, who cares, drink full and descend, sweetie).
For those late to the party, Twin Peaks: The Return is set 25 years after the conclusion of the events in the original series and the companion prequel film Twin Peaks: Fire Walk with Me—which is important to see before starting The Return, despite the gratuitous toplessness, Laura's frantic screams that she's "the muffin" and the unjust boos it received at Cannes.
The limited series (albeit loosely) follows Agent Dale Cooper (Kyle MacLachlan) as he attempts to make his way back from the Black Lodge, the extradimensional space inhabited by evil spirits and humans alike, and if you think that's a sentence that makes no sense, you are in for so many treats.
The Return also features musical performances by the likes of Eddie Vedder, Nine Inch Nails (who worked on the soundtrack for Lynch's Lost Highway and reunited for the performance), Chromatics, Au Revoir Simone and The Veils to help lull you into complacency with everything unfolding on your screen.
Lynch directed all 18 parts of The Return in addition to writing each episode with co-creator Mark Frost. Read Lynch's thoughts on the future of Twin Peaks right here.