The Misha Green Movement: The Underground Showrunner Talks Season Two, That Wild Finale and the Future of the Series
Getty Images
TV
Features
Underground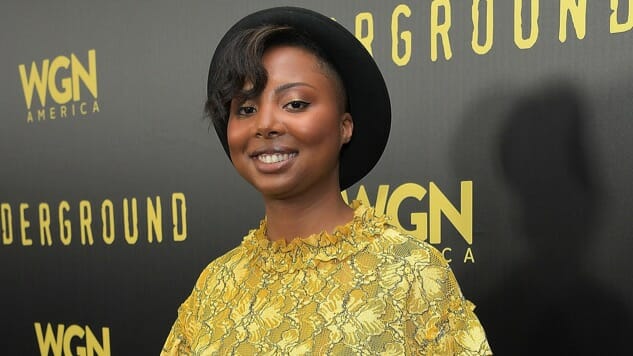 Misha Green, co-creator and co-showrunner (alongside her partner Joe Pokaski) of WGN's Underground, has achieved nothing short of a miracle with the hit show. The success of her series, which concluded its second season Wednesday night, might come down to a balance between commitment to socially and historically responsible storytelling, and an imaginative, almost reckless abandon, resulting in wildly entertaining drama. Few shows have been able to walk this tightrope, but Green has proven that an inspiring story, focused on enslaved black Americans, does not have to preach respectability, center white saviors, or feel like a torturous, depressing affair that audiences sit through because they know it's important.
Whether she planned to or not, I suspect that Green has started a movement for those politically and socially-minded creatives looking for proof that—with the right material and the right presentation—love stories, sex, spectacular violence, superheroes and drama can all exist in the same space as a movement committed to black lives. And in such a movement—one inspired by the stories on Underground—there'd be space for countless voices and perspectives, so long as an uncompromising freedom was the goal. For ideas on how such a movement might work, we need only look to Season Two's storyline.
"What's so interesting about this season," Green tells Paste, "and really what's interesting about exploring the citizen versus the soldier—is that the movement wasn't a monolith."
One of the most fascinating aspects of the series has been its exploration of the varying and competing ideologies that can make up a single movement, like the abolitionist movement. Season Two spends a good deal of time up North, where Rosalee (Jurnee Smollett-Bell) has managed to escape and is now working under the tutelage of the great Harriet Tubman (Aisha Hinds). Elizabeth (Jessica De Gouw) has joined a sewing circle of women abolitionists led by Georgia (Jasika Nicole), but these women are not always in agreement when it comes to the big picture of abolishing slavery, and the kinds of risks that are worth taking.
Green says that it was so important to her that the series reflect those who believed in violent rebellion, those who stood for nonviolent protest and resistance, and those who fought back with a belief in God as one of their most precious weapons.
"I'm not a very religious person," Green says. "And trying to step into Harriet's shoes—the way she believed in [God]—it was very interesting." There's a great scene in which two of our heroes, Harriet and Noah (Aldis Hodge), discuss their stances on the existence of God. For Noah, it's a myth he'd like to believe in, but after everything he's experienced, trying to escape and live as the free man he knows he's always been, God is just an idea. Harriet, however, insists that the fire burning in him—that part of him that knew, even under slavery, that he was free—is, in fact, God himself. It's as powerful a message as the ones we get from John Brown's crew, and the women of the sewing circle, and Green admits that over the course of working on the season, even some of her own thoughts on the most impactful forms of resistance shifted a bit.
She was also, as was clear in Season One, incredibly interested in the characters' varying methods of survival. Ernestine (Amirah Vann) offered up a powerful opportunity to explore the life of a woman living under slavery and attempting to use both her body and her intellect to gain some type of agency.
"With Ernestine, her sexuality is so much a part of her character," Green says. "This season we were moving to this new place, and Ernestine is the most free she's technically ever been, and also in the worst place because her religion—which is her children—is gone."
Ernestine's new life on a rice plantation with the Gullah Geechee people is, at first glance, completely different from her life living in master Tom Macon's house on a cotton plantation. But Green wanted to explore the kinds of cycles we often commit to without being aware of it. She compares Ernestine's abusive lover in Season Two to her relationship with the master in Season One.
"Tom was also abusive, but this time Stine sees that she's in the same cycle, the same type of relationship."
Of course, that realization is complicated by the fact that Stine still only knows one way of getting control over her life. The introduction of Clara (DeWanda Wise, also known as the new Nola Darling) was one of the highlights of the season, and Green was thrilled to have her join the cast.
"Working with [DeWanda] was fantastic. She is my best friend and we are literally attached at the hip," Green says, gushing. "She's kind of the protege of Ernestine—and through Ernestine teaching Clara how to be her, we're understanding how fucked up it is to be Ernestine."
Green has always made sure that Underground remained committed to flawed characters, like Ernestine and of course the incomparable Cato (Alano Miller). But she also wanted to commit to presenting those characters who are inspired by legends like Tubman and Frederick Douglass. For Green, there are few acts of resistance more amazing than self-education, which Douglass achieved under slavery.
"I mean, teaching yourself to read when you know that it's punishable by death?!" she exclaims. "Just teaching yourself how to read is enough, but to say, 'I'm going to take this power from them, and I'm going to give it to myself.'"
She goes on to say that director and executive producer Anthony Hemingway couldn't have been more right when he suggested Bokeem Woodbine for the part of Daniel. Green says she wanted to introduce him as a character committing this great act of rebellion, and she knew they would need a distinctive actor—"someone so watchable"—to bring him to life in a way that would allow the writers to spread his story out in bits and pieces over the first nine episodes.
And it's abundantly clear that this is a showrunner who adores and respects the actors she works alongside. From Wise to Woodbine to Angela Bassett to Hinds (oh, how she adores Hinds: "Aisha Hinds wasn't in my life one day, and now suddenly I see her every day. I'm like 'You're amazing. What are you doing right now? I have to see you, I'm coming over!'") Green makes it clear that her Season Two cast has been a dream come true. And when we get to the season finale, she's full of praise for Smollett-Bell, who was eight months pregnant while they were shooting.
"I've been in awe of her this whole season," Green says. She saw the actor's real-life pregnancy as a gift—an opportunity for them to present a storyline concerned with pregnancy and motherhood under slavery, and the unique problems Rosalee would encounter as a runaway, and as a first-time mother-to-be desperate to reunite with her family. Green says they always knew Rosalee would give birth in the finale, but they hoped to subvert expectations while doing so.
"We talked about trying to juxtapose her strength with Noah's strength—there's no going back for either of them, no being citizens in this time." So they chose to intercut Rosalee's labor sequence with Noah's attack on the Kentucky militia.
"Everybody knows she's gonna give birth in the finale," Green says. "So how can we make this interesting and exciting—how can we make this Underground?" The result is a powerful scene with a devastating conclusion (Rosalee is forced to leave her newborn behind, giving herself up to Cato and the other slave catchers) that still manages a glimmer of hope (the baby is healthy, and discovered by his father, Noah). Suffice it to say, it's a very Underground ending.
And for those of us following the news of WGN's impending sale (under Tribune Media) to Sinclair Broadcast Group, all we can do is hope that this isn't the last we've seen of our soldiers. Green and her co-creator have always had plans for the third season, and that vision is just on the horizon, with Elizabeth at the arsenal on Harper's Ferry in the final moments of Season Two.
"The vision Joe and I had from the beginning is headed towards the war," Green says. "It's unavoidable. And it's so very exciting because the Underground Railroad was a spy network for the North. There's definitely a story that hasn't been told, and we're excited to dive into that."
She adds that she's especially interested in spending more time with these characters, who—by heading into the war—will further demonstrate the highs and lows of superhero life.
And that is, indeed, at the heart of the Green's legacy. She admits that, as a storyteller (and she's been one since her early days of playing by herself with a dollhouse, which often doubled as a Temple of Doom), she's committed to a certain amount of uncertainty. Whether there will be a third season remains unclear, and Green says she's not the kind of person who makes five-year plans.
"Unlike a lot of people, I'm not afraid of the unknown. It intrigues me. I just wanna keep making stuff that—in a very selfish way—I find interesting."
If such selfishness wrought one of the greatest black TV superhero stories of all time, we should go ahead and let Misha Green be selfish. While she may surely go on to tell any number of stories about any number of things, her work on Underground cements her as one of the most important soldiers we have working in the medium today. For those of us with fantasies of a TV and film world dominated by more complex black, woman-centric tales, Green is no less a hero than the characters she's brought into our lives. It's a heavy crown to burden her with—and I'll understand if she has to take it off from time to time (after all, self care is imperative)—but I just can't shake this feeling that Misha Green has changed, and will continue to change, the world. And perhaps best of all, she—along with everyone involved in Underground—has successfully inspired a generation of people to rise up, and make the kinds of strange and beautiful things that, like this incredible series, re-create the history of a people, while simultaneously rewriting their futures.
---
Shannon M. Houston is a Staff Writer on Hulu's upcoming series
The Looming Tower
. She is the former TV Editor of
Paste Magazine
, and her work has appeared in
Salon
, Indiewire's
Shadow and Act
, and
Heart&Soul
. She currently has more babies than you. You can follow her on Twitter.