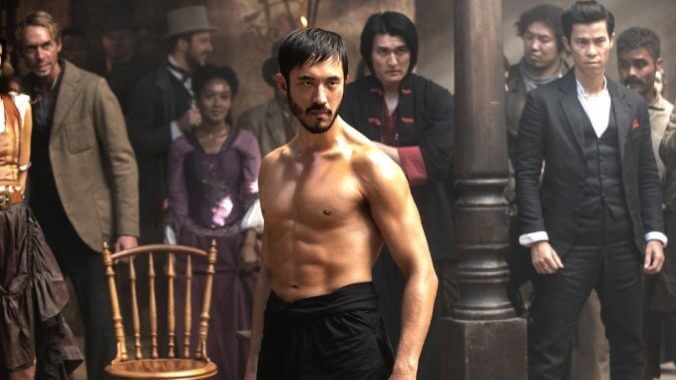 Criminally underseen martial arts extravaganza series Warrior faithfully executed the vision of Bruce Lee in two handsomely produced seasons for Cinemax back in 2019 and 2020, building a cult following for both its outstanding production values in realizing a vision of 1870s San Francisco, and its bone-crunching action sequences and choreography. Unfortunately, the series didn't attract a big enough audience until its residency on streaming service HBO Max, who produced a long-awaited third season. And after a long wait, we finally have a June 29, 2023 premiere date for the first two episodes of that third season, continuing the story of Ah Sahm (Andrew Koji) and the Tong Wars between rival Chinese gangs in a political and racial powder keg setting following the American Civil War. A brief first teaser for the season can be seen below.
The first two seasons of Warrior follow the charismatic and ridiculously physically talented Koji as fresh-off-the-boat martial arts prodigy Ah Sahm, who emigrates from China in search of his sister, only to find out that she's become the leader of a powerful criminal mob in San Francisco. Taken in and now beholden to a rival gang, Ah Sahm finds himself thrust into a rivalry always balanced on a knife's edge, as skirmishes turn into full-scale war in the backstreets of the city. Meanwhile, racial tensions flare in the city as politicians and union kingpins exploit anti-Chinese sentiment to push their own agendas, while progressive activists attempt to strike a blow for equality. Warrior excels at depicting the era from numerous viewpoints, going far beyond the impressive martial arts spectacle.
In season 3, meanwhile, we have only the following one-sentence synopsis to go on for now: "In the wake of the race riots that upended Chinatown in season two, Mai Ling uses her government connections to consolidate power, while Ah Sahm and the Hop Wei must find new ways to survive."
Well, that's all I needed to hear. All the key performers from the first two seasons of Warrior are back, including Koji, Olivia Cheng, Jason Tobin, Dianne Doan, Kieran Bew, Dean Jagger, Tom Weston-Jones, Hoon Lee, Joe Taslim and Perry Yung. They're joined in the teaser below by the blink-and-you'll-miss-it appearance of Iron Chef and Only the Strong legend Mark Dacascos, still riding high off that appearance as antagonist Zero in John Wick 3. We can't wait to see what the return of the series will have in store for us, following the agonizing wait since 2020. Check out the first Warrior season 3 teaser below.