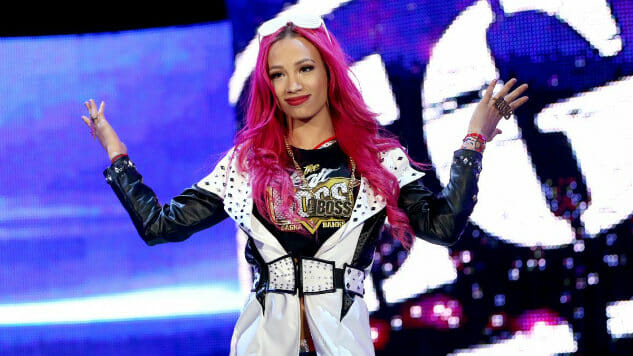 This weekend's Royal Rumble pay-per-view features three women's matches, which is nothing to sneeze at. But many fans were hoping the first stop on the road to WrestleMania would be marked by an inaugural women's Royal Rumble match.
It's not the only time WWE has dropped the ball in the wake of the "women's revolution": both Raw and SmackDown lacked even one women's match this past week, and last June's Money in the Bank sorely missed a titular match featuring the women's division. With the recent addition of women's cage matches and the occasional main event, it seemed like a no-brainer that women would get a Rumble match this year.
Naysayers might assert that the women's roster is too thin to warrant even a 20-woman Rumble, but to that I raise you Bayley, Sasha Banks, Nia Jax, Dana Brooke, Alicia Fox, Nikki Bella, Natalya, Carmella, Naomi, Becky Lynch and Mickie James. Lana and Maryse could make appearances, the return of Eva Marie would draw heat, and the Royal Rumble is an obvious venue for the much-awaited re-debut of Emmalina. Speaking of debuts, the competition Asuka has been craving in NXT can certainly be found on the main roster—imagine new feuds with Charlotte and Banks, or revisiting her old foes Bayley and Jax—while fellow NXT talents Aliyah, Liv Morgan and occasional wrestler Deonna Purrazzo wouldn't be out of place having already had main roster dalliances. Add in Billie Kay, Peyton Royce, Ember Moon or Nikki Cross, or even a veteran like Lita for a one-time appearance, and there's your 20-woman Rumble.
There have been some rumblings (pun intended) on social media about women being involved in the traditional Rumble match. History and common sense would suggest that Jax would be the frontrunner for the token women's spot, however female Rumble entrants haven't fared well, with Chyna, Beth Phoenix and Kharma lasting no longer than a few minutes.
There are positive aspects to WWE not having a women's Rumble this weekend: previously women's battles royal have been an excuse to pile everyone into a five-minute gimmick match featuring very little wrestling, and at least this way several different feuds are given some pride of place. But it seems counterintuitive for WWE not to take the obvious opportunity the Royal Rumble presents for the women's division. By booking a 30-minute women's Rumble match, all women on the roster are utilized, and it continues the momentum of the "women's revolution".
---
Scarlett Harris is an Australian writer. You can read her previously published work at her website The Scarlett Woman, and follow her on Twitter at @ScarlettEHarris.