The Smugglers - Mutiny In Stereo
Lookout!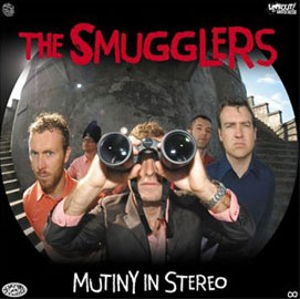 Long-running Vancouver-based punk rockers The Smugglers might be releasing their eighth studio album, but they still sound fresh. On first listen, the fast-paced garage-tinged flavor of "The Get Up Syndrome" or the Americana groove of "Mach 1" will have you thinking The Smugglers are a new gem from California's Lookout! Records. But the band's been together since 1988.
Occasionally straying from Stones-meets-Clash, dirty garage-punk rock, the group wanders into more melodic territory—the closing track, "That Sound," soaking you with the sweet and whimsical sound of indie rockers like Belle & Sebastian and Death Cab For Cutie.
But don't expect any absence of ballsy rocking out on this record. The group takes a speedy ride through AC/DC country on "Shock the Shanker," and sounds like The Ramones partying with the Beach Boys on "Pirate Ship," its tribute to UK pirate radio stations. As singer Grant Lawrence belts out, "Turn up the Pirate Ships / and we'll rock 'n' roll back and forth with you," the rest of group chimes in with ironic backup "la-la-las," invoking images of a mock '60s female doo-wop group.
For the most part, The Smugglers' Mutiny In Stereo is more good-and-dirty fun. Whether fast-and-furious, loud-and-obnoxious or soft-and-melodic, the group will win you over with its ear-catching punk rock. If it hasn't already.
Others Tagged With